If you aren't familiar with Fairfax Financial (OTCPK:FRFHF) CEO Prem Watsa and his investment team, you really should be.
I'm forever thinking about the lead up to and then the dark days of the 2008 financial crisis. I knew in advance of the 2008 disaster that big trouble was likely coming, and the reason I did was Prem Watsa.
Believe it or not, as far back as 2005, Watsa had called the impending disaster in the housing market and positioned Fairfax to profit massively from it. Here is a bit of what Watsa said in his 2005 letter to shareholders:
As we have mentioned ad nauseam, the risks in the U.S. are many and varied. They emanate from the fact that we have had the longest economic recovery with the shortest recession in living memory. Animal spirits are alive and well and downside risks have long been forgotten. Having lived through the telecom bubble recently and the oil bubble in the late 1970s and early 1980s (and perhaps again today), we see all the signs of a bubble in the housing market currently. It appears to us that buying a house is today viewed as a sure shot investment - perhaps just as housing prices are on their way down, maybe significantly.

The U.S. consumer is overextended, savings rates are below zero, credit spreads are at record lows and even emerging market countries are borrowing long term at very low spreads above treasuries. We continue to be fascinated - morbidly - by the recent Japanese experience. The Nikkei Dow dropped from 39,000 in 1989 to 7,600 15 years later while 10-year Japanese government bonds collapsed from 8.2% to 0.5%, totally contrary to normal historical investment experience. Japanese market capitalization dropped from 149% of GDP to 53% in 2002.

The U.S. market capitalization is still at about 120% of GDP, down from over 170% in 2000, but way above its 80-year average of 58% and even higher than its 1929 high of 87%!!

What does all this mean? Well, for a few years now, we have said that we are protecting our shareholders' capital from a 1 in 50 year or 1 in 100 year event. By definition, this is a low probability event (like Hurricane Katrina) but we want to ensure that we survive this event if and when it happens.
Watsa was actually onto the overleveraged consumer and housing bubble as early as 2003. I'm glad I was paying attention to what he was saying then, and I'm still paying attention to what he is saying now.
And right now, Watsa is warning that there is a select group of social media stocks that have reached bubble territory that is reminiscent of the late 1990s which happened to be another market catastrophe that Watsa was ahead of the curve on.
I suppose that we are nearly 15 years after the popping of the technology stock bubble of the late 1990s, so we do have an entire generation of young investors who don't have the scars and memories of that experience.
In the 2014 Fairfax Annual Report, Watsa provided the following table which listed social media and other technology stocks that Watsa thinks are ridiculously overvalued.

I think that shorting this basket of stocks is likely a very good idea at this point.
In the social media sector, that would mean shorting:
Twitter (NYSE:TWTR)
Netflix (NASDAQ:NFLX)
Facebook (NASDAQ:FB)
LinkedIn (LKND)
Yelp (NYSE:YELP)
Yandex (NASDAQ:YNDX)
Tencent Holdings (OTCPK:TCEHY)
All of these stocks are beyond expensive, and Twitter provides a perfect example.
With 589 million shares outstanding and a current stock price of $43, Twitter has a market cap of $25 billion.
That means that when you buy a share of Twitter today at $43, you are saying that you think $25 billion is an attractive price at which to own a share of the Twitter business.
For $25 billion, you get a company that lost $645 million last year. And that loss followed a loss in the year before that and the year before that as well.
Don't get me wrong. I love growth stocks, and Twitter is definitely one of those. I realize that incurring losses can be part of the growth model which is designed to build a dominant product.
The chart below shows the rapid pace at which Twitter is gaining users.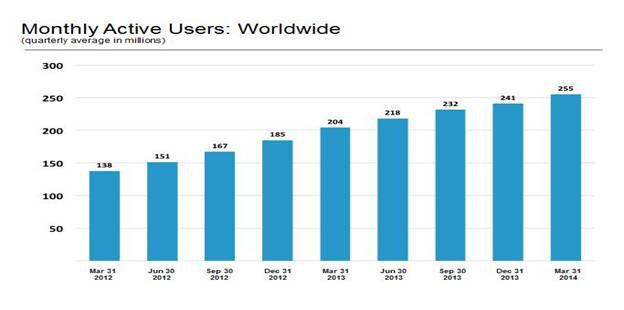 (Image Source: Twitter's Mar 31, 2014 10Q)
At some point, this company will turn the corner and become profitable, I don't doubt that. What I doubt is that Twitter can become profitable enough.
The loss figures that I referred to earlier are what is left of revenue after all the expenses of doing business are subtracted. There isn't anything left, there is less than nothing.
For some more perspective, consider that revenue (not income) for 2013 for Twitter was $664 million.
Twitter has an enterprise value of $25 billion. That means that the company is trading at $25 billion / $600 million = 38 times revenue! That is not a typo. That is a nosebleed valuation.
And remember, currently none of that revenue doesn't get more than eaten up by expenses.
The "revenue yield" at the current enterprise value is $600 million / $25 billion = 2.4%. If 100% of revenue could be paid out this to shareholders (which it can't, because the company spends all of it and then some) an investor at the current price would receive a paltry return of 2.4%.
Again, not for a second am I suggesting that Twitter isn't going to turn out to be a very successful and profitable company.
I'm just saying that the valuation is extreme.
With the current valuation of $25 billion, Twitter needs to do some pretty great things for a long period of time just to justify the existing stock price.
Imagine then what the company would have to do to justify an even higher stock price.
At some point, the market is going to demand earnings and cash flow from this company.
At the moment, there is no financial metric that supports Twitter's current valuation. These shares could drop 50% simply based on one disappointing quarter.
But rather than just taking the risk of shorting one social media stock like Twitter, I'd prefer to short the entire basket that Prem Watsa has brought forth for us. Someday, perhaps some of these stocks will merit these market capitalizations, but that day is a long way into the future, if it happens at all.
Disclosure: The author has no positions in any stocks mentioned, and no plans to initiate any positions within the next 72 hours. The author wrote this article themselves, and it expresses their own opinions. The author is not receiving compensation for it (other than from Seeking Alpha). The author has no business relationship with any company whose stock is mentioned in this article.
Editor's Note: This article discusses one or more securities that do not trade on a major U.S. exchange. Please be aware of the risks associated with these stocks.