Aug. 5 was a great day for shareholders of Coach (NYSE:COH). After reporting revenue and adjusted earnings that topped forecasts, shares of the retailer shot up 5%. Even in spite of this growth, though, the company's stock is still trading at a 38% discount to its 52-week high of $57.95, which suggests that the upside for investors could be rather significant. However, is it possible that investors are getting a bit ahead of themselves? Is Coach truly a fascinating opportunity, or are shareholders focusing on a company that appears to be slowly dying at a time when their attention should be directed to a cheap, fast-growing competitor like Michael Kors (NYSE:KORS)?
Results were better…but nowhere near great
For the quarter, Coach reported revenue of $1.14 billion, which is both good and bad. It's good in the sense that the company's top line was higher than the $1.09 billion analysts anticipated, but it's bad in that the top line management reported came in 7% below the $1.22 billion the company reported the same quarter a year earlier.
| | | | |
| --- | --- | --- | --- |
| | Last Year's | Forecasted | Actual |
| Revenue | $1.22 billion | $1.09 billion | $1.14 billion |
| Earnings per Share (adj.) | $0.89 | $0.53 | $0.59 |
Despite seeing strong results in its International operations, with sales growing 7% (led by China's 20% growth) from $388 million to $414 million, the company's North American operations were terrible. For the quarter, Coach's North American sales declined 16% from $825 million to $691 million as comparable store sales in the region plummeted 17%.
From a profit standpoint, the situation looks relatively the same. For the quarter, Coach's earnings per share came in at $0.27 compared to the $0.78 management reported last year. However, if you factor in non-GAAP measures, the retailer's earnings would have been $0.59, $0.06 higher than forecasted, but 34% below the $0.89 in non-GAAP earnings seen in the fourth quarter of Coach's 2013 fiscal year. The main driver behind this decline appears to be the company's falling sales, combined with its cost of goods sold, which soared from 27.4% of sales to 37.8% as management set about restructuring operations.
How's Coach look compared to Michael Kors?
The past four years have been pretty good for Coach, but the company's situation appears to be deteriorating. Between 2010 and 2013, the business's revenue shot up an impressive 41% from $3.6 billion to nearly $5.1 billion. Although an improvement in aggregate comparable store sales has aided the business to some extent, the largest contributor to this top line growth appears to be its store growth. Over this four-year time frame, the number of Coach locations in operation grew 31% from 725 to 953, with most of this increase taking place in select parts of Asia.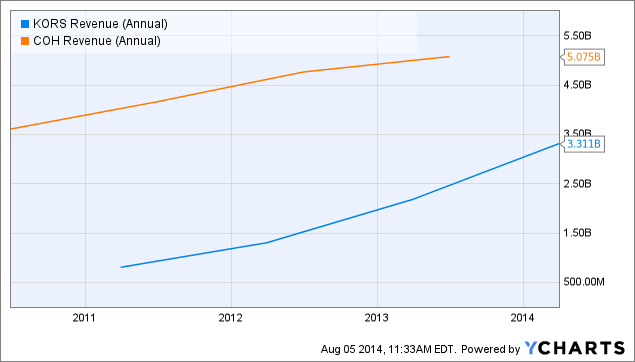 KORS Revenue (Annual) data by YCharts
While these results are nice, they pale in comparison to rival Michael Kors. Over a similar four-year period, sales at the design company skyrocketed 329% from $508.1 million to almost $2.2 billion. Like Coach, Michael Kors reported a growth in store count (187% from 106 locations to 304), but it also experienced a significant jump in aggregate comparable store sales of 245%.
From a profitability perspective, Coach did very well but, again, fell short of its peer. Between 2010 and 2013, the retailer's net income shot up 41% from $734.9 million to a little over $1 billion. Even as its selling, general and administrative expenses inched up from 41.1% of sales to 42.8%, its effective tax rate declined from 36.5% to 32%, essentially serving to offset its rising cost structure.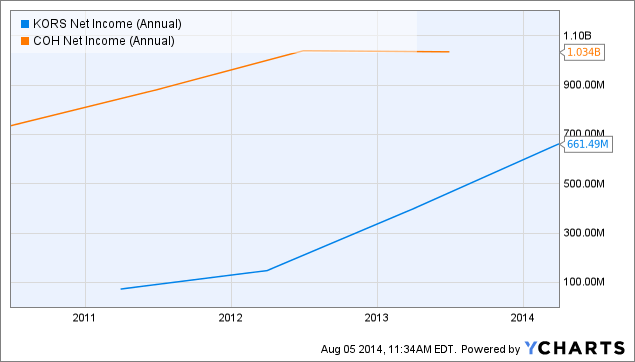 KORS Net Income (Annual) data by YCharts
While Coach's results weren't, by any measure, bad during this period; they pale in comparison to what Michael Kors was able to accomplish. Between 2010 and 2013, the company's net income shot up 914% from $39.2 million to 397.6 million. This was due, in part, to the company's higher revenue, but can also be chalked up to its cost of goods sold declining from 47.5% of sales to 40.1%, while its selling, general and administrative expenses dropped from 37.7% of sales to 28.5%.
Even in this most recent fiscal year, Michael Kors outpaced Coach. For the year, Coach saw its revenue fall 5% to $4.8 billion as its net income dropped 24% to $781.3 million. Michael Kors, meanwhile, reported a 52% jump in sales to $3.3 billion and a 66% increase in net income to $661.5 million. Moving into its 2015 fiscal year now, management believes revenue will likely grow even more, hitting as high as $4.25 billion while earnings grow an extra 26% compared to last year's results.
But there must be some catch…right?
In the case of fast-growing companies like Michael Kors, the downside is that investors usually have to pay a premium for the company's future growth prospects. If you get in early enough, this strategy can yield some fantastic results, but if you jump on the train too late, you'll likely ride it off a cliff. Michael Kors, on the other hand, appears to be an exception to this rule.
| | | |
| --- | --- | --- |
| | 2014 P/E | 2015 Forecasted P/E |
| Michael Kors | 25 | 20 |
| Coach | 13 | 19 |
Using its 2014 earnings results, the retailer is currently trading at about 25 times profits. Although this is higher than the 13 times earnings Coach is trading for, when you look at Michael Kors' P/E of 20 and Coach's P/E of 19, the situation looks favorable for Michael Kors' shareholders. In addition to buying a faster-growing company that looks set to continue growing while its peers is on the decline, you're doing so at a cost that isn't significantly greater than its falling rival.
Takeaway
Right now, the situation facing Coach is anything but great. Yes, management did report revenue and earnings that outpaced forecasts, but the results still fell well below what the company reported last year. Moving forward, it will be interesting to see how things progress, but it appears to me that the business is still bleeding out, but only doing so at a slower pace than anticipated. For this reason alone, investors might want to consider Michael Kors as a prospective opportunity. The company is continuing to grow at a nice clip and it is, relatively speaking, inexpensive.
Disclosure: The author has no positions in any stocks mentioned, but may initiate a long position in KORS over the next 72 hours. The author wrote this article themselves, and it expresses their own opinions. The author is not receiving compensation for it (other than from Seeking Alpha). The author has no business relationship with any company whose stock is mentioned in this article.