Since 2011, gold has been going through a sharp correction, plummeting as far as $1195 an ounce in December 2013, down from $1895 an ounce in September 2011 equating to a 37% loss from peak to trough. Moreover, when you look at individual mining companies, the losses have been much more severe. Newmont Mining Corp (NYSE:NEM) has gone from a peak of $70.49 in 2011 down to a low of $20.87 a share this year. That's a staggering share price drop of 70%. Barrick Gold Corp (NYSE:ABX) and AngloGold Ashanti (NYSE:AU) also experienced significant falls in share price, but Royal Gold (NASDAQ:RGLD) is one of the few shining lights in this sector. It has flourished this year and is trading now at less than 20% below its all time high of $99.83, set back in 2012. Royal Gold, is not a Gold mining company but a profitable royalty company. Lets go through in detail why Royal Gold should be a real winner in the months and years to come
Firstly, Royal Gold is a far more diversified company in this sector compared to a standalone mining company. Royal Gold provides companies with fresh capital in exchange for a percentage of the metal (royalties) when the metal comes out of the ground. There is no risk on their part in the operation or running of the mine. All they do is cash the royalty checks every quarter, and when you see that they have increased their mine portfolio from 49 to 204 since 2008, you begin to see that the company holds far less risk than a standalone mining company that only has a few mines on their books.
Secondly, this company's price to book value is very cheap right now. Even though its trading 20% short of its all time highs, its book value is far lower than it has been in the last 10 years. As you can see from the chart, its book value has been up around 6 in the last 10 years and when you consider the extra properties they have on their books since 2008, there is no reason why we wont revisit those levels again which would result in a rapid move north in the share price.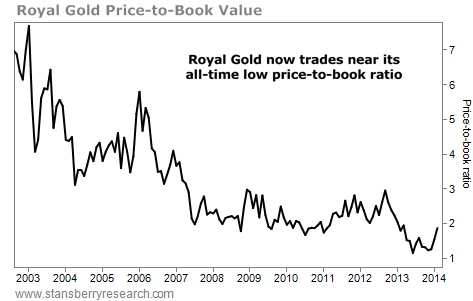 The third reason why Royal Gold in my opinion is a great long play is their dividend. Every year, the company has increased its dividend to the point where the average annual growth rate has been 24% since 2000. It is evident here that as the company grows its royalties in the years to come, it will also increase its dividend exponentially. Moreover, the company is cash rich, with $646 million in cash and $309 million in debt (loans to mining companies for royalties). This cash will be put to good use by scouring the market for more depressed miners and loaning out the money for royalties, which in turn will increase cash flows and dividend payments going forward.
Finally, and this reason is the most important for gold investors; most gold investors will not make money is this sector unless the price of gold rises. For example, the biggest ETF in gold, the SPDR Gold Trust ETF (NYSEARCA:GLD), does not pay a dividend, so an investors only possibility for profit is capital appreciation. Also, a mining company fundamentally is an equity trading on a stock exchange. If the stock market gets hammered, a mining company could follow suit and fall along with the stock market, irrespective of what the gold price is doing. Also, you have the standard risks associated with mining companies such as budgeting, weather, country regulations, permits, staff problems, etc. Royal Gold only has 20 staff on their books, but more importantly I believe this company can make money for its shareholders even if the gold price doesn't move. Why? because if the company continues to increase its portfolio of miners, this will increase royalty incomes. Their 5 cornerstone properties have an estimated life span of 20 years plus (stable income) and even if the gold price stays at these levels for the distant future, Royal Gold will continue to do new deals as some mining companies invariably will continue to struggle being profitable with gold at these levels.
Disclosure: The author has no positions in any stocks mentioned, but may initiate a long position in RGLD over the next 72 hours. The author wrote this article themselves, and it expresses their own opinions. The author is not receiving compensation for it (other than from Seeking Alpha). The author has no business relationship with any company whose stock is mentioned in this article.