Keurig Green Mountain (NASDAQ:GMCR) will be announcing their 3rd quarter 2013 results on August 6th and to much anticipation as the stock has maintained a relatively high valuation since announcing its long-term partnership with Coca-Cola (NYSE:KO). Below is a diagram, which highlights the company's success over the last 12 months in which the company experienced strong growth and enhanced returns for investors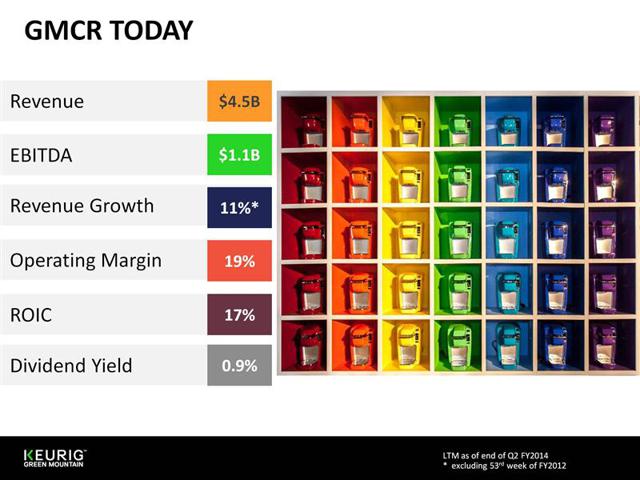 Click to enlarge
Now let's take a closer look at the company's performance from the 3rd quarter of last year
GAAP EPS: $.76, up 65% YOY
Revenues: $967mm, up 11% YOY
Gross Margins: 42.1%, up 720bps YOY
Single-serve Packs: Up 18% YOY
Brewers and Accessories: Down 4% YOY, 1.5mm brewers shipped
Analysts expect another strong quarterly performance from the company after showing strong growth in the first half of the year. After reporting a "so so" 1st quarter in 2014 the company managed to once again grow revenues by double digits, show strong free cash flow and grow earnings per share by 18% on a YOY basis in the 2nd quarter of 2014. In the 2nd quarter the company also announced an accelerated share repurchase program worth $700mm, which witnessed the company repurchasing roughly 4.3mm common shares. Single-serve packs and brewers grew 13% and 9% respectively during the 2nd quarter of 2014. Gross margins once again improved in the 2nd quarter on a YOY basis to 41.5%, from 41.3% in the prior year period.
Now let's take a look at some of the operational activities surrounding Keurig Green Mountain which occurred since the company last reported earnings in early May. It is well known that Keurig has plans to launch its new product line next year. As the company maintains a long-term partnership with Coca-Cola, and drawing upon Coca-Cola's extensive experience in the carbonated soft drink industry, Keurig has purchased a manufacturing facility closer to its partner. Keurig will open a manufacturing facility in Douglas County, Georgia. From the company's press release:
Keurig has closed on the purchase of a 585,000 square foot building for renovation in Douglasville, and anticipates creating 550 new jobs and investing $337 million into the facility over the next five years.
The new Douglas County manufacturing center will support the production of pods for the company's new Keurig® Cold platform. The system is currently under development with expected availability in fiscal year 2015.
As it pertains to the company's hot platform, Keurig continues to broaden its reach into the commercial and food service marketplace with a newly formed agreement that will see Subway serving Keurig coffee in Keurig hot beverage platforms. From the press release:
The Keurig K150 brewer expands the restaurants hot beverage options, providing freshly brewed coffee on demand. Currently, more than half of the SUBWAY restaurants in the United States and Canada have adopted a Keurig system.
Keurig has plans to continue to add more Subway restaurant locations serving Keurig coffee going forward. Keurig understands that private label K-cups have been threatening, and in many cases, taking market share of the single-serve portion pack category over the last several quarters. In an attempt to curtail the advancement of private label portion packs, the company has continued to form new partnerships and advance its brewer system technology. Many of Keurig's most formidable competitors are, in fact, the same customers the company serves, grocery retailers. As promised late last year, however, Keurig aimed to partner with many of these grocery/private label brands in order to deliver a Keurig coffee brewing experience. During the 3rd quarter of 2014, the company announced two significant partnerships:
Keurig and BJs Wholesale Club together are bringing Wellsley Farms coffee to K-Cup packs for the Keurig brewing system. New Wellsley FarmsSignature Blend K-Cup® packs are now available exclusively at BJs Wholesale Club locations and on BJs.com.
BJ's has over 200 store locations in North America. In addition to BJs, Keurig announced that it is now the exclusive manufacturer of Harris Teeter branded K-Cup packs for the Keurig brewing system. Harris Teeter is a southeastern grocery retailer in the United States and subsidiary of Kroger Inc. (NYSE:KR).
Lastly, but certainly not least is the company's largest new partnership with Target Corp. (NYSE:TGT). The Archer Farm brand K-cups by Target are now licensed through Keurig Green Mountain.
Click to enlarge
As this partnership was a long-time in the making, it offered Target ample time to reformat their respective coffee aisles in stores across the nation. Keurig K-cup products are now exclusively on one side of the coffee aisle with bagged and canned coffee grounds on the opposite side of the aisle. Additionally, the K-cups are front facing along the most popular walking/traffic flow of the store, so as the consumer will see K-cup coffee products more directly.
In addition to adding formerly private label brands to the Keurig portfolio of licensed K-cup brands, the company also expanded its partnership with J.M. Smuckers (NYSE:SJM) and entered into a new partnership agreement with Nestle USA. The companies plan to launch the new Nestlé Coffee-mate 2 in 1 K-Cup packs in fall 2014 and in stores in spring 2015.
Keurig Green Mountain is preparing to launch its latest Keurig coffee brewer platform in September this year. The Keurig 2.0 will aim to, not only increase brewer sales, but also increase brewer usage and/or attachment rates. Keurig recognizes that those consumers, whom currently choose brewers other than Keurig, are doing so partially because of the need to brewe larger portion sizes and/or full carafes. While the Keurig 2.0 will be able to brew by the cup or by the carafe, it comes to the market at a time when the Hamilton Beach FlexBrew system will have already been in the market place for nearly 12 months. Hamilton Beach is a subsidiary of Nacco Industries (NYSE:NC).
The FlexBrew is likely going to be a less expensive brewer than the Keurig 2.0 and maintain the open infrastructure that will not be found in the Keurig 2.0. The Keurig 2.0 will have software that reads all inserted K-cups to brew the specific cup of coffee desired and eliminate the usage of private label coffee in Keurig 2.0 machines. There are mixed opinions currently over the read-only technology being utilized by the Keurig 2.0 currently. The following image of the Flexbrew is sourced through amazon.com (NASDAQ:AMZN)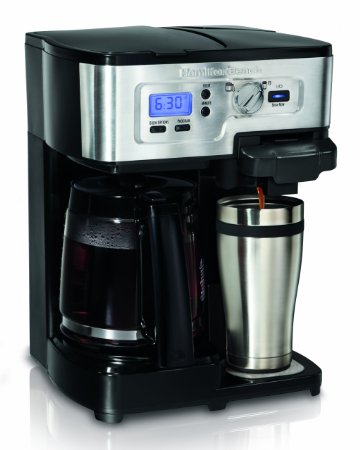 The FlexBrew has noticeably been gaining retail distribution in North America and has been selling very well according to reports from IRI Group (subscription necessary). According to Amazon's single-serve coffee category rankings, the FlexBrew is the number three best selling brewer behind two Keurig brand brewers.
One company that believes Keurig is embarking on anti-competitive product development is TreeHouse Foods (NYSE:THS). TreeHouse Foods is suing Keurig Green Mountain over the usage of this technological feature. TreeHouse suggests that Green Mountain's agreements with various suppliers and distributors are designed to give the company monopoly power in the market. TreeHouse also said that a new version of the Keurig brewer will have an "anticompetitive lock-out technology" that will prevent the new brewers from functioning with private label k-cups supplied by unlicensed competitors.
TreeHouse says Green Mountain's actions are an attempt to eliminate consumer choice and coerce brewer owners into purchasing only Green Mountain-owned or licensed K-cups. It also says that Green Mountain plans to eliminate the current lineup of K-cup brewers, which function with other manufacturers' cups, to exclude competition and force consumers to purchase higher-priced Green Mountain cups.
As investors look forward to Keurig Green Mountain's quarterly release this Wednesday after the closing bell, analysts are currently expecting the company to report $.88 a share on $1.05bn in revenues. On the company's official earnings release and conference call, investors should look for details surrounding guidance, gross margin performance, free cash flow, Capex spending, portion pack and brewer growth, launch dates surrounding the Keurig 2.0, updates concerning Keurig Cold and expectations going into the holiday shopping season.
Disclosure: The author has no positions in any stocks mentioned, and no plans to initiate any positions within the next 72 hours. The author wrote this article themselves, and it expresses their own opinions. The author is not receiving compensation for it (other than from Seeking Alpha). The author has no business relationship with any company whose stock is mentioned in this article.