By Keith Schoonmaker
Third-party logistics firms, or 3PLs, generate some of the highest returns on invested capital in our industrial stock coverage universe. Due to their asset-light business model, these firms' margins generally are robust even during periods of weakness in freight shipping. Logistics providers benefit from international trade, and from the secular increase in the practice of outsourcing shipping functions. Shippers hire traffic management from 3PLs to reduce transportation costs, decrease fixed assets, reduce inventory expenses, and improve shipping accuracy. Together, these benefits allow shippers to focus on their core competencies. We project revenue growth at 3PLs to outpace global GDP growth, based not only on our expectation that a greater volume of goods will be shipped by expanding global exchange, but also due to our belief that logistics firms will gain a greater share of their customers' transportation wallets.
At Morningstar, our equity analysts cover a number of 3PLs. We divide our coverage of the logistics business into several groups. These include firms that provide truck brokerage (C.H. Robinson (NASDAQ:CHRW) and Landstar (NASDAQ:LSTR)), freight forwarding (Expeditors International of Washington Inc. (NASDAQ:EXPD) and UTi Worldwide (NASDAQ:UTIW)), intermodal marketing companies (Hub Group (NASDAQ:HUBG) and Pacer (NASDAQ:PACR)), and integrated shippers (UPS, FedEX (NYSE:FDX), Deutsche Post, and TNT).
We think now is a good time to give an update on macro observations that affect 3PL, and also take a look at a few measures of market volume. In addition, we'll review these firms' economic moats, and suggest some that we think may be on sale.
Logistics Firms Among the Moatiest Transportation Companies
Our transportation stock universe is comprised of third-party logistics providers, railroads, integrated shippers, truckers, marine shippers, and airlines. Generally speaking, among our six subsectors of transports, we consider 3PLs, railroads, and integrated shippers to have powerful competitive advantages, such as massive barriers to entry and powerful network effects that fend off competitors' intrusions. However, due to low barriers to entry and difficulty in differentiating their services, we find most truckers, marine shippers, and airlines compete away profits, supporting no economic moat. These challenges do not prevent several outstanding operators from earning high returns, but we do not generally consider operational excellence sufficient to justify the presence of a moat. At present, we also consider Pacer to be a no-moat firm, since its most important segment, intermodal marketing, is in the development stage as a retail enterprise, replacing its legacy formerly cost-advantaged wholesale offering.
Logistics firms establish their moats on network effects, and reinforce this with costly, sophisticated information technology systems. Both networks and IT keep new entrants from easily stealing share. C.H. Robinson and Landstar make markets in the U.S. domestic truck brokerage industry, boasting unmatched portfolios of buyers (shippers) and sellers (truckers) of capacity, similar to eBay's (NASDAQ:EBAY) massive buyer/seller network. Entrants lacking such ample pools of buyers and sellers face an uphill climb to reach the mass of these titans in the space.
In domestic truck brokerage and freight forwarding, even the largest market share owners control a small fraction of the industry. We believe that even successful new entrants would not pose a debilitating threat to existing large networks. In fact, C.H. Robinson and Landstar are both customers and suppliers to one another, and we think new entrants in brokerage likely would be similarly symbiotic.
Similar to truck brokers, freight forwarders and intermodal marketing firms meet the gap between senders, and sea, air, and rail carriers. While skeptical of the value of the middleman, we consider 3PLs to be useful intermediaries, able to better serve both parties than if owners of shipments and owners of ships had to search for each other.
click to enlarge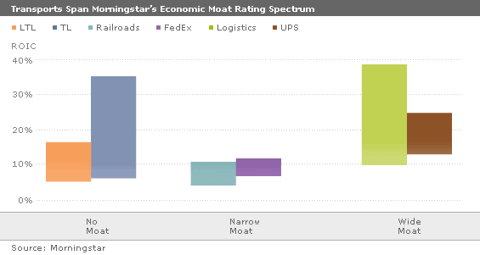 Click to enlarge
Shipping Volumes Recovering from 2009, but Decelerating
Given their asset-light operations, logistics firms typically have less operating leverage than asset-intensive railroads, integrators, and truckers, but we think all modes benefit from greater volume. We watch a handful of freight volume indicators, and share a few of our favorites here. Common to most of our volume charts below are strong recovery in the first half of 2010, and slowing improvement more recently. However, most of our volume charts reveal that even recently recovered values remain below peak levels from two to four years ago. Thus, we expect both 3PL and asset-based freight firms to expand earnings when they capture additional volume during the next couple of years.
Several metrics display trends that affect multiple sectors within the 3PL space. The broad-based Cass Freight Index (compiled by freight billing processor Cass Information Systems, and represents 1,200 divisions of firms across the SIC classification spectrum) reveals shipments and shipping spend are both on an upward trajectory. As visible below, shipments and expenditures passed through their nadirs in April 2009 and January 2009, then recovered suddenly in 2010. Still, shipments remain below the 2004-2007 range.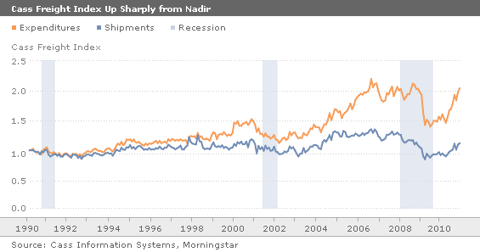 Click to enlarge
Container volume shipping to and from L.A./Long Beach shines a light on Asian trade lanes, which are particularly important to Expeditors, Hub Group, and Pacer. As visible below, loaded volume is now not far from past peaks, but this reflects only a portion of these firms' volume potential.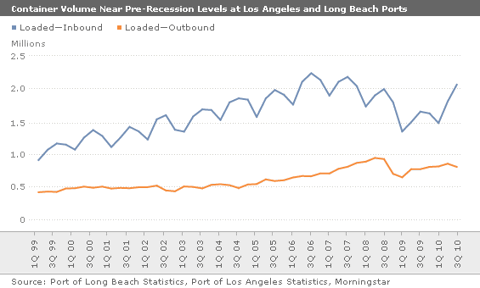 Click to enlarge
In our chart below, we display international airfreight tonnage trends. The change in year-over-year shipments reflect the steep recovery during the first half of 2010, then slowing since May. This is not unusual during recovery, since some inventory replenishment is transported most quickly by air. Later resupply can be sent more economically by steamship carrier. Clearly, UPS and FedEx capitalized on airfreight demand, and international express shipping drove earnings. Our latest data still reflects sold double-digit improvement over low 2009 values, but as the graph shows, year-over-year monthly comparisons become more difficult in November.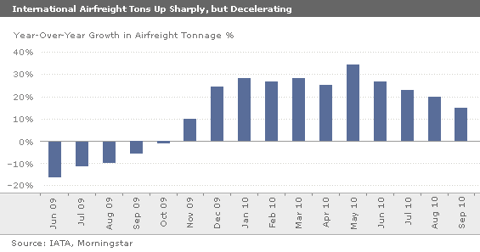 Click to enlarge
In our opinion, rail volume is the highest quality of our freight metric. It is timely, frequent, and represents actual data rather than a surveyed opinion. Our chart below reveals five years of U.S. intermodal volume hauled by the railroads. 2010 units remain around 2008 levels, and well above those from 2009. Some seasonal decline is normal in the fourth quarter, so we're not too alarmed by the slight contraction in weekly volume following several all-time weekly container volume (the majority of intermodal units) records set in October. To smooth out holiday interruptions and weather disruptions, we watch rail volume on a rolling four-week basis. We also separate coal from total carloads since, at 40% of total 2009 carloads, coal moves consolidated carloads rather significantly. Cumulative year-to-date carloads excluding coal are up 15% from 2009 levels, cumulative coal cars are up just 1.5%, and intermodal units year-to-date, the most relevant value for 3PLs, are up 14.9% year over year.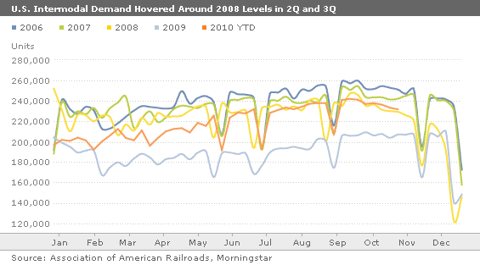 Click to enlarge
Click to enlarge
While intermodal shipping has rebounded tremendously year to date, we are optimistic that intermodal growth will continue, benefiting the rails, of course, but also intermodal marketing companies like Hub Group and Pacer. Our growth expectation stems from intermodal's lower emissions and lower prices, which are amplified when fuel prices increase, given rails' treble fuel efficiency versus trucking. Historically, trucking firms also suffered from greater than 100% annual driver turnover, so at time capacity was difficult for shippers to locate. This benefits Landstar and C.H. Robinson, somewhat, given their larger driver pool than any asset-based provider, but the rails have not run into capacity constraints. Hub and Pacer offer significant container fleets--key to capturing intermodal demand. We show below that the American Trucking Association Truck Tonnage Index remains below normal 2006-2008 levels and, while up from low points in 2009, lately vacillates around 110. It still seems to us that trucking demand has not turned the corner fully, and we expect further recovery in industrial production and consumer spending leave room to boost truck volumes. We thus expect super-normal top line growth from the truck brokers and intermodal marketing 3PLs during the next couple of years.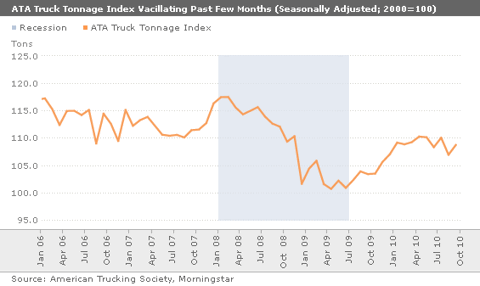 Click to enlarge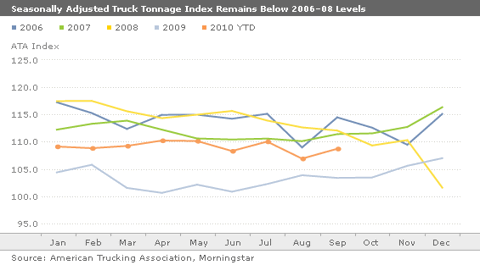 Click to enlarge
Fuel Prices Bode Well for Intermodal Growth
We think diesel prices favor more extensive use of intermodal shipping. As our plot of on-highway average diesel pricing reveals, fuel remains expensive compared to historical price levels. While we claim no expertise in projecting commodity prices, we think it's logical to assume that the mode of transportation that uses lower fuel and lower manpower can offer more attractive rates to its customers. Short hauls always will be best handled by trucks, but we think railroads' recent high service levels and improving velocities bode well for intermodal marketing companies' capturing a greater slice middle- and long-distance portions of the sizable truckload market.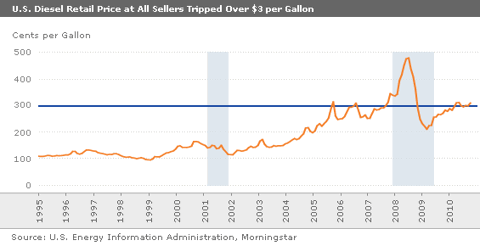 Click to enlarge
Several Sector Stocks on Sale
At the time of publication, we rate Pacer, Landstar, and UTi Worldwide as four-star stocks. Of the three, Landstar is the only firm in no need of operational repair. UTi was assembled by acquisitions, and is only now integrating its constituent parts into a uniform operating and information system. New CEO Eric Kirchner led UPS' North America freight forwarding and UPS' supply chain solutions global transportation operations, including incorporating the Menlo forwarding operations (where he was chief operating officer) into UPS operations. Kirchner has a big job at UTi, but we think improving margins and returns on invested capital are on the horizon, once demand recovers. While not hitting on all cylinders, UTi is in an attractive, high-return market, ready to capture a small share of rising global trade.
In the past, Pacer produced 4%-6% operating margins, in the normal range for a brokerage firm, but it achieved this while benefiting from an advantageous legacy rail rate contract with Union Pacific (NYSE:UNP). Given its normal profitability, there was no catalyst for change, and Pacer failed to integrate its collection of numerous and redundant subsidiary firms.
We've long held that Pacer needs to accomplish three critical steps to approach the quality of competitor, Hub Group. First, the firm needs to grow the retail intermodal franchise it neglected to develop when its wholesale business was fed by the now-expired preferential contract with Union Pacific. Second, Pacer needs to slash SG&A costs to bring them more in line with those of its peers. Finally, the firm needs to implement an IT platform designed to identify profitability by individual load, just as Hub did several years back when it doubled margins. Pacer seems to be making good progress on controlling SG&A costs, and--finally--moving to a proper IT system, but these are relatively quick and easy tasks compared to building a retail product.
The resurgence of intermodal shipping during 2010 seems to us an ideal environment for Pacer to expand retail sales, but so far the firm has only captured a fraction of broader market growth. Pacer's recrafting itself into a retail intermodal marketing company will take time--perhaps longer than we expected, given the firm's modest year-to-date growth. In our opinion, Pacer has greater uncertainty, but also greater potential for improvement than other names in our logistics universe.
Disclosure: Morningstar licenses its indexes to certain ETF and ETN providers, including Barclays Global Investors (BGI), First Trust, and ELEMENTS, for use in exchange-traded funds and notes. These ETFs and ETNs are not sponsored, issued, or sold by Morningstar. Morningstar does not make any representation regarding the advisability of investing in ETFs or ETNs that are based on Morningstar indexes.