"I had one woman ask me if Jesus made it. Another guy calls it liquid gold."

-William Shaffer, #1 Prescribing Doctor of Acthar, as reported by ProPublica
If you're long Mallinckrodt (NYSE:MNK) or Questcor (QCOR), this is likely not a headline you'd like to see when doing your research on what's new and current with the company:

ProPublica's Charles Ornstein published two pieces on Questcor today. Yup, this is headline #1 and this is headline #2:

You can find the links to these articles here and here. Both of these pieces are quoted extensively below.
Both articles have some serious whoppers in them. Like this:
The top 15 prescribers of Acthar accounted for 10 percent of Medicare prescriptions, an unusually high proportion, ProPublica's analysis showed. The top four were paid by Questcor either as promotional speakers, researchers or both.
First and foremost, let's start with the beginning article that claims that many of the prescribers of Acthar have financial ties to the company that makes the drug. In my opinion, that's about as close to a headline as "Questcor paying off doctors" as you can get without actually saying that.
Let's start with the first four prescribers, as identified by ProPublica:
The No. 1 prescriber of Acthar in Medicare in 2012, Dr. William Shaffer, said he gives speeches that draw on his experiences as both a neurologist and a patient with multiple sclerosis, a condition that Acthar treats.

"I was and still am an M.S. patient and have seen not only my personal results but other patients that have responded amazingly," Shaffer said.

The Los Angeles neurologist Regina Berkovich, the No. 2 prescriber, with 38 prescriptions in 2012 in Medicare, has received research funds from Questcor and has spoken on behalf of the company. She did not return phone calls and emails seeking comment.

Several of Medicare's other top prescribers of Acthar have blemishes on their records. For example, the Michigan neurologist Gavin Awerbuch, the most frequent prescriber of the drug in 2011, was charged in May with health care fraud and distributing a controlled substance. He has not yet entered a plea. He could not be reached, and his lawyer did not return phone calls and emails.

The neurologist Sean Orr, who has given promotional talks for the drug but was not a top prescriber, had his medical license suspended last year by Florida, which determined that he had sex with a patient. A civil whistle-blower lawsuit filed in 2012 in United States District Court in Jacksonville, Fla., also accuses Orr of misdiagnosing healthy patients with neurological diseases, including multiple sclerosis, so he could bill for their treatment and prescribe expensive medications. That lawsuit is pending. He could not be reached for comment.
Certainly some very interesting developments for a company who has been scrutinized so closely by many, including regulators in the U.S. government who continue to have an open and active case regarding Questcor's promotional practices "and other related matters" - (which could mean absolutely anything) as the company put it.
This isn't necessarily an uncommon practice in the drug world, however. The article notes at the end that:
Nine of the top 10 prescribers of the Alzheimer's drug Exelon received money from Novartis, the drug's maker. And eight of the top 10 for Johnson & Johnson painkiller Nucynta were paid speakers.
However, with a patient population for Acthar that is so small and so scrutinized, this type of information appears to be a bit more substantial - to me, at least.
In the second article, we learn that Tricare has given the boot to Acthar:
Many outside experts say there's insufficient evidence that the drug works better than much cheaper options for treating multiple sclerosis relapses and a rare kidney disease, conditions for which it is often prescribed. In the absence of such scientific studies, some private health insurance companies, as well as Tricare, the military's health care program, have curtailed or eliminated spending on Acthar. Proponents of the drug say it is a worthy option for patients who have failed on other therapies.
Tricare is, in essence, the Medicare for the military. So, Medicare is looking for a way to undo the burden of unnecessary drug costs, and now Tricare seems to have curtailed or eliminated spending on it. Medicare has to cover drugs that are approved by the FDA. Why would Medicare want to eliminate it? Same reason that other insurers like Cigna and UnitedHealth want to - its astronomical cost for its non clinically proven efficacy:
Acthar isn't prescribed often, just 3,387 times in Medicare in 2012. But Part D spent an average of $41,763 per prescription, making it one of the most expensive drugs around.

The drug ranked 139th that year, in terms of total cost, out of more than 3,000 drugs prescribed in Medicare. In 2008, it ranked around 660th.
This is what Tricare's policy on Acthar now looks like: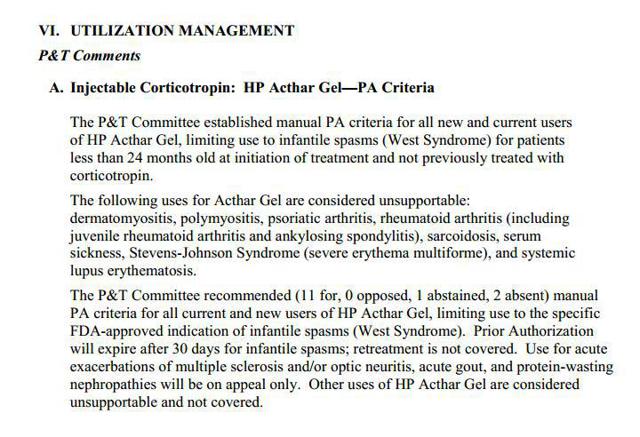 Many people suggest these policy changes don't mean much. I'm contending that we're about to see UnitedHealth sales, which make up 11% of Acthar sales (and UnitedHealth has implemented a similar policy), fall off a cliff.
The Tricare numbers sure as hell did:
Acthar usage has plummeted since the new rules went into effect. Tricare covered 725 prescriptions for the drug last year, at a cost of $34.4 million (before rebates), according to data obtained under the Freedom of Information Act. Through the first five months of this year, it covered only 91 prescriptions.
That forecasts more than a 50% drop off of Tricare for coverage year over year. And, the Tricare policy change didn't even go into effect until February 1st. Despite Tricare's policy being a bit more unrestrictive than Cigna and UnitedHealth's, the vote was 11-0 against the drug. Massive.
Meanwhile, when the company was asked about Tricare in a comment letter from the SEC regarding their proxy, they filed the following in response on JULY 10th, 2014:

Now blow that up:

Tricare results MAY decrease? This was filed on June 10th. If ProPublica can find out from a FOIA request that the numbers have TANKED since then, why is Questcor telling the SEC that the numbers MAY decrease - instead of that they already HAVE decreased?
Who's wrong here? Questcor or the Pulitzer Prize winning journalist that put out yesterday's article?
If Questcor is going to claim that the article is wrong, then we have to investigate that.
If Questcor says they simply didn't know this when they wrote these risk factors that leads one to ask:
Does Mallinckrodt know about this decrease?
And if Mallinckrodt doesn't know about this decrease, don't you think that could change how they feel about Acthar in a material sense?
How Mallinckrodt looks at these figures and contends that UnitedHealth, Cigna, Tricare, and Medicare are all going to keep paying for this drug the way that they have is beyond me. It's as clear as day, people. Fewer and fewer people want to pay for an expensive drug that can't even be clinically proven as more effective than a synthetic. Again, even Medicaid is starting to catch on:
Some state Medicaid programs for the poor have also limited Acthar's use to infant seizures. Despite these restrictions, Medicaid's spending on Acthar rose sharply last year after the government dropped rules requiring Questcor to give back almost the entire cost of the drug to states in rebates.
What about these statements made by Dr. Ed Pazella, who is the NATIONAL MEDICAL DIRECTOR for Pharmacy Policy and Strategy at Aetna:
Questcor's "combination of aggressive marketing and aggressive price increases finally caused it to become a line item that a finance guy looked at and said: 'What the hell are we paying for this? Why? What is it?' And that's when we started looking at what's our policy around this stuff," Pazella said
(Per ProPublica, Dr. Pazella made these remarks at a recent Sanford Bernstein conference.)
In an audio recording of this conference obtained by QTR (link below), Pazella appears to also say:
We're all trying to figure out how to ratchet it down.
Then, when probed again about whether or not the policy is going to hold water, because sales seem to continue the same way:
We see a gradual decline, and hopefully almost no use outside of infantile spasms within the next couple of years. This is one of those things that's taking a while.
This is, again, from Dr. Ed Pazella, who is the NATIONAL MEDICAL DIRECTOR for Pharmacy Policy and Strategy at Aetna. That's going to be a tough one to argue with.
This was from an insurance conference, where the speaker chose to speak about Acthar in response to a question. The fact that the head of Aetna's drug policy chose Acthar out of thin air when prompted about expensive drugs says to me that it's on the minds of those working in the insurance agency.
You can listen to this starting around the 30:00 mark at the following link.
You have to wonder just what Mallinckrodt is thinking here.
Disclosure: The author is short QCOR. The author wrote this article themselves, and it expresses their own opinions. The author is not receiving compensation for it (other than from Seeking Alpha). The author has no business relationship with any company whose stock is mentioned in this article.