Buffalo Wild Wings (NASDAQ:BWLD) released its Q2 earnings this past week and gave full year guidance of 25%. The stock was rewarded with about a 12% drop and closed the week at $146.26 and a current trailing P/E of 30.5 from a former trailing P/E of about 38, pre-earnings. The rationale given for the drop was that the guidance was too low. BWLD, still well within its growth phase, has had impressive same store sales and stellar Q1 and Q2 improvements over prior year's earnings of 73% and 44%, respectively.
So this begs the question, why was the earnings guidance lower than expected and moreover will it be exceeded?
Two scenarios for Q3, Q4 and FY 2014 are given below based on information from recent earnings calls and financial data. The first scenario is a conservative scenario and the second a business as usual scenario. The as-usual scenario is not a rosy or optimistic scenario.
Notes on significant (>5% of sales) line items precede the forecasted income statement with comments on the inputs to the model.
Notes on significant line items
Restaurant Sales Line Item
September 1st marks a new menu rollout and incremental price increase of 0.6%. The estimates given for the effect of prior quarter price improvements are 1.9% for Q3 and 2.1% for Q4 and are inclusive of the 0.6%. Additional menu price may still be taken.
BWLD showed impressive same store sales growth in the first four weeks of Q3. Q3 2014 first four week same store sales were up 8.2% for corporate and 7.4% for franchise stores versus 1.5% and 1.2% for Q3 2013. Same store sales for Q3 2013 ended up being 4.8% for corporate (including 0.5% to extra NFL game and 2.9% menu increase) and 3.9% franchise stores, showing a dramatic improvement in the last five weeks of Q3. Q3 2013 had an extra NFL game compared to Q3 2012 with a 50 basis point attribution. The first four weeks Q3 2014 had the World Cup with a 330 basis point benefit. Stripping out the menu price increase and the World Cup benefits yields an acceleration in first four weeks same store sales versus last year's deceleration ex-menu price increase of 2.9%.
Thus, for a conservative estimate showing same store sales increase at the same pace as last nine weeks (ex-menu and NFL bump) Q3 2013 would put Q3 2014 same store sales at 6.3%, inclusive of 1.9% menu price increase.
The as-usual scenario takes into account the acceleration seen in the first four week same store sales and is 9.3%. If the marketing of the fantasy football draft parties is successful this season or additional menu prices are taken on September 1, the comps could go even higher.
For Q4, there will be a few extra Saturday and Thursday NFL games, which will benefit Q4 sales in addition to the given menu increase of 2.1%. Estimates of 5.6% are used in the conservative model and 7.7% in the as-usual model.
Adjustments were made for previous newly opened stores.
In Q3, BWLD expects to open 10 and close 1 corporate stores. It expects to open a second PizzaRev location. No information was given on Q4 openings, which have been strong in recent years. For Q4, a modest additional 15 openings is used in the conservative scenario and 20 openings in the as-usual scenario.
The call mentioned that up to 19 franchise reacquisitions may occur in 2014. Depending on the timing of the reacquisitions, the top line number could differ significantly from this model. But the call also mentioned that these are most likely breakeven, not accretive to earnings after factoring in associated costs. The focus of this article is on earnings.
Franchise Line Item
In Q3, BWLD expects to open 13 franchise locations, including 1 international location. It was noted that the franchise markets are smaller than previous markets. Thus one may expect lower than average weekly sales.
During the call BWLD stated that 7-9 international franchises are expected to open in 2014. Three international stores have already opened (2 in Q1 and 1 in Q3). Thus, it is assumed 5 open in Q4 and an additional 7 domestic franchise locations. In the as-usual scenario, royalty fees of 5% of sales, and an initial, one-time $40,000 fee per location are assumed. Same store sales at franchise locations are assumed to be 1% less than the respective corporate location.
Labor Line Item
Note - In my opinion, the labor line item has the most risk given BWLD's continued repurchase of franchises and the current labor environment.
Labor costs have continued to rise on a percent basis even with increasing same store sales and menu prices. This rise may be a semi-permanent feature moving forward and is due to a rising minimum wage (and lack of a shift from the current labor model) and also the inability to currently realize decreases from the guest experience captains program. However, in the long term, this program may have value.
It was noted on the earnings call that labor costs will rise 50 basis points sequentially due to the continued rollout of the captains model, possibility for higher bonuses and minimum wage increase in two states, which represents 12% of corporate stores as of Q4 2013. This percent was used in the "as-usual" scenario and an additional 20 basis point was added in the conservative scenario.
Cost of Sales Line Item
Lower wing costs and menu changes have helped decrease this line item in FY14. In July 2013, BWLD switched from a price per wing to price by portion. Thus, all incremental decreases in cost of sales associated with the menu change have been realized. Q2 wing costs averaged $1.42 and Q1 averaged of $1.36. Wing costs were 21.3% of the cost of sales in Q2, which is lower than the recent annual high in 2013 of 25% cost of sales.
Q3 wing costs are trending up, with the cost now averaging $1.46. In the conservative scenario, a Q3 $1.50 and Q4 $1.59 (10% rise from Q2) wing costs are assumed. In the as usual scenario, the wing costs are $1.49 for Q3 and $1.526 (7.5% over Q2) for Q4. Of course, any rise in wings can be counteracted with additional menu price increases, which is expected in September at 0.6%. No menu prices were noted in Q2.
Operating Line Item
In Q2, operating costs crept up to 14.6% versus 14.4% prior Q2 due to higher repairs and maintenance. Ms. Smith stated that the increase should not be expected to continue. Given that the hodgepodge of cost components in this line item, seasonal, fixed and variable, each previous quarter's percent was used with leverage for both scenarios. A slightly smaller leverage was used for the conservative scenario versus the prior quarter.
Occupancy Line Item
Since the bulk of this expense is fixed, this line item should continue to see leverage for the existing stores, even with some rents including an increase for certain sales targets.
G&A Line Item
BWLD has been increasing its investment in IT and training development programs. On the earnings call, it said that the increase would continue through the end of 2014 and that this line item may not be leveraged but more guidance would be given on the October call. The guidance of $27 million G&A spending for Q3 and $15 million FY14 on stock compensation were used in the calculation of this line item, along with an estimated Q4 $28 million.
Depreciation and Amortization Line Item
BWLD, using the straight-line method for all depreciable assets, will continue to add expenses in the absolute to this line as expansion and reacquisition of franchise rights continues. A leverage effect may occur as these expenses are fixed relative to sales.
Income Tax Line Item
The two numbers from the earnings call were used, 33% conservative, 32% as usual. The lower tax rate assumes Washington will extend some tax credits.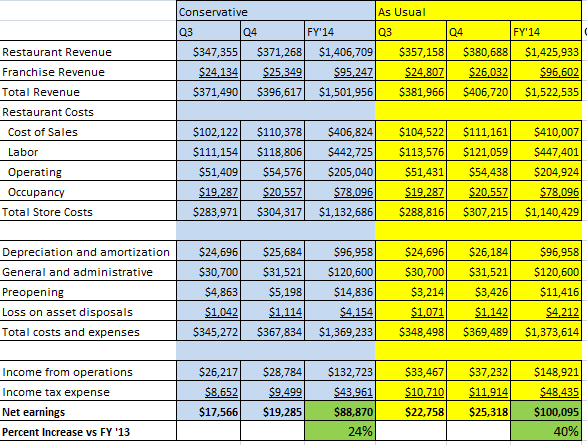 From the numbers, it can be shown why BWLD was cautious in issuing earnings guidance at 25%. A rise in chicken wing prices and the inability to control labor costs coupled with increased G&A spending could lead to this scenario. These are not unreasonable assumptions.
However, I think that this scenario is highly unlikely. BWLD will have a number of weeks' data to evaluate labor costs in the two states with minimum wage increases. It will also have some greater foresight into the trend of its wing costs since those are based on the previous month's spot price plus markup. It will also know if its draft party marketing was successful since these are typically conducted in mid-August. Thus, if costs trend higher than expected, the menu prices can be adjusted.
So was the sell-off overkill?
Future Growth
BWLD has been building its cash position, in the absolute and in percent of total assets.

Data from BWLD 10Q and 10K
BWLD is more than halfway through its 1700 US store target and is beginning to see international expansion. Successful international expansion is not unrealistic since the watching of sports is a universal hobby. It is yet to be seen if the BWLD concept will be accepted, but the data should be available in the next few quarters with the first international locations opening in 2014.
BWLD has indicated its interest in other concepts. BWLD has a minority interest in PizzaRev and recently opened its first franchise with a second to follow this quarter. If the first stores are successful, it may rapidly expand this concept. However, it is not a majority owner of the PizzaRev. There are many similar concepts being tested, and the business model (fast casual vs. full service) is different. However, the fast casual business model has significantly less risk.
The US expansion still has some major market growth, but it was noted on the call that many of the franchises being offered were in smaller markets, which is different from early classes. Offering franchise locations in the smaller markets, where the franchisee assumes the risk, and opening corporate stores in the larger markets is the more prudent choice.
BWLD has commented that it may acquire 19 franchise locations by the end of the year. The active pursuit of buying back of franchises presents some risks rather than just taking the 5% of franchise location sales. First, it brings all associated costs onto its books, notably labor and food. If food costs rise significantly, like the temporary bump in chicken wing prices recently experienced, the reacquisition could be dilutive to earnings.
Labor costs continue to rise locally, and possibly nationally with the push to raise the minimum wage and to more than triple the tipped employee minimum wage. Labor pressures are also felt with the passage of the Affordable Care Act and associated provisions.
The push to reacquire franchises leads me to believe that 1. Systems are in place to manage hourly labor (<30 hours) and 2. The technology testing is going well.
Technology Investment
BWLD continues to invest in technology but has not released any metrics on testing results. Hard data I would like to see in conjunction with using tablets:
· Table turn time - Do tablets help or hurt table turn?
o Are guests lingering because the games are so amazing they just want to stay and play one more, a crazy birds effect? Are they helping because guests can pay at the table?
o Does the ability to order at the table improve time or does a captain need to come over and still function as a server to prompt the order?
· Revenue per table/check - Does the ability for a guest to control ordering rather than wait for a server to appear mean higher check averages?
· Payment method changes - Are tablets encouraging credit card payment rather than cash? Credit cards have a higher charge associated with them than cash, including a charge on any tip, that the restaurant does not pass onto the server.
· Vendor collaboration - Are there any incentives for pushing a certain vendor brand over another?
I am also looking for comments regarding the reduction in front of house headcount and/or hours saved by technology, but this information may be a few quarters out. Harnessing technology, while important from a marketing perspective, is critical to cost control.
Real Estate and the Balance Sheet
Many of BWLD's stores are under operating leases. Operating leases are useful for certain retailers like Kirkland's, which opens and closes stores at a high rate but for more stable retailers, there may not be an added benefit of maintaining operating leases since they will be moved back onto the balance sheet. Undiscounted liabilities, as of 2013, in the amount of $541 million will be brought onto the BWLD's balance sheet. Opening stores and reacquiring stores will add to this. In recent years, BWLD has increased the percentage of stores it owns.

Data from BWLD 10K
The strategy of owning versus leasing could also be another factor in the cash build up. Owning also adds the benefit of a sale-leaseback transaction to raise cash.
With all that being noted, I think this week's sell-off was a bit overdone. If investors were expecting earnings growth of 73% (Q1 '14 earnings growth), they probably missed the chicken wing price from Q1 2013. Guidance of 25% is conservative and a 40% target is realistic.
Going forward, in addition to the new avenues for growth, specifically international expansion and new concept development, investors should pay attention to the labor line and any improvement that technology can bring to it. This line will rise and its control is key to the long-term viability of the BWLD service model.
Disclosure: The author has no positions in any stocks mentioned, and no plans to initiate any positions within the next 72 hours. The author wrote this article themselves, and it expresses their own opinions. The author is not receiving compensation for it (other than from Seeking Alpha). The author has no business relationship with any company whose stock is mentioned in this article.