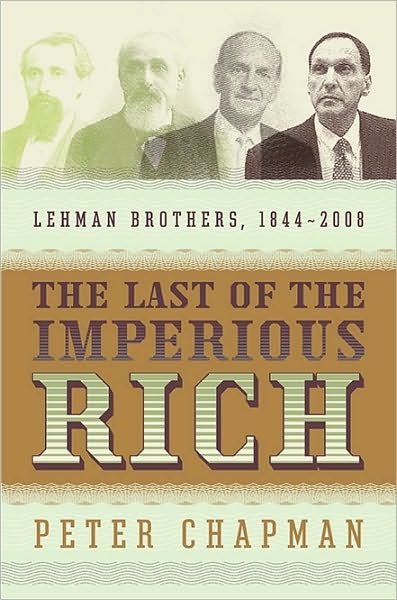 The Last of the Imperious Rich: Lehman Brothers, 1844-2008 is a great book for those that love economic history, as I do. It describes the fortunes of the Lehman (OTC:LEHMQ) clan, Jews having emigrated from Germany, to antebellum Montgomery, Alabama, and later New York City, and what they did as a commodity trading firm that morphed into venture capital, and then investment banking.
As a family firm, it lasted for three-four generations. There was less than one generation as a private company outside of family control. Stagnation, and a need to allow for liquidity led to a need for a broader capital base, which led to the sale to American Express (NYSE:AXP).
The title stems from the life of Bobbie Lehman, who was the last family member to lead the company, who as a financier, had such a commanding position that he struck fear in the hearts of those he would talk to, though he was a gentleman in many regards, and a patron of the arts to a high degree.
History Is Messy
How did three immigrant brothers manage to create a behemoth, particularly with the original leader dying early? Hard work; they were in the right places at the right times. Their family structures held together well enough against increasing wealth, at least until the third generation.
They were pragmatic, and sometimes cut against their principles. There is some evidence that the brother bought at least one slave.
The commodities that they traded in were in hot demand. They built that into a big business. That they had a presence both in the agricultural areas for commodities, and in the financial capital, New York City, was an ideal plan to have information from both sides of the market, supply and demand.
But the messiness of history is what makes this an interesting tale, and the author tells it well.
Quibbles
It's a really good book. I think it is best paired with A Colossal Failure of Common Sense: The Inside Story of the Collapse of Lehman Brothers, because it tells the end of the story better. But the beginning of the story is rich, and had a few alternative decisions been made, Lehman might not have failed.
Who would benefit from this book:
I think most investors could benefit from the book, mainly because I believe that economic history is valuable. History doesn't repeat but it rhymes, and this gives us more than a few new poems to consider.
Disclosure: None