Independent Contract Drilling, Inc. (Pending:ICD), an independent provider of land-based oil and natural gas drilling services in the Permian Basin, plans to raise $150 million in its upcoming IPO.
The Houston, Texas-based firm will offer 10.0 million shares at an expected price range of $14-16 per share. If the IPO prices at the midpoint of that range at $15 per share, ICD will command a market value of $348 million.
Filling, Underwriting
ICD filed on June 19, 2014.
Lead Underwriters: Morgan Stanley & Co. LLC; RBC Capital Markets, LLC; Tudor, Pickering, Holt & Co. Securities, Inc.
Underwriters: Canaccord Genuity Inc; Capital One Securities, Inc; Cowen and Company, LLC; FBR Capital Markets & Co; IBERIA Capital Partners, L.L.C; Johnson Rice and Co. L.L.C
Summary: 9 Rigs In Permian Basin, Strong Customer Base
ICD is a provider of land-based contract drilling services for fossil fuels producers in the United States. The firm currently operates nine rigs in the Permian Basin; its rigs have previously operated in the Eagle Ford Shale and the Mid-Continent region as well.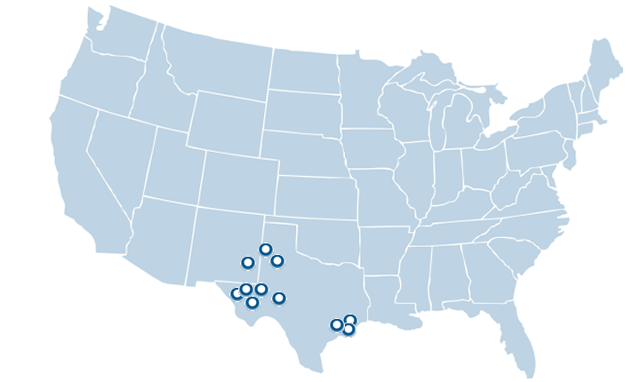 Click to enlarge
(Source)
ICD also has a pair of rigs under construction, which are scheduled for delivery in August and November of 2014. One of the firm's current rigs is also being upgraded with a multi-directional walking system, which will bring the firm to a total of nine rigs with such systems upon completion. Two more of the rigs may be upgraded similarly after they complete their current contracts in 2015.
ICD hopes to take advantage of the relative scarcity of the premium rigs that comprise its fleet. The firm has already enjoyed a high utilization rate of its equipment; since its first rig began drilling in May 2012, ICD has averaged 96% utilization. The firm attempts to differentiate its services through the high quality of its rigs. All of the firm's Shale Driller rigs are designed to move quickly between drill sights and are equipped with advanced drives and handling systems. Nine of the rigs have bi-fuel capabilities.
ICD plans to continue to expand its operations in the future. A portion of the net proceeds from the IPO (in conjunction with borrowed funds) are intended for use in the construction of up to seven rigs to be completed in 2015.
The firm has established a strong customer base, including many customers who have repeatedly renewed contracts with ICD or have contracted multiple rigs through the firm. Customers include Apache Corporation (NYSE:APA), Anadarko Petroleum Corporation (NYSE:APC), Laredo Petroleum (NYSE:LPI), Newfield Exploration Company (NYSE:NFX), and Concho Resources Inc (NYSE:CXO), among others.
Valuation
ICD offers the following figures in its S-1 balance sheet for the three months ended March 31, 2014:
Revenue: $13,549,000.00
Net Loss: ($3,705,000.00)
Total Assets: $202,346,000.00
Total Liabilities: $60,625,000.00
Stockholders' Equity: $141,721,000.00
ICD has seen significant revenue growth over the course of the past two years, posting revenues of $42.8 million for the year ended December 31, 2013 and $15.1 million for the year ended December 31, 2012. The firm has posted declining losses over the same periods, with a net loss of $2.0 million for the year ended December 31, 2013 and a net loss of $4.9 million for the year ended December 31, 2012.
Industry Competitors
ICD faces competition both from other providers of contract drilling services and from the internal drilling capacities that some E&P companies have developed. Some of the firm's larger competitors have access to greater financial resources and have been in operation for far longer than ICD. ICD hopes to seize a competitive advantage through the quality and technological advancement of its rigs.
Management Highlights: Industry and Academic Credentials
Founder Byron A. Dunn has served as ICD's CEO since its inception, and is a director of the firm. He previously served as President and CEO of CAMAC Energy Inc., President and CEO of GES-Global Energy Services, and Senior Vice President, Corporate Development of Harvest Natural Resources, Inc. Mr. Dunn's career began with Chevron USA, where he worked as a Drilling Engineer in the Gulf of Mexico and later as Eastern Region Production Coordinator.
Mr. Dunn holds a degree in chemical engineering from the Illinois Institute of Technology and an MBA with a specialization in finance from the University of Chicago. He is a member of the American Institute of Chemical Engineers, the Society of Petroleum Engineers and is a fellow of the National Association of Corporate Directors.
Conclusion: Consider Buying In
We are neutral to positive on this IPO.
ICD has created significant income growth since 2012, and we suspect that the firm's advanced drilling rigs will continue to prove attractive to customers.
ICD's efforts to position itself as a provider of advanced rigs may also allow it to maintain its excellent utilization rates even when market conditions are less than ideal.
We appreciate the firm's experienced management, though we are somewhat disappointed to find that the management seemingly overpays itself; in 2012, a year in which the firm posted a net loss of $4.9 million, CEO Byron Dunn received a total compensation of some $3.6 million, while Senior Vice President and CFO Philip Choyce received a total compensation of some $1.4 million.
ICD likely stands to benefit from the resurgence of American energy development/exportation.
We invite readers wishing to join the discussion on IPOs to click the +FOLLOW button above the title of this article-- and those looking for the latest developments to click +Get real-time alerts.
Disclosure: The author has no positions in any stocks mentioned, but may initiate a long position in ICD over the next 72 hours. The author wrote this article themselves, and it expresses their own opinions. The author is not receiving compensation for it (other than from Seeking Alpha). The author has no business relationship with any company whose stock is mentioned in this article.