When there is an elephant in the room, it seems everybody wants to find out what it is doing there. This story is still about an elephant.
Apple's (NASDAQ:AAPL) Growing Pains Continue to Grow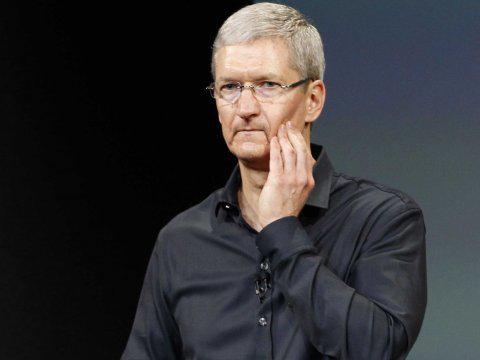 Source: Business Insider
According to Kantar Worldpanel, Apple's market share has been shrinking in its home country for quite some time. This may sound quite contrary to popular belief, so I encourage you to visit the site to setup side-by-side comparisons and play with the sliders to see for yourself.
In 2012, Apple started the year with 50.6% of the US market share. In 2013, that was down to 46.6%. And now, as of the June data, it is at 31.5%.

Source: Kantar Worldpanel
From Jan 2012 to June 2014 is a 19.1% drop for Apple. In the same timeframe, Android adoption is +19%.
Interestingly, as of January 2014, BlackBerry's (NASDAQ:BBRY) US market share is up from 0.6% to 2%. This is a quick uptick of +233% over a 6-month period for a company that has done no serious marketing and faces a constant drone of negative press. On a yearly basis, BlackBerry's US market share has nearly doubled. If you are curious about BlackBerry and whether Apple may have an unlikely competitor creeping up from behind, you can follow my articles and the comments.

Source: Kantar Worldpanel
Apple's situation in the US market is significant for consideration as the US is the world's largest consumer market, and home to the world's largest stock exchange. 25% (or 128 out of the 500) of the Fortune 500 companies are US-based. The purchasing preferences of consumers and enterprise in the US strongly influences emerging markets as they are largely responsible for the creation of jobs elsewhere. While the US market share may not be looking well for Apple, some may want to say that Apple is doing well in China, the symbolic second (2nd place for being home to 19% of the Fortune 500, but still lagging behind in ranking in other metrics, though often coming in the Top 5 or Top 10). I question that.
While Kantar's data for China only starts to be available as of July 2012, this is enough for us to analyze the situation there.
In July 2012, iOS accounts for 26.4%.
In January 2013, 22.1% and January 2014, 17.4%.
June 2014 data shows it is further down to 12.8%.

Source: Kantar Worldpanel
Our world is becoming increasingly interconnected. The smartphone market has grown as a result of people switching from feature phones to smartphones; and also benefited from emerging market growth and first-time buyers. In North America, the first-time buyer scenario and the switch from featured to smart is at an end. This means growth will have to come from direct competition amongst mobile companies. Under the pressure to compete, iOS seems to be doing poorly. Hence, the failure to grow its market share. In emerging markets, there are oftentimes local players. Price sensitivity is also a big factor. In China, politics continues to have a role as government officials target US companies and pull US products. IBM (NYSE:IBM), Cisco (NASDAQ:CSCO), Apple, and Microsoft (NASDAQ:MSFT) have not been immune to that backlash. Here are some examples:
While some readers may say that Q3 is typically a slow quarter and the Chinese backlash has not hurt sales, I would like to point out that Apple is an engine that relies on selling high margin products, not selling by volume; and the backlash was in July, which means the effect will take some time to impact Apple's bottom line. Already, market share numbers show that Apple is not as popular as one might initially be led to think due to the ubiquity of the Apple logo.
Cracks in the iWorld
Apple recently had a mixed quarter. Both iPod and iPad revenues hit a new low. I have compiled data from the company's ERs as far back as Q1'12 to show the trend (revenue in millions):

As consumers move away from these devices, Apple has to get better at supply chain management to ensure it does not have a huge quantity it needs to get rid of at a discount. Some strange sightings suggest that Apple is not up to par in this area:
A secret Apple eBay store makes a reappearance. While an update says the outfit is a private reseller, a glut of products going to a discounter is not good. Further, the fact that the discounter is offering iPhone 5 devices while Apple's own refurbished store fails to offer them at all raises eyebrows.
Walmart is offering a permanent discount on the 5c and 5s. $29 for the former and $99 for the latter.
Evidence suggests that the iPhones are still in the channel and supply is not exhausted. Their persistent availability even at bargain prices suggests the market is saturated.
While Apple does sell a variety of products, the iPhone is still the most important indicator of the company's health. Over the years, numbers have fluctuated but it stays the largest revenue generator, accounting for anywhere from 45% to 57% of the company's revenue.

According to some rumors, the refresher, the iPhone 6, will now be expected in October. Others suggest that due to the difficulty of producing the larger form factor, the phablet edition is not due till next year. The circulation of these rumors along with supply channel gluttony is not good for the company. Add to this the concern that carriers which have been motivated to convert feature phone users to smartphone users over the last 7 years are not keen on shouldering the iPhone 6's $100 price hike and it makes for a lot of cynicism for Apple to overcome.
Unraveling a Mystery
Why would Apple want to raise the iPhone 6's price by $100 at a time when rivals are racing to add offerings and lower prices? After my analysis, I am convinced that the biggest reason for Apple is to ward off the effects of market share decline on the company's ability to continue to generate outsize revenues. As the US interest in BYOD is a solid push to let the consumer decide the device to be used at work, a consumer crowd that is turning away from Apple's iPhones can be bad news for shareholders.
If carriers can be pushed to fork out more money to Apple, the US consumer that wants an iPhone gets one, and the Apple investor may possibly continue to see a great quarter. Many US consumers do not purchase a phone outright and will not wince at the price difference. However, the shrinking market share says to me that there is no guarantee that carriers will agree to the plan. They have no incentive given they can easily point out that Apple's greatest bargaining chip in the past was its market share and that has evaporated. It defies logic that anyone who knows the full situation and has other options will willingly agree to a zero-sum game where one side's loss equals another's gain. It seems mindless for carriers to not think about their own shareholder's interest when executing a contract with Apple that is not beneficial to them.
Will there be future growth for this company? Apple is trying to work on a software and services angle by partnering with IBM to boost their bottom line. For BlackBerry, an enterprise leader with 80,000 clients, looking back to 2008 when they were at their height, I noticed that 80.9% of their revenue was from devices.

Source: BlackBerry/ Research in Motion
Again, this forces me to conclude that at the end of the day, success in devices is important for Apple, whether it wants to publicly acknowledge it or not. There are a lot of contenders this fall, and the stakes are high.
Disclosure: The author is long BBRY. The author wrote this article themselves, and it expresses their own opinions. The author is not receiving compensation for it (other than from Seeking Alpha). The author has no business relationship with any company whose stock is mentioned in this article.