Hercules Offshore (NASDAQ:HERO) has been beaten down mercilessly over the past 12 months. Compared to the S&P 500, the stock is down more than 60% over the past 12 months. However, this should only be short-term pain that is unlocking tremendous value that investors can capitalize on in 2015 and beyond. The past several weeks have been unkind to the company. Losing a lucrative 2+ year contract for the Hercules 267 in Angola, missing 2Q2014 earnings estimates and reporting expected domestic drilling weakness in the Gulf of Mexico during the third quarter have resulted in a massive sell-off. All these events came at a time when it looked like the company was gaining traction going into June. Since June 19, 2014, the stock has declined over 32% on these negative news events. However, all these events are short-term headwinds that have made an excellent entry point for investors with at least a 12-18 month timeframe.
Short-term Pain
Investors in Hercules Offshore should be accustomed to pain by this point and it is likely to continue through 3Q2014. During the 2Q2014 conference call, management warned of the possibility for additional downtime during the third quarter in the Gulf of Mexico due to clients being reluctant to renew or start contracts during hurricane season. The official hurricane season runs from June 1 to November 30. During this time Hercules has 4 rigs coming off contracts by September and an additional 4 rigs coming off contract during November. The company also has 4 rigs idle or undergoing 5 year surveys, that are unlikely to get new contracts during the third quarter.
In the international market, the lost contract of Hercules 267 and the Hercules Triumph coming off contract in early September will weigh on revenue and earnings. The near-term weakness in Hercules' fleet is a red flag for another weak quarter. However, this should be the turning point in the stock. The company is positioned to benefit from positive catalysts through 2016, which should result in tremendous value returned to shareholders.
Deep Value
The expression, "Buy low and sell high", gets thrown around and is an oversimplification of the stock market, but holds some truth when you can get into a stock at 2 year lows that is trading at a discount to its peers.
| | | | |
| --- | --- | --- | --- |
|   | EV/EBITDA | 2015 forward P/E | Price/Book |
| Hercules Offshore | 4.51 | 8.6 | 0.64 |
| Noble Corp. (NYSE:NE) | 5.97 | 8.3 | 0.79 |
| Seadrill (NYSE:SDRL) | 11.77 | 9.88 | 1.68 |
| Ensco (NYSE:ESV) | 6.85 | 8.6 | 1.02 |
| Transocean (NYSE:RIG) | 6.14 | 11.3 | 0.85 |
| Rowan (NYSE:RDC) | 9.25 | 7.35 | 0.77 |
| Atwood (NYSE:ATW) | 8.39 | 6.77 | 1.27 |
Source: Yahoo finance
Hercules Offshore has the lowest EV/EBITDA and Price/Book ratio in the industry, and a 2015 forward P/E in-line with competitors. Hercules doesn't have the premium assets that Seadrill and Noble do, but by looking at its valuation, investors can start to get a picture of the value that has been created from the year long sell-off of the stock. When Hercules starts seeing contract renewals in 4Q2014 and 1Q2015, the low valuation will result in the stock price shooting up.
Positive Catalysts
During the 2Q2014 conference call Jon Rynd, President and CEO, said,
"We're attracting over 30 rig prospects in the US Gulf of Mexico or over 1,500 days of rig demand. This is a healthy amount of prospects out in the market. However, the majority of these prospects are likely to start after the hurricane season and into 2015. Conversation with a big customer would suggest that they could add some rigs before year end. But in the mean time, we expect that many of the rigs that currently do not have contract coverage through the third quarter could go idle for a period of time."
While the third quarter is expected to be weak in the Gulf of Mexico, Hercules is still seeing healthy interest from companies which should result in strong 4Q2014 and early 2015 activity. Management also said,
"Despite the choppiness in demand, pricing has been very stable. All new contracts and extension signed so far this year had been at current day rates."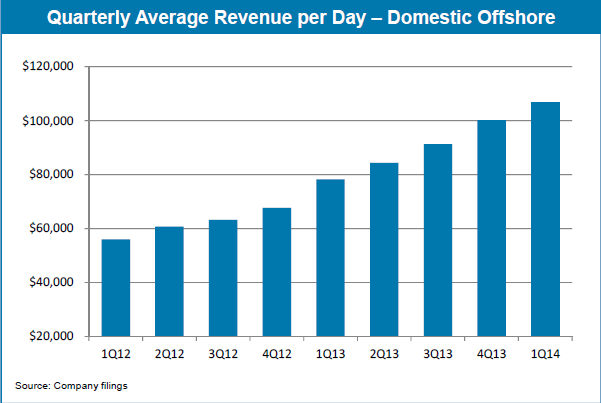 Source: GHS 100 Energy Conference Presentation
The latest GOM lease sale in March 2014 saw much more action than it did in the previous year. In total 131 blocks received bids compared to 85 in March 2013 and the sum of high bids increased by over 100% to $55.5 million. There are a number of companies with aggressive growth plans in the GOM and this latest lease sale shows the growing confidence. This combined with stable oil prices are positive developments for strength in the GOM.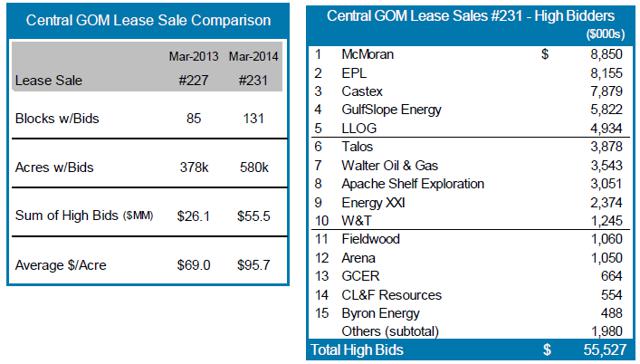 Click to enlarge
Source: GHS 100 Energy Conference Presentation
The company has been aggressively marketing the Hercules Triumph, which comes off contract on 9/7/14. Hercules sees opportunities in West Africa and the North Sea for rates between $160K-$180K per day. The company expects to have the Triumph back on contract by 4Q2014 or 1Q2015, depending on where a new contract is finalized. The Hercules 260 & 267 are also expected to be back on contract in West Africa or the Middle East by 4Q2014 or 1Q2015 for dayrates in the low $100,000s, which is comparable to previous contracts. The Hercules 261 started a new contract with Saudi Aramco on 8/1/14 and will see a 63% dayrate increase during 4Q2014 to $135K-$137K for the next 5 years. Likewise, the Hercules 262 will receive a 48% dayrate increase in 4Q2014 as it too starts a 5 year contract with Saudi Aramco.
In the long-term, Hercules will start its most lucrative contract with Maersk Oil in the North Sea during the second half of 2016. The 5 year contract has a dayrate of $224K-$226K, resulting in a $420 million backlog. With an all-in total build cost of $270 million, the Hercules newbuild should be highly profitable and give the company a premium asset in the North Sea to further expand its presence.
Insider Buying
Most recently Executive Vice President, James William Noe, sold 75,000 shares at $3.58 for a value of $268,500. However, since March 31, 2014, insiders have bought over 306,000 shares for a value over $1.3 million. Insiders have bought on weakness from $4.56 to $3.93 per share.
| | | | | |
| --- | --- | --- | --- | --- |
| Date | Insider | Shares | Purchase Price | Value |
| 6/30/2014 | Steven Webster | 100,000 | $4.03 | $403,000 |
| 6/27/2014 | Steven Webster | 50,000 | $4.00 | $200,000 |
| 6/24/2014 | Thomas Bates | 20,000 | $3.93 | $78,600 |
| 6/24/2014 | John Rynd (NYSE:CEO) | 36,000 | $4.01 | $144,360 |
| 6/23/2014 | Steven Webster | 50,000 | $4.06 | $203,000 |
| 4/28/2014 | Steven Webster | 25,000 | $4.35 | $108,750 |
| 3/31/2014 | Steven Webster | 50,000 | $4.56 | $228,000 |
Source: Yahoo Finance
Conclusion
With the recent sell-off, Hercules Offshore is a deep value stock with tremendous upside potential over the next 12-18 months. A wave of bad news hit the company in June and dropped the stock over 30% in a short period of time. The stock now trades at 2 year lows and could go even lower with weakness in the third quarter. However, insiders continue to put their money where their mouth is by buying over $1.3 million in stock since March. A number of rigs should receive new contracts in 4Q2014 and 1Q2015, setting the company up to report strong revenue growth in 2015. Analysts have a current price target of $5.02/share, or 51% higher than today's price. Investors who can stomach the volatility in this stock can get in at rock bottom prices and see significant appreciation through 2015. With the market up so much over the past few years, deep value stocks like this are hard to come by. A string of good news and contract renewals can easily push this stock up over 50% within a relatively short time period. At $3.32/share, the risk/benefit ratio is too hard to ignore.
Disclosure: The author has no positions in any stocks mentioned, but may initiate a long position in HERO over the next 72 hours. The author wrote this article themselves, and it expresses their own opinions. The author is not receiving compensation for it (other than from Seeking Alpha). The author has no business relationship with any company whose stock is mentioned in this article.