Remarkable changes are occurring in the DRAM industry. Leading DRAM manufacturers - namely Micron (NASDAQ: MU), Samsung (OTC: OTC:OTC:SSNLF) and SK Hynix - have developed their next-gen DDR4 memory modules. In comparison to DDR3 drives, these are twice as fast and consume 30% less power.
Needless to say, this is a major technological upgrade. And Micron's focus on this next-gen tech may very well propel its sales volume going forward.
Peeking under the hood
Bundling a computing device with more DRAM memory certainly circumvents several memory issues. However, bandwidth intensive tasks - like 4k media playback or large database handling - quite often create memory bottlenecks. This essentially means that the DRAM bus is not fast and large enough to seamlessly transmit digital data bits to the computing processor.
In such situations, having a fast DRAM module - even if it's not necessarily of a denser one - often alleviates the problem. Bottlenecked CPUs are now able to process more data. For this reason, the speed of next-gen DDR4 modules is a differentiating factor. This is somewhat evident in the chart below.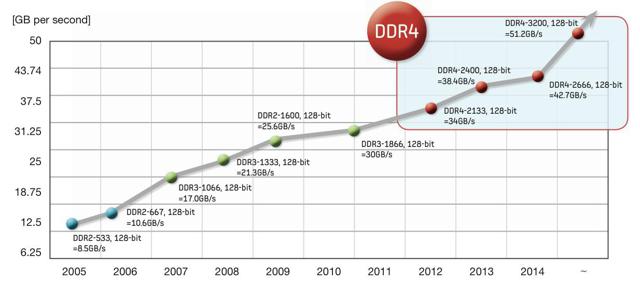 (Source: Samsung)
In addition, DDR4 architecture introduces a pseudo open drain interface, or POD. In theory, this allows memory chips to register logical 1s while consuming about half the power. This, coupled with a deep power-down mode, reduces the memory chip's overall power consumption drastically - something that's vitally important for the adoption and retention of mobile technologies.
Potential market
Apple (NASDAQ: AAPL) currently equips DDR3 modules in all of its high-performance mobile and desktop devices - including MacBook Pro, iPad Air and iPhone 5s. Speculative reports, however, suggest that Apple will unveil its DDR4-fitted high-performance mobile devices later this year - something that should contribute in improving the device's system-wide performance and extend its battery life.
Since the impetus on power-efficiency and long battery life is rapidly increasing, other OEMs might follow suit in order to remain competitive. In fact, Qualcomm's (NASDAQ:QCOM) latest Snapdragon 810 is its first system-on-chip to feature a low-power DDR4 memory. This partly makes it a viable candidate for Samsung's upcoming flagship, the Galaxy S6.
TrendForce expects a rapid pick-up in this DDR4 adoption. The research firm estimates that these next-gen DRAM sticks may entirely replace DDR3 as the mainstream-computing standard in 2015.
Why Micron?
Currently, only a few manufacturers - including Samsung, SK Hynix and Micron - are committed to entering the DDR4 space. Micron, for instance, has already begun the mass production of these speedy DRAM sticks, and is currently ramping-up its production to meet the launch schedule of Intel's upcoming Haswell-EP chips.
Relatively smaller DRAM manufacturers like Nanya Technology and Winbond, however, are yet to announce their plans to mass-produce DDR4 modules under their branding. Therefore, their clients - those who are willing to switch to DDR4 standard soon - will have no option but to form corporate ties with DDR4-producing Micron, SK Hynix and Samsung.
At the moment, none of the major research firms include Nanya and Winbond in their PC DRAM market share data. However, DRAMeXchange estimates that the corporate duo collectively commanded a 2.3% revenue-based mobile DRAM market share during the first quarter of fiscal year 2014.
Looking ahead, I doubt if Micron will face any difficulty in finding willing buyers for this next-gen tech. The chipmaker has close ties with Apple, with sales to the Cupertino-based giant representing about 13% of its overall revenue. Micron's Elpida Memory has powered a range of Apple devices in the past, and there is no reason to suggest why this successful corporate relationship will come to endure a bitter divorce anytime soon.
Final thoughts
With DDR4 catching up fast, amid limited market competition, Micron may well witness a boost in its DRAM sales volume. This also means that Micron, SK Hynix and Samsung will be able to charge a premium for this next-gen tech, thereby improving their profitability.
Looking ahead, Brett Jensen recently pointed out that Samsung's decision to boost DRAM production, arbitrarily, might not impact global DRAM prices after all. This, coupled with the DDR4 opportunity, suggests that Micron may post impressive revenue and volume-based DRAM growth going forward.
Please do your own due diligence before investing.
Disclosure: The author has no positions in any stocks mentioned, and no plans to initiate any positions within the next 72 hours. The author wrote this article themselves, and it expresses their own opinions. The author is not receiving compensation for it (other than from Seeking Alpha). The author has no business relationship with any company whose stock is mentioned in this article.
Editor's Note: This article discusses one or more securities that do not trade on a major U.S. exchange. Please be aware of the risks associated with these stocks.