By Chris McKhann
Shares of Dynegy (NYSE:DYN) are falling after private equity firm Blackstone called off its takeover bid for the energy company, but option activity is in the calls.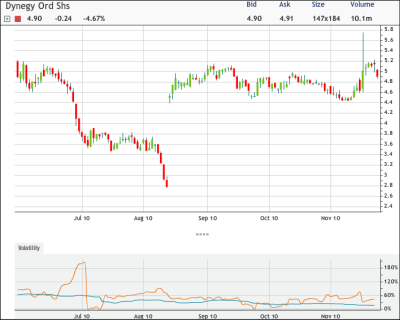 DYN is down 4.2 percent on the news, trading at $4.93. Shares had climbed above $5 in the last week after hovering around $4.75 since gapping higher with the buyout offer in mid-August.
The average option volume has been about 5,700 a day in the last month, but 100,000 contracts have already traded this morning. Surprisingly calls are outpacing puts almost 6 to 1.
Most of the volume is in a call spread between December and January. A trader bought 35,000 of the January 5 calls for $0.40 in one print against no previous open interest and, just seconds later, sold 34,604 December 5 calls for $0.20. This latter strike had by far the highest open interest of any strike for DYN with 134,090.
This call spread suggests that the trader is still bullish. It could be an outright calendar spread, which would suggest that the trader sees shares up around $5 come the December expiration. But it is more likely a roll from December to January, allowing more time for a takeover deal to be reached, and certainly seeing Dynegy higher by that expiration.

Disclosure: No position