After a painful spell that nearly saw the collapse of the industry, things seem to be looking up for the auto sector. There's no ETF to directly play the bullish sentiment, but there's an alternative.
Jerry Greenwald, former chairman of Chrysler, remarked that the General Motors (NYSE: GM) has good balance sheets and a good product line and for those reasons, sales should continue to grow for the newly streamlined company, according to The Washington Post.
Other things boosting the auto industry right now include:
A weaker dollar. The weak dollar is giving the auto industry a nice assist: domestic car producers are finding their products an easier sell to foreign consumers.
China. GM projects that sales in China could increase by 10% to 15% next year, depending on how much China plans to scale back subsidies and incentives, reports Liza Lin for Bloomberg. Kevin Wale, GM's China president, stated that "the underlying strength of the Chinese vehicle market is very strong." China is GM's largest market, with GM taking 13% of the country's auto market share.
Other emerging markets. Automakers are benefiting from wealthier smaller cities and the rising middle class in countries beyond China, such as Brazil and India.
Stable gas prices. Gas prices managed not to surge this year the way they did in 2008, which has encouraged some domestic buying. Auto sales rose 5% in October and in some areas, sales are up 10% or more above 2009 levels, reports the Appeal-Democrat.
There is no auto-specific ETF, but check out this one from State Street – a consumer discretionary offering with a heavy allocation to autos that has strong performance to boot: in the last three months, it's up 17.2%.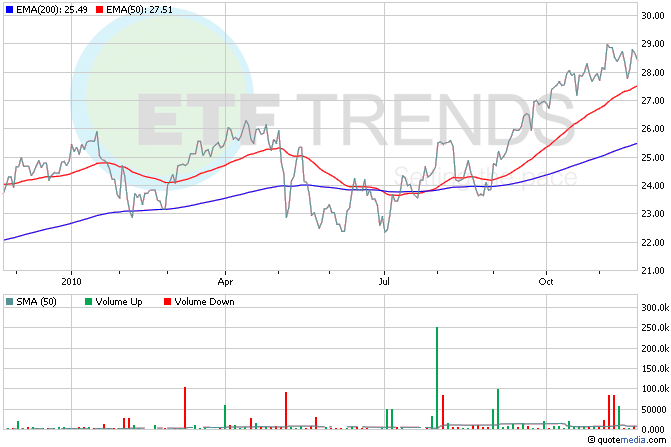 Max Chen contributed to this article.
Disclosure: None