In my previous article on 4/18, I predicted that the stabilizing PC market and potential in mobile make Intel (NASDAQ:INTC) a strong buy. Since that article, shares of Intel have risen 25%, comfortably outpacing the 2.9% growth of the S&P 500.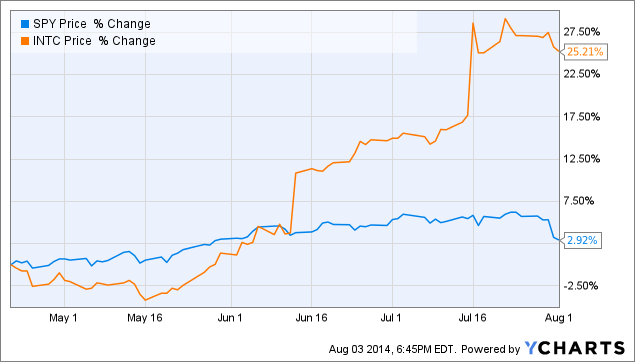 SPY data by YCharts
INTC data by YCharts
Intel (NASDAQ:INTC) reported its earnings for Q2 of FY14. Revenues came in at $13.83B, beating the street guidance of $13.69B by $140M. Non-GAAP EPS beat guidance by 3 cents at $0.55.
More encouragingly for Intel bulls was the forward-looking guidance for Q3. The midpoint of revenue guidance is now at $14.4B, which is almost $400M above Street consensus of $14.02B. Overall, the company is guiding to FY14 revenue growth of 5%, which is almost $2.6B above my previous estimate of flat revenue. As a result, I decided to update my valuation model to reflect the improvement in performance.
Segment performance (Source: INTC 10-Q)
PC Client Group (PCCG): PCCG reported revenue of $8.7B, up 6% YoY aided by the corporate PC refresh cycle due to the end-of-support of Windows XP. The Operating income for the PCCG group was $3.7B, resulting in an operating margin of 43% which is an 11 point improvement over the prior year quarter. As a result, I'm raising my FY14 numbers to account for the improved performance as well as my operating margin assumptions for FY15 and beyond to 39%, which is in line with the year-to-date operating margin for 2014 and 4 points above my prior assumption of 35%. This has a material impact on the valuation, as PCCG is by far the most significant contribution to Intel's bottom line. I'm slightly more optimistic on the top line and assume that it declines only 3% over the next two years and then flattens out. Previously, I had assumed a much more steep fall in revenues for FY15 and FY16, at -6% each year.
Data Center Group: Revenues grew 19% YoY to $3.5B, driven by a 9% increase in volume and an 11% increase in ASPs. Encouragingly, operating margins also stayed strong at around 49%. This led me to increase my revenue growth for out years slightly to 12% (up from 10%) and operating margins up to 48% from 46%.
Internet of Things Group: Revenues increased 24% YoY to $539M. Operating margins were also healthy and came in at over 28%. I remain confident about Intel's long-term revenue growth prospects of 15% in this segment, and based on performance I'm raising my operating margin assumptions to 25%. However, this has a fairly minor impact on valuation.
Mobile and Communications Group: Revenue decreased 83% YoY to $51M, as Intel invests heavily to gain share in the tablet market. The company announced that it was on target to meet its goal of 40M tablets in FY14, however the ASPs for these units appear to be negligible at present. Operating income was -$1.1B for the quarter and -$2.05B year-to-date. As a result, I'm increasing my estimates for losses in this segment to $3.1B for FY14. I am forecasting that Intel will ultimately be able to get to breakeven operating margins in this segment by 2020, but will keep incurring substantial losses until it gets to that point.
Software and services: Revenues grew 3% YoY to $548M. Operating income was close to breakeven. I have not changed any of my prior assumptions for this segment.
Corp and other: I'm assuming a 3% growth rate for corporate expenses.
The charts below show my updated assumptions for Intel revenue and operating margins by business segment.

The revenue outlook for FY14 is $55B, which is in line with Intel's expectations for 5% growth for the fiscal year. I'm assuming a revenue CAGR of 2.8% through 2020 and an operating income CAGR of 8.2%. This is contingent upon Intel being successful in grabbing share and containing investments in the Mobile segment, as well as on the PC retaining its relevance. My uncertainty around the former is higher than the latter, as the slowdown in the tablet market lends me to believe that the use cases of each device category are being better understood by consumers and that the death of the PC is exaggerated.
Valuation
Using these assumptions and a 9% discount rate/2% terminal growth rate, I get to a valuation of around $39 for Intel. This represents 16% upside to Friday's closing price of $33.78 and suggests that even after the surge in price, Intel is still a compelling value. Note that I have reduced the discount rate from 10% in my prior model to 9%, as I believe the risks to the PC market have moderated somewhat. Using a discount rate of 10% would imply a fair market value of $34, which would mean that the stock is fairly valued. The complete valuation model is attached below.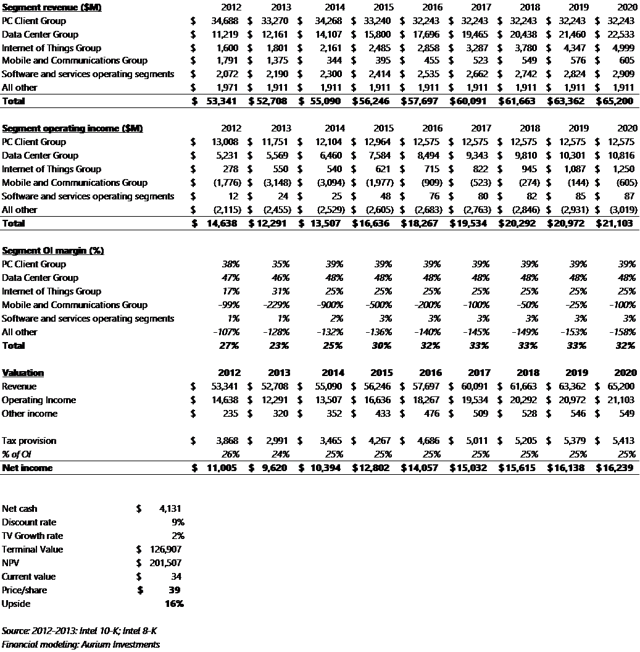 Summary
Intel has outperformed the market strongly since my buy recommendation three months ago. Revenue growth in the PCCG segments and meaningful gross margin improvements have resulted in better-than-expected EPS performance. Moreover, the company is valued as if it will continue to lose $3B/year in mobile. I believe that Intel is still meaningfully undervalued with a relatively high margin of safety. Shares are a buy.
Disclosure: The author has no positions in any stocks mentioned, and no plans to initiate any positions within the next 72 hours. The author wrote this article themselves, and it expresses their own opinions. The author is not receiving compensation for it (other than from Seeking Alpha). The author has no business relationship with any company whose stock is mentioned in this article.
Additional disclosure: I am short INTC $18, $20 and $21 puts.