U.S. pharmaceutical companies have been racing to acquire their European peers in order to lower their tax burdens. A similar move has been taken by AbbVie (NYSE:ABBV) as the company recently announced a $54 billion deal to acquire Shire PLC, a Dublin-based company which was incorporated in the United Kingdom dependency, a tax haven. Acquiring this company would allow AbbVie to lower its tax rate from its current figure of 22% to 13% by 2016.
Besides providing a tax advantage, Shire is also expected to strengthen AbbVie's financial position and diversify its portfolio. Through the acquisition AbbVie would achieve a much more complex product portfolio including attention-deficit drugs Vynase and Adderall and drugs for some rare diseases.
The new diversified portfolio would reduce AbbVie's dependence on Humira, its blockbuster arthritis drug, which is continually strengthening its revenue growth and accounts for more than half of the company's net revenues. However, Humira will be losing its patent protection by the end of 2016 after which AbbVie will need a strong pipeline to remain competitive in the market and to continue adding growth to the revenues. In that case, the acquisition of Shire's rare disease portfolio would give AbbVie a competitive edge by providing multiyear periods of exclusivity in the U.S. and Europe for the treatment of smaller populations.
Shire's recent financial performance has also satisfied analysts and AbbVie's shareholders as the company has recorded 22% growth in its year-over-year product sales and 20% growth in net revenues in the latest reported quarter. Its net earnings have more than doubled compared to the figure reported last year. The cash generation increased 76% primarily due to strong operating income whereas the free cash flow increased 245% due to higher cash generation and net cash tax receipts.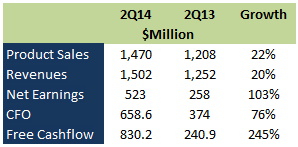 Source: Company's Quarterly Fillings
These strong numbers and ratios will definitely add value to AbbVie' future net earnings and cash generation abilities once the deal is finalized by the end of this year.
AbbVie's Financial Performance
Once again, AbbVie received a boost from its anti-inflammatory arthritis drug Humirain the second quarter. It experienced a global sales growth of 26.2%.After Humira, AbbVie's three largest drugs, ranked by sales, all experienced year-over-year sales declines. The other key products that drove the company's total revenues were Synthroid, Sevoflurance and Duopoda. The total worldwide sales in this quarter were $4.926 billion, up 5% compared to the figure reported during the second quarter of 2013.
Diluted per share earnings in this quarter were 68 cents compared to 66 cents per share in the second quarter of 2013. The adjusted per share earnings were 82 cents which was slightly above the analysts' estimates of 76 cents per share. The adjusted per share earnings were above the company's previous guidance which stood between 75 cents to 77 cents per share.
Pipeline
AbbVie's Elotuzumab, co-developed by Bristol-Myers Squibb (NYSE:BMY), has been granted a breakthrough therapy designation by the FDA for the treatment of multiple myeloma in patients who have received one or more prior therapies. The studies are expected to be completed in 2015.
Multiple myeloma is the second most prevalent blood cancer and recent statistics indicate an increasing incidence and earlier age of onset. Age is the most significant risk factor for multiple myeloma, as 96% of cases are diagnosed in people over the age of 45 and more than 60% of cases occur in people over the age of 65. As the U.S. population continues to grow older with a median age of 40 in many states, the prevalence of multiple myeloma is also expected to grow resulting in an increased demand for the treatment.
The company has also announced the initiation of Phase III clinical trials for the treatment of patients with HER2 negative metastatic or locally advanced breast cancer containing BRCA gene mutations. The triple negative breast cancer represents 10% to 20% of invasive breast cancers and has been highly associated with the African American race. The primary useful outcome of this Phase III treatment is a progression-free trial whereas the secondary outcome measures include overall survival, clinical benefit rate, objective response rate, and duration of response.
Apart from these drugs, AbbVie has many other drugs in Phase III including Daclizumab, Veliparib and the HCV interferon-free combination (genotype 1) that would effectively expand the company's portfolio and reduce its reliance on Humira.
Final Thoughts
The acquisition of Shire would allow AbbVie to save up to $8 billion over the next 15 years and this would increase the company's cash reserves in the future. The augmentation in cash reserves could result in increasing returns to the shareholders in the form of dividends and share buybacks. The acquisition would also help to enhance the company's future revenues through portfolio and sales base expansion. The portfolio expansion would also save AbbVie's future revenues when Humira loses its patent protection.
Currently, AbbVie's pipeline is strong and this would further enhance its revenue base and protect its sales after Humira. AbbVie has enacted timely initiatives as its three other major dugs have started losing market share and the trends are expected to continue in the future. So, the new product mix will also provide backup to the company.
The company is currently doing well and is anticipated to continue performing well in the future as well with the help of its strong pipeline and the purchase of Shire. Therefore, I would suggest investing in its stock for long-term profits.
Disclosure: The author has no positions in any stocks mentioned, and no plans to initiate any positions within the next 72 hours.
Business relationship disclosure: The article has been written by APEX Financial Consultants. This article was written by one of our research analysts. APEX Financial Consultants is not receiving compensation for this article (other than from Seeking Alpha). APEX Financial Consultants has no business relationship with any company whose stock is mentioned in this article.