Brief:
Natural gas prices recently fell from roughly $4.75mmBtu and found support around $3.75mmBtu. While that is a considerable price drop, I believe natural gas prices can go even lower to the next support level around $3.45mmBtu before getting a price bump in mid to late October in preparation for winter. Here's why:
Fundamental:
So far, the fairly cool summer has been helping keep natural gas prices down. When the weather is seasonably cool, people use less energy to cool their homes. Another fundamental factor I believe continue to put pressure on natural gas prices is the U.S. energy boom. Production has been increasing steadily over the last couple of years, and recently it has really been showing up in natural gas storage numbers. According to EIA.gov, natural gas storage injections have been over 100 billion cubic feet for the past 8 weeks. Over the past 4 years, storage injections only reached those levels during three weekly injections. The EIA website says they were expecting a drop in the storage amounts through July and August due to air conditioning demand. But if that demand doesn't show up, you can expect natural gas pricing to feel continued pressure. Below are a few charts to back up these bearish fundamentals.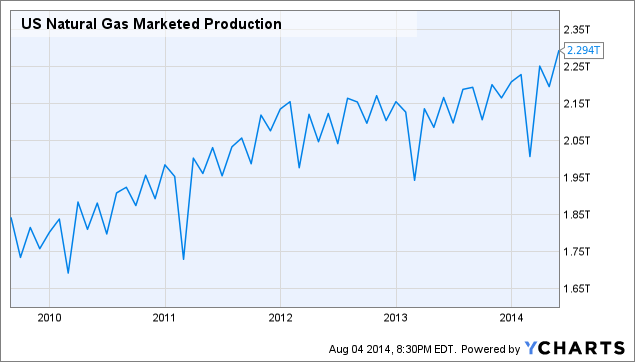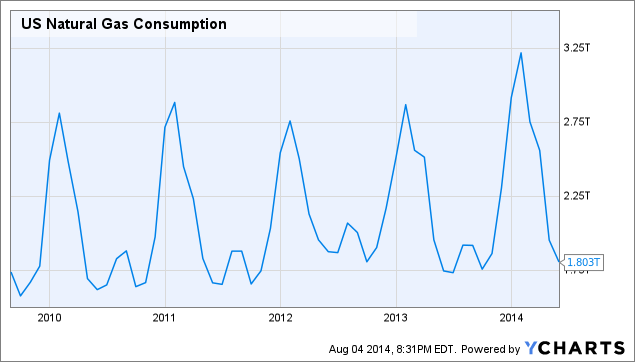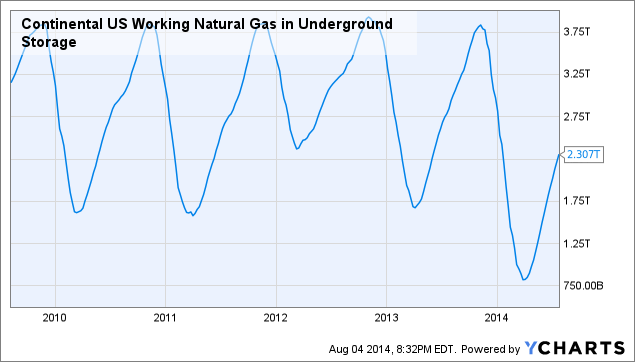 Technical:
On a technical level, natural gas has found some support near its current price level of $3.75mmBtu. But I believe this support will be broken and natural gas will see ~$3.45mmBtu. Take a look at this chart: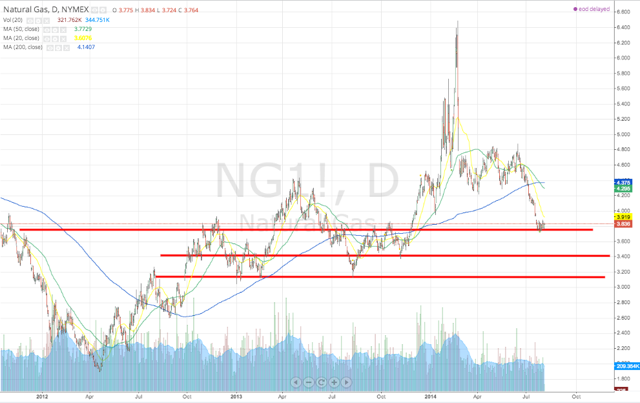 This is a daily price chart of natural gas. You can see that it's currently trading below its 20, 50, and 200 day moving averages. If we keep seeing a continuation of the fundamental story I've mentioned above, then I think natural gas could trade down to the $3.45 level or even the $3.15 level. Then, around late October it could be time to start buying. If you take a look at the natural gas consumption chart above, you'll see consumption tends to spike towards the last 2-3 months of the year and into the new year when temperatures cool down. But until then, I remain bearish.
How can you play this ?
You can play this by shorting the United States Natural Gas ETF (NYSEARCA:UNG) or you could buy (NYSEARCA:GASX) which is the 3x Natural Gas Bear ETF. You could also get short/long any companies that may be affected by a drop in natural gas prices.
Disclosure: The author has no positions in any stocks mentioned, and no plans to initiate any positions within the next 72 hours. The author wrote this article themselves, and it expresses their own opinions. The author is not receiving compensation for it (other than from Seeking Alpha). The author has no business relationship with any company whose stock is mentioned in this article.