When Facebook went public in 2012 it opened at $42, hit a high of $45 that day, and then proceeded to crash down to $17.50 over the next few months. The amount of negative articles on Facebook after it crashed were astounding. Yet the opportunity the stock presented at that price was too good to pass up. You have to ignore the negativity, and buy when there is value. There is tremendous value in Potbelly Corporation(NASDAQ: PBPB) at its current price.
Potbelly's stock has performed very similarly to Facebook's IPO debacle. Potbelly went public in October 2013, the day that it opened the stock hit almost $34. It's been moving constantly lower since that time, and finally crashed last month after the company updated guidance.
(Chart courtesy of Stockcharts.com)
With Potbelly now at $11 and change, and a market cap of only $339 million, it's time to buy the stock. I know it's hard to do that for most people, as there are a lot of negative articles on Potbelly at the moment, but the downside is very limited at current prices.
What separates Potbelly from other sandwich shops
Before we get into valuation though, let's look at the company. Potbelly is based out of Chicago and owns and operates over 300 sandwich shops in the United States and the District of Columbia. It also has franchisees that operate over twenty shops domestically and in the Middle East. Some people will say there are a ton of sandwich shops out there like Subway, Jimmy Johns, etc. so why would we need another? What does Potbelly have that these others don't? That's precisely what people were asking about Chipotle a few years ago when same stores sales were sluggish and heavy hedge fund hitters were saying Taco Bell was going to beat out Chipotle.
The bottom line is there are lots of restaurant stocks to choose from. You are going to have competitors in the same space, but there are always going to be the ones that just "DO IT BETTER". Chipotle does it better. They understand the concept, they understand the market, and they understand their customers. People want good quality food at low or reasonable prices, that's what Chipotle promises to deliver.
That's the same principle for Potbelly. They aren't like Subway or most of the other sandwich shops around. Go on to Yelp and look at the ratings that Potbelly gets and read the reviews. On average people give Potbelly 4 out of 5 stars.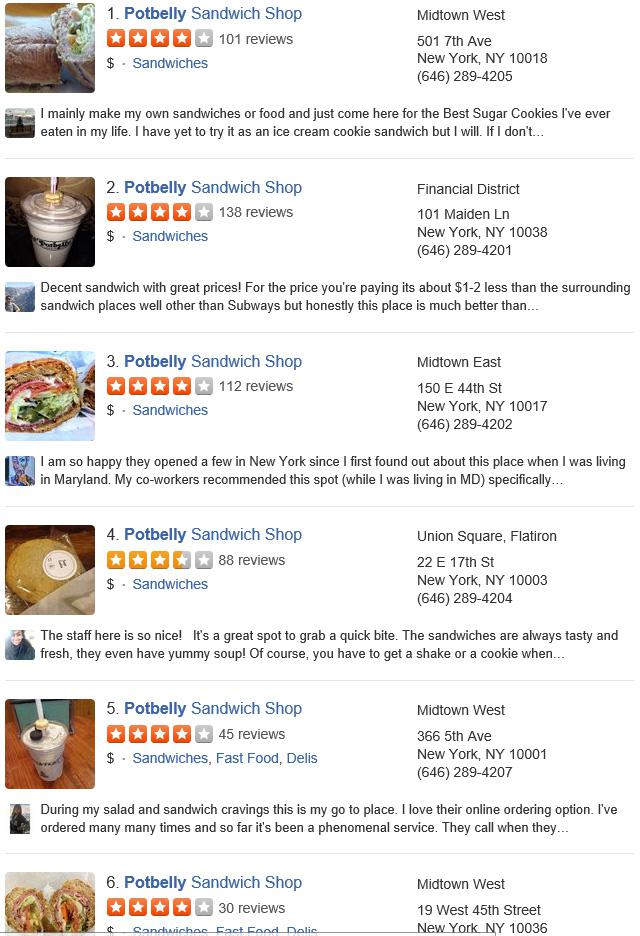 (Source: Yelp)
When you have happy customers you have a long-term chance of success. As of now investors are just focused on the short-term issues with Potbelly, over looking the solid foundation it has built already and its long-term prospects.
The short-term issues
What are the short term issues? The major one would be weaker than expected same-store sales. Potbelly announced in early July 2014 that they "expect to report a decrease in company-operated comparable store sales of 1.6%, or a decrease of 0.9% when excluding the shift of the Easter holiday from the first fiscal quarter to the second fiscal quarter, compared to a 3.0% increase in the same fiscal quarter last year".
Declining same-store sales are a concern, but more than likely this is just a short term phenomenon. The same issue crushed Chipotle's stock in 2012 when their same store sales were a lot lower than anticipated. Chipotle's rebounded, and I expect Potbelly's will as well.
Aylwin Lewis, Chairman and Chief Executive Officer of Potbelly Corporation, stated in the July press release that the company has three main drivers of profit growth: comparable store sales, operational productivity and profitable new unit development. Lewis said two of the three continue to deliver expected results, with comparable store sales being the laggard. Potbelly plans to address this by introducing new product offerings and vigorously testing a number of new marketing, menu and operational tactics during the second half of the year.
As you can see in the graph below, in Q4 2013 and Q1 2014, Potbelly's business was seriously disrupted because of the weather. Since the company has a significant amount of shops in the mid-west and northeast, this disruption is understandable. Comps would have been positive if you adjust for the weather related factors. And you can clearly see that same store sales have fluctuated in the last few years, but have always remained positive until the last two quarters. Potbelly should be able to get back on track as it has proven in the past that it can.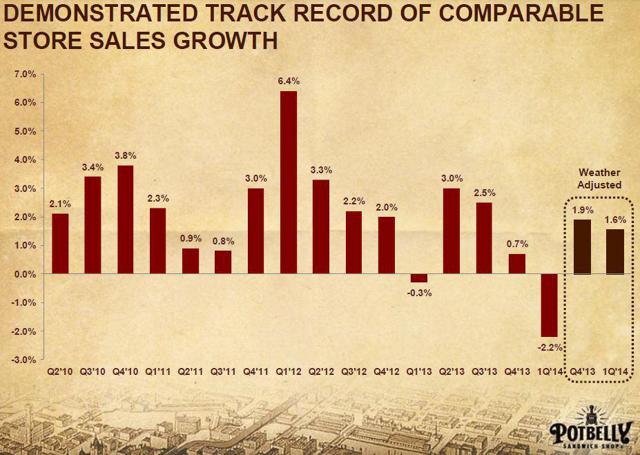 The growth potential
Potbelly still is very much a growth story. They only have around 300 sandwich stores in the US, and are only in 22 States. There is a ton of room to grow from here. The company plans to open 40-48 new shops this year, and long-term it has its sights set on 1,000.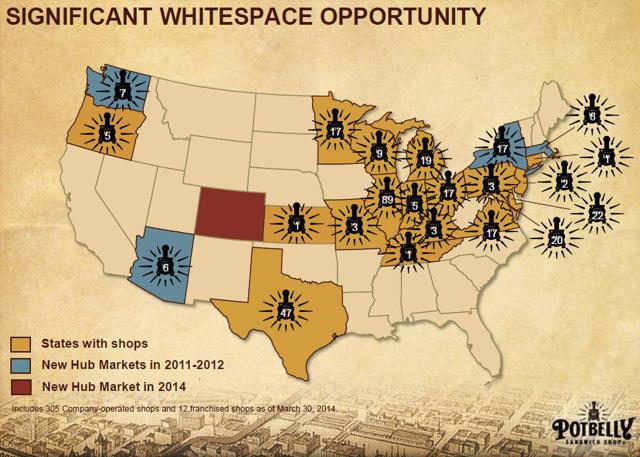 Potbelly started off in Chicago and it has a very strong presence in Illinois. You can clearly see how Potbelly could expand 3x its current footprint and still not be oversaturated.
The Starbucks connection
In 1998, Howard Schultz, Founder and CEO of Starbucks, co-founded the investment group Maveron with Dan Levitan, a leading New York investment banker. The two originally met a decade before and Howard chose Dan to help him take Starbucks public. Maveron has been an investor in Potbelly for many years now, participating in several rounds of funding and no doubt Schultz providing his insight into how to successfully expand a business. Levitan also serves on the Board of Directors of Potbelly.
Maveron still owns 20% of Potbelly, a big plus in my book and something investors seem to be overlooking. I don't think Schultz is just going to sit on the sidelines and not give his input. He has the expertise to guide Potbelly along in its growth, and help the company when it hits a few bumps in the road.
Potbelly is not in need of a turnaround
Even though Potbelly is struggling a bit at the moment, this is not really a turnaround story. The company doesn't need a major overhaul. The concept, strategy, and idea is still relevant. They have just hit a bump in the road and the company feels that some tweaking will help. They plan on testing some new marketing and menu items in the future to see if that bumps up comps.
I think the market worry over comps is overblown. We had very severe weather in the mid-west and north-east this past Winter and Spring. Potbelly said that comps continued to improve throughout the second quarter, so I would imagine that Q3 and Q4 should be back in-line.
Valuation, tangible book value, and price targets
Let's take a look now at valuation and why I think Potbelly is a finally a strong buy. Earnings for 2014 have been greatly reduced, and now analysts expect Potbelly to earn 19 cents, compared to expectations of 34 cents a share just a few weeks ago. Revenue is expected to come in at $324 million for the year.
Potbelly currently has a market cap of $339 million, so it's trading at just a little over 1x revenue. Considering that the company will increase the amount of shops this year by 40-48, and continue or increase that growth in the future, 1x current revenue is a very compelling valuation. And if you look at the valuation of Chipotle, Potbelly is a steal as Chipotle trades at 7x revenue.
On a p/e basis the shares don't look cheap, trading at 60x earnings, but Potbelly is plowing money into its business in order to achieve its 1,000 sandwich shop goal. In other words, you have to ignore the p/e for the time being. Once Potbelly starts to hit 400-500 shops, then the p/e will start to come back in-line. Chipotle currently has a p/e of 50, but it's only growing earnings 27%-28% per year. Analysts expect Potbelly to grow earnings next year to 26 cents per share, or 37% over 2014 earnings. Yet in all likelihood the company will be able to surpass these estimates as now expectations are very low. Under-promise and over-deliver, that's how it should be and that is what Apple has been doing for the last decade.
But let's look at the most important metric of all, the one I use the most. Tangible book value. Potbelly has roughly $70 million in cash and little to no debt. Its tangible net asset value is $148 million, meaning investors are only valuing the business at $191 million. For a company with this type of growth rate, and this low of a market saturation level, you have to question what investors think is going to happen here.
Period Ending
Mar 30, 2014
Dec 29, 2013
Sep 29, 2013
 
Assets
Current Assets
 
Cash And Cash Equivalents
69,547
69,579
25,119
 
Net Receivables
3,862
2,991
4,011
 
Inventory
2,182
2,263
2,125
 
Other Current Assets
8,553
6,965
5,667
 
Total Current Assets
84,144
81,798
36,922
Property Plant and Equipment
79,007
78,983
77,415
Goodwill
1,428
1,428
1,428
Intangible Assets
3,404
3,404
3,404
Deferred Long Term Asset Charges
20,802
20,467
19,248
 
Total Assets
188,785
186,080
138,417
 
Liabilities
Current Liabilities
 
Accounts Payable
20,835
18,631
71,279
 
Short/Current Long Term Debt
74
74
14,074
 
Total Current Liabilities
20,909
18,705
85,353
Long Term Debt
997
1,018
1,036
Other Liabilities
770
796
823
Deferred Long Term Liability Charges
12,632
12,288
12,107
Minority Interest
237
228
220
 
Total Liabilities
35,545
33,035
99,539
 
Stockholders' Equity
Redeemable Preferred Stock
-
-
265,440
Common Stock
291
291
44
Retained Earnings
(231,533)
(231,232)
(227,548)
Capital Surplus
383,573
383,077
-
Other Stockholder Equity
909
909
942
 
Total Stockholder Equity
153,240
153,045
(226,562)
 
Net Tangible Assets
148,408
148,213
(231,394)
There is always irrational pricing in the market, both on the upside and on the downside. You have to take advantage of this. There wasn't any value in Potbelly at $34 last year. Now after a year of growth and an $11.50 price, there is a tremendous amount. Again, you have to wonder what the market is thinking at the moment. There wasn't any value in Facebook at $45, but at $17.50 there was and I bought. When HP and Best Buy both hit $12 in 2012 I bought. At those prices investors were valuing the business at hardly anything. When you look at tangible book value and see the cash a company has as well as other assets, you can be confident in buying shares when you know there is something to back them up. The bottom line is Potbelly's balance sheet should support the stock, at least over the short-term.
Potbelly is now a very good risk reward play. The downside is limited and the upside is substantial. I think a 30% rebound over the next several months is possible, and $20 could be obtained in less than a year. At $20 its valuation would be much more in-line with its growth rate and its book value.
Conclusion
Potbelly is still very much a growth story, yet the stock is deeply undervalued. All fast growing companies have bumps along the road, Potbelly is no different. But Potbelly also has the luxury of having Maveron and Starbucks founder and CEO Howard Schultz as a major investor. Right now its stock price is suffering because of negative sales comps, but the company should be able to get these back on track and has proven in the past that it can. The company isn't in need of a turnaround, the negative comps are mostly weather related and the markets concerns seem to be overblown. I expect normalization of comps in Q3 and Q4. With the shares trading at 2.3x tangible book value, roughly 1x revenue, and the company on track to open 40-48 shops this year, the downside is very limited. Chipotle is trading at 7x revenue and 12.5x its tangible book value, so this should give you an idea of how undervalued Potbelly is. I'm not suggesting Potbelly is the next Chipotle, people are always going to want to make the comparisons but Chipotle is in a class all by itself. But Potbelly could become something very similar. A Chipotle-lite if you will. Potbelly does have all the ingredients.
Disclosure: The author has no positions in any stocks mentioned, but may initiate a long position in PBPB over the next 72 hours. The author wrote this article themselves, and it expresses their own opinions. The author is not receiving compensation for it (other than from Seeking Alpha). The author has no business relationship with any company whose stock is mentioned in this article.