IBM (NYSE:IBM) offers a P/E of 11.9 for the last twelve months and a forward P/E of 9.54. The PEG is 1.36. These are incredible low valuations for a blue chip like IBM. Yet the market refuses to award IBM with a higher valuation and thus higher share prices. The two main reasons brought up against IBM are the following:
No increase in sales
Too much debt
These aren't real arguments against buying IBM as I will explain:
No increase in sales
The reason IBM's sales aren't growing is due to the company's strategy to move out of hardware into the software business. IBM is selling its hardware businesses (like the server division to Lenovo (OTCPK:LNVGY)) and taking the money to invest into more seminal software businesses (like the cloud and services for other corporations). The selling of the hardware business obviously reduces sales. Software sales are different from hardware sales: If hardware products are sold, all of the revenue is booked at one point, whereas software revenue out of one contract comes in stretched over a couple of years, due to the usual concession agreements. If a company abandons hardware business in order to expand into software, it is to be expected that sales halt or even decline for a couple of years until the restructuring is completed.
A much more important point is that the new, added, revenues in the software and service segments are much more profitable than the old, lost, revenues in the hardware segments.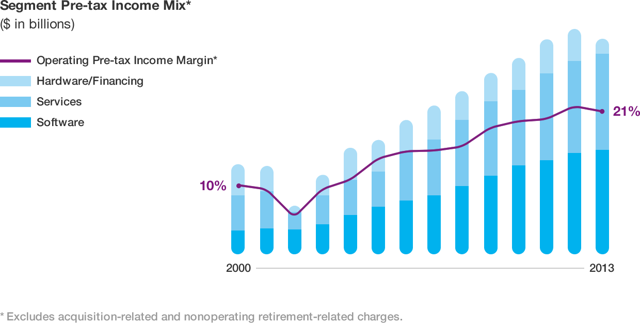 This is a picture out of IBM's investor presentation. Over the last couple of years income grew constantly with a steadily rising margin. The shrinking hardware income could easily be offset by the added income in Services and Software. There was no need to add additional revenues to boost income. Yet IBM expects that revenues will start growing again as soon as the transition away from hardware is completed. The newer segments such as the cloud offer great growth prospects.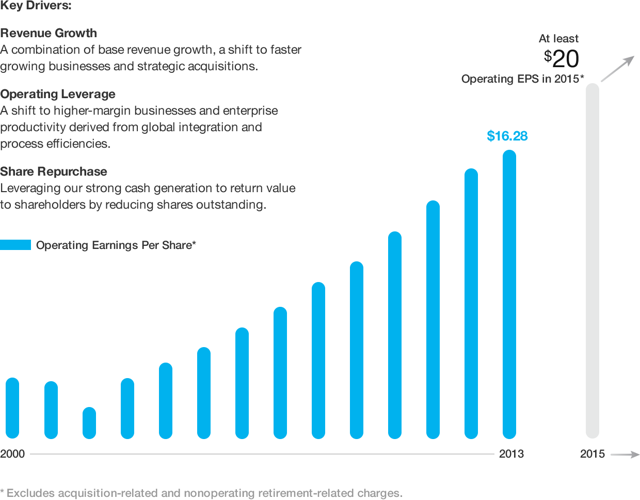 This chart (once again out of IBM's investor presentation) shows us how much the company managed to grow earnings per share in the last decade, aiming to add another 20% for a whole $20 in 2015. This results in a forward P/E of 9.5.
Too much debt
Another argument often heard is that IBM has too much debt. At first glance this is true, with a Debt/Equity of 2.67 and a LT. Debt/Equity of 1.96 the company seems very leveraged. The point most people miss is that these metrics are due to IBM's banking business. IBM basically includes a banking division which offers IBM's customers tailored financing solutions. Higher leverage is completely normal for a banking business - IBM's bank is no exception.
At the end of 2013 IBM had financial debt of $39.718 billion and cash of $11.066 billion. Of these, $24.471 billion of financing debt and $1.446 billion of cash belonged to the bank. This results in $9.620 billion in cash and $15.247 billion in financing debt for IBM's operations segment. Only looking at the operations segment, this leaves a net debt position of only $5.627 billion - or about one third of last years earnings. This doesn't seem to be a lot of leverage - in other words: IBM is not overleveraged at all if one separates the banking business from the other segments.
Should one buy IBM?
As explained above, the two main reasons brought up against IBM don't really matter. IBM offers great growth in EPS and a growing dividend although it had to put up with a lot of restructuring costs. The company's strategy of reducing low-margin hardware business and expanding its software and service segments is a great strategic decision that will bring in a very steady, recurring flow of revenue which is also very high-margin. IBM also has a couple of interesting and promising growth prospects like its cloud services, Smarter Planet and the recent deal with Apple (NASDAQ:AAPL) to bring tailored apps to businesses around the world.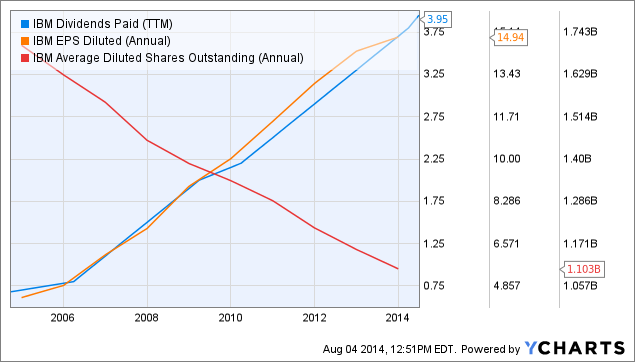 IBM Dividends Paid (NYSE:TTM) data by YCharts
Another plus is IBM's commitment to its shareholders. Pushing shareholder value trough share repurchases and a dividend which was grown by roughly 400% over the last 8 years shows that the company policy takes into account the interests of its owners. With good chances for further growth and a possible multiple expansion IBM offers a good opportunity for buyers interested in an undervalued tech stock.
Disclosure: The author is long IBM. The author wrote this article themselves, and it expresses their own opinions. The author is not receiving compensation for it (other than from Seeking Alpha). The author has no business relationship with any company whose stock is mentioned in this article.