This is a quick follow-up to an article published here on November 10, 2010, entitled: "Campbell Soup's Downbeat Outlook: No Reason for Alarm".
At that time, management had surprised the market with a downbeat forecast of full-year sales and earnings. The title of that article told part of the story…no reason for alarm. The text of the article told the rest of the story….cause for concern. Today we got CPB's earnings report that confirmed the downbeat projections from earlier in the month. The stock is underperforming, off over 2%, with the DJIA off 1.3%.
Morningstar.com's Erin Swanson noted:
First-quarter sales fell 2% year over year (excluding favorable foreign currency movements), as higher volume (up 1%) was unable to offset promotional spending. We are particularly troubled by the recent results in the firm's ready-to-serve soup business, where sales tumbled 13% from the prior-year period. This decline was particularly pronounced given that it came on top of a very weak quarter last year, where revenue slipped 7%....Promotional spending and rising commodity costs also weighed on Campbell's profitability. The gross margin contracted 70 basis points to 41.2%, while the operating margin fell 130 basis points to 20.4%. The U.S. soup, sauce, and beverage segment reported especially lower operating margins of 26.7%, down from 29.0% in last year's first quarter.
The issues of fierce competition to attract consumers at the shelf, market-share battles through price promotions, and brand innovations throughout their competitive landscape all continue to weigh on the company. In addition, the issue of higher input costs, most notably from skyrocketing commodity prices, has pinched margins. CPB is not the only one facing this agricultural commodity price challenge….I wrote about it with regard to Sysco (NYSE:SYY) and other Consumer Staple stocks have highlighted the issue in their recent reports. On SYY, I noted:
Sysco, like other companies in the food business, appears to be one of the few spots on the map where inflation is more of a concern than deflation, which occupies the minds of so many other industries. Agricultural commodity inflation is real, and for a company where food is central to revenues and costs, there's only so much that inflated input costs can be passed along to consumers who are facing deflation of sorts in their outlook on income, job security and other expenses of life.
As I noted yesterday in "Portfolio Shifts in the Face of 'New' Risks", I've been shifting my weightings in favor of Consumer Discretionary stocks and in some cases lightening up on Consumer Staple stocks where the issues mentioned above appear to be challenging management in meaningful ways. In the case of CPB, I'm not throwing in the towel completely. I generally agree with Morningstar.com's conclusion:
While we don't expect these pressures to subside over the near term, we believe the firm's dominant position in the soup category should ultimately enable it to navigate through this difficult operating environment. In our view, the shares are currently fairly valued.
While I have lightened up in relative terms, I still like their 3.3% dividend. I also like the fact that their iconic brands still have much ground to cover in new overseas markets. As always, each investor has to opine and decide for themselves, based on their unique financial profiles, risk tolerances and portfolio goals, just how much room there is in their portfolio for a Consumer Staple with a juicy dividend, but with challenges to earnings that appear to be hampering its performance vs the broader market. (The chart below is courtesy of ChartFacts.com, as of yesterday's close).
click to enlarge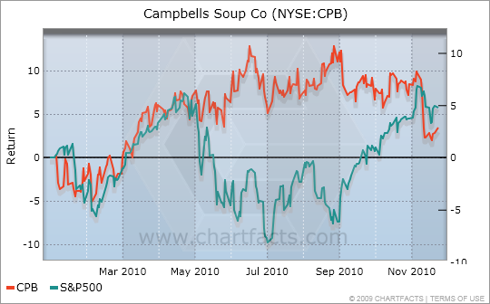 Click to enlarge
Disclaimer: Please read and consider important information related to all communication made by Soos Global on Seeking Alpha by clicking here.Click to enlarge
Disclosure: Author is long CPB, SYY