Amazon (NASDAQ: AMZN) is a unique stock, to say the least. If you follow the stock, you know that Amazon doesn't trade the same way the vast majority of the market does. For most companies, how much money they are actually making or losing is important, if not the end all be all.
For Amazon, however, no one has seemed to care about the company's bottom line. Over the past five years, as the company's profit margin, free cash flow, and net income have all plummeted, Amazon's stock has soared.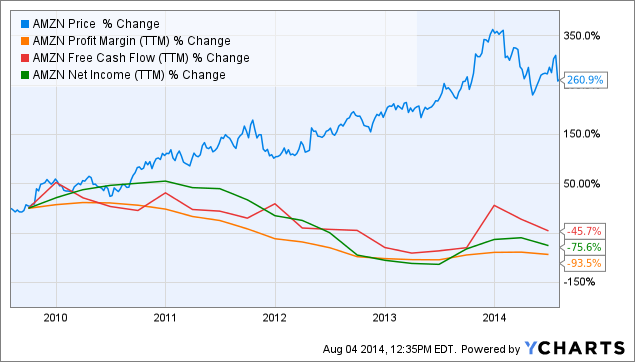 Lately, however, the market seems to have begun to change its mind about Amazon.
Another Quarter Another Big Loss
Back on July 24, Amazon reported its second-quarter financial results. Net sales rose 23% year-over-year to $19.34 billion, in-line with expectations. On the bottom line, Amazon reported a loss of $126 million ($0.27 per share), which was much worse than the $70 million ($0.15 per share) that was expected. A year ago, Amazon only reported a loss of $7 million ($0.02 per share).
For the current quarter, Amazon expects to lose as much as $810 million, which, again, would be much larger than the $25 million lost in the same quarter last year.
Amazon credits most of the already-reported and expected losses to heavy price cuts in its Amazon Web Services cloud business. Earlier this year, Amazon cut the price of these services between 28% and 51%.
Also to blame is Amazon's expansion into consumer electronics (with the recent launch of the Fire phone and Fire set-top box), the introduction of a new fixed-price eBook service, continued efforts to grow the company's network of fulfillment centers, and the money Amazon is pouring into developing original content (Amazon will spend over $100 million in Q3 alone on this).
The Market is Starting to Get Restless For Profits
This report sent Amazon's stock plummeting 9.6% the next day, adding to the already-steep decline for the stock so far this year.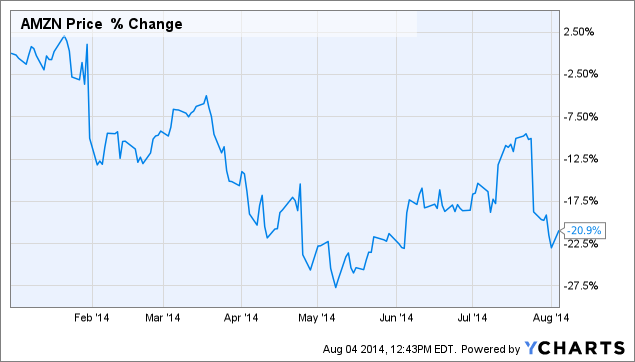 For me, Amazon's recent stock price action tells me that the market is starting to actually care about Amazon's bottom line, something which it hasn't given any thought to for a long time.
Jeff Bezos has, and continues to, stress that short-term profitability simply isn't a concern for Amazon. The last sentence of his remarks on the company's conference call stresses this idea:
"We believe putting customers first is the only reliable way to create lasting value for shareholders."
Putting customers first means low prices, fast service, and, in the end, razor thin to negative margins. So why is this change in perception happening now?
Mainly because the losses are simply getting too big to ignore. The $7 million Amazon lost in the second quarter last year is overlook-able, while the $126 million and $810 million Amazon lost and projects to lose in this year's second and third quarters are just mind-blowing figures.
The hope for investors has been that sometime down the road Amazon will actually use the massive network it has established and turn some of its revenue into profit. Despite the massive losses Amazon has reported recently, I continue to believe in this hope, as I have for years now.
Sure I disagree with a lot of the things that Amazon is doing. I see no value in trying to go toe to toe with the likes of Apple (NASDAQ: AAPL) and Samsung by offering a smartphone. Nor do I see a reason for the company to spend hundreds of millions of dollars to build up its content portfolio.
But in the long run, e-commerce is the future, and Amazon is the undisputed leader in the space. In the U.S. alone, consulting firm FTI expects U.S. online retail sales to top $500 billion by 2020, and still only account for 13.7% of overall retail sales.
Bottom line: there are still years and years of double digit growth ahead for Amazon, growth which will fueled by the investments Amazon is making today.
The Takeaway
It is entirely possible that the market is starting to look at Amazon in a new way, a way that actually gives thought to the company's bottom line. If this is so, it is going to continue to be painful for investors in the company.
If you're in it for the long-haul, like I am, however, you really don't care about Amazon's short-term profits. Amazon is the leader in an industry that is going to continue to be a growing part of our world for decades to come, and I have faith that at some time down the road Amazon will actually use the massive network it has built to turn out massive profits.
You know the age-old saying: Good things come to those who wait.
I am looking to add to my long position in Amazon if it can get back to $300, and hope you will consider doing the same. Happy investing!
Disclosure: The author is long AMZN. The author wrote this article themselves, and it expresses their own opinions. The author is not receiving compensation for it (other than from Seeking Alpha). The author has no business relationship with any company whose stock is mentioned in this article.