Cobalt International Energy's (NYSE:CIE) initial public offering on December 15, 2009 was priced at $13.50 a share, after bankers failed to get the original price range of $15 to $17. The company raised $850 million, a little short of the $940-$1,070 million projected. On the first day of trading, the stock dipped as low as $12.50 but closed at the offering price of $13.50. The high point came on January 11, 2010, with an intraday high of $16.07, and today the shares trade around $10.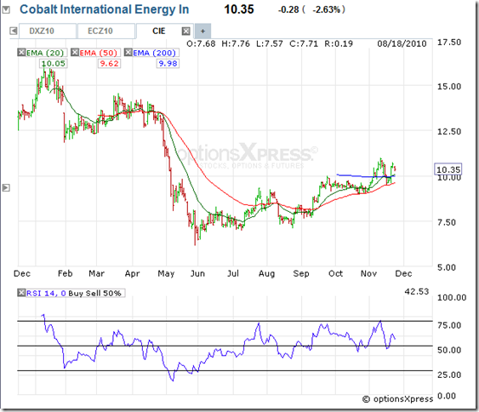 (Click to enlarge)
Cobalt is an oil exploration company that came to life with the funding of Goldman Sachs (NYSE:GS) and other private equity partners, and the company's business model revolves around deepwater oil exploration in the Gulf of Mexico and West Africa. As it prepared to take the public stage, and way before the IPO, the company's website was in constant motion, with executive pictures and titles shuffled more often than I care to mention, as if they were experimenting with the prime corporate image before the IPO.
Partnerships were formed with some heavyweights — Anadarko (NYSE:APC), Total (NYSE:TOT), and Sonangol, among others — and although an unknown company at the time, and to the surprise of many industry insiders, the company successfully bid for Gulf leases in early 2009 to the tune of over $200 million, placing the Cobalt name among the "who's who" of the oil industry.
In May 2009, a new Chief Financial Officer came on board, but he left about one year later for "personal reasons." The new CFO is an original Cobalt employee that previously held the title of Vice-President in charge of Strategic Planning. The media contact also changes often as well, with the latest individual being the only woman in the Executive team. Her title was expanded from Vice-President, Land, to include Government and Public Affairs.
Cobalt, more often than not, points to the fact that West Africa is a mirror image of Brazil's East Side story, and is banking on a repeat discovery similar to the Tupi field by Petrobras (NYSE:PBR) in 2007, with an estimated five to eight billion barrels of oil. Yet, the company chose to first drill in the Gulf! To put Tupi in perspective, and according to Reuters:
The ultra-deep reservoir sits under some 3,000 meters of sand and rocks as well as salt layer 2,000 meters thick, and the first test well could cost as much as $240 million. Cost could become a major problem, particularly if, in the coming years, oil prices sink from the current record levels.
Where Petrobras has the financial firepower, Cobalt doesn't, and even outside of the Gulf moratorium costs, the company was burning cash at a rate of over $100 million per year, although it has close to $1 billion in cash to feed the fire.
Furthermore, Cobalt claims to use state-of-the-art technology and I don't see how it is any different from what everyone else is using. The company's website states that "…we are using technology in a very different way," and I'm certain that they wouldn't want to divulge their trade secrets. Then it goes on to indicate that Cobalt has "…signed a multi-year contract with Landmark Graphics to provide all seismic data storage and software hosting services." Landmark Graphics is owned by Halliburton (NYSE:HAL) and I doubt that Cobalt has received some obscure "competitive advantage" over the other clients.
Lastly, and in addition to the pure "find-or-bust" bet, the company's stock benefited from street talk of becoming a potential takeover candidate due to the moratorium caused by BP's (NYSE:BP) Gulf spill. However, that is now old news and if you haven't noticed, the majors weren't rushing to acquire the small players because, in all honesty, they don't bring anything new to the table.
In short, CIE is "playable" and a long position was closed a short while ago. Now I am seeking the optimum entry point for a short play.
Disclosure: No position