This week, we screened our database of 5000 stocks to identify five companies with bullish ratings in the best industry groups in terms of 13 week price performance and 12 month earnings gains. The following five companies have seen an improvement in investor sentiment as analyst confidence has grown. Our financial metrics component for each stock is strong due to a low PEG ratio and reasonable price to sales ratio. We therefore believe there is further upside to these companies.

1. Lear Corporation (NYSE:LEA): Auto Parts Industry. A solid balance sheet and consistent earnings has led analysts to raise their expectations for LEA. The company is profitable and has a strong cash flow. LEA has shown strong price strength vs. the broad market reaching higher highs in recent months. Given the recent positive sentiment for automotive stocks going into 2011, we believe this could bode well for Lear Corporation as its performance is directly tied to the performance of the auto industry.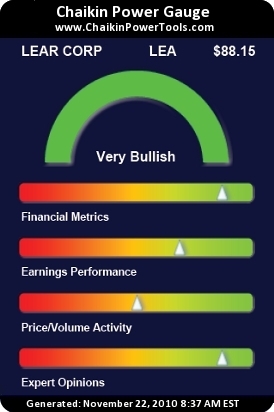 2. China Integrated Energy Inc (OTCPK:CBEH): Oil & Gas Refining & Marketing Industry. Strong cash flows, high profit margins and a high ROI lead to a bullish rating for CBEH. Analyst opinions have become increasingly bullish and a relatively high short interest combined with short term price weakness suggests that CBEH can rise significantly. Any positive news from the company, the oil industry or the Chinese government would serve as a catalyst. This is our international play of the week.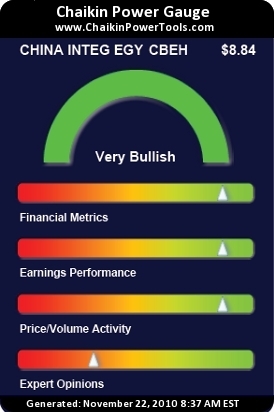 3. United Online Inc (NASDAQ:UNTD): Specialty Retail Industry. A bullish price trend, high business value and strong projected earnings gains contribute to a bullish rating. The stock continues to outperform its industry group. The company stands to benefit from the continuing trend toward e-commerce vs. traditional retail outlets. Innovations led by Apple (NASDAQ:AAPL), Google (NASDAQ:GOOG) and Facebook will indirectly help the company's top line as we see exponential growth in online consumption globally.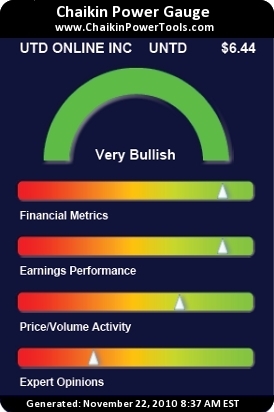 4. Fossil Inc (NASDAQ:FOSL): Recreational Goods Industry. Despite a sluggish economy in the last 2 years, Fossil has continued reaching higher highs fueled by increasingly bullish analyst expectations and strong investor sentiment. Recent price strength could lead to some profit-taking but with an excellent balance sheet, high ROI and high profit margins we view any such pullback as an opportunity to invest in this leader in the fashion accessory business. Bullish price/volume activity indicates that Fossil should continue to outperform its industry and the broader market leading to new highs after any price pullback.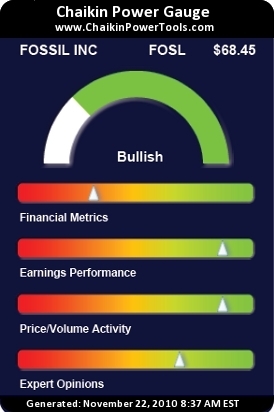 5. O'Reilly Automotive Inc (NASDAQ:ORLY): Auto Parts Stores Industry. Another company on our radar screen this week directly tied to the auto industry, O'Reilly is well-positioned to benefit from the auto industry's upward move; and is also cushioned from whipsaws in new car sales since it sells after-market auto parts to consumers focused on increasing their auto's life. Strong earnings performance, bullish price/volume activity and increasing analyst expectations contribute to a bullish rating and have resulted in a strong price trend vs. the auto parts industry and the broader market. These factors attribute to our belief that O'Reilly Automotive will continue making higher highs.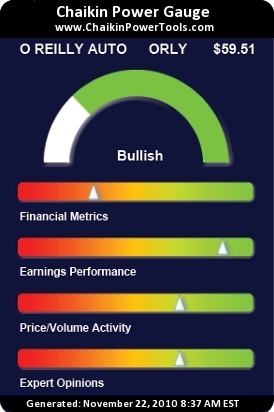 Disclosure: No positions