Benihana Inc. (NASDAQ:BNHN) announced a loss of 21 cents per share in second quarter 2011, which missed the Zacks Consensus Estimate of 3 cents and was also wider than the loss of 7 cents in the year-ago quarter. The loss was due to $4.3 million of non-recurring costs incurred by the company in the reported quarter.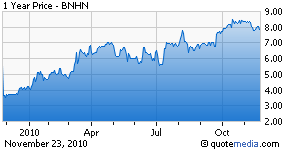 However, the U.S. chain of Japanese restaurants posted a 4.1% year-over-year rise in total revenue to $72.2 million and also outperformed the Zacks Consensus Estimate of $71.0 million. The total revenue benefited from the Benihana Teppanyaki Renewal Program, which the company initiated in 2009 to improve the dining experience for the guests at the Benihana Teppanyaki restaurants.
The comparable restaurant sales of the company jumped 4.7%, resulting from a 7.9% same store-sales increase at Benihana Teppanyaki restaurants, given the traffic gain of 9.4%. However, due to the challenging economic environment, same store-sales declined 0.9% at RA Sushi restaurant and dipped by 1.0% at Haru.
The Miami-based Japanese restaurant company drives 99.5% of its revenues from restaurant sales (66% from Benihana Teppanyaki, 24% RA Sushi and 10% Haru) and 0.5% from franchisee fees and royalty. Restaurant sales increased 4.1% to $71.8 million in the reported quarter and franchisee fees and royalty sales grew 3.9% to $373 million.
Cost of food and beverage sales escalated 30 basis points (bps) from the year-ago quarter to 24.4%, and general and administrative expense was up 740 bps to 14.6%. However, restaurant operating expenses fell 470 bps to 67.1%.
Excluding one-time general and administrative items of $4.3 million, operating income was $0.3 million.
Financial Position
As of October 10, 2010, Benihana raised its cash balance to $7.6 million from $2.6 million as of March 28, 2010. During the quarter, the company also reduced its borrowings to $16.9 million. At the end of the second quarter, total current assets were $22.0 million and stockholders' equity was $142.3 million.
Our Take
The company reported a loss, despite sales growth. This was quiet disappointing and hence we expect estimates to go down in the coming days. However, Benihana has experienced a rise of 3.7% in restaurant sales for the first four-week period of third quarter 2011.
One of Benihana's primary competitors, Cheesecake Factory Inc. (NASDAQ:CAKE) has reported third quarter 2010 earnings of 37 cents a share, which surpassed the Zacks Consensus Estimate of 34 cents. The better-than-expected results were driven by comparable-store sales growth, higher traffic and effective cost management.
We have a Zacks #3 Rank (short-term Hold recommendation) on the stock. We also reiterate our long-term Neutral rating.
Benihana operates 97 restaurants, including 63 Benihana Teppanyaki restaurants, 25 RA Sushi Bar restaurants and 9 Haru sushi restaurants. Additionally, the company has 20 franchised Benihana Teppanyaki restaurants, which operate in the U.S., Latin America and the Caribbean.