The Streetwise Professor put up a useful post about possible or probable shale gas in Poland that could be the third largest deposit in Europe behind Russia and Norway. Poland is in relatively good shape in terms of stats and still has its own currency but if the shale is viable it would improve the outlook of the country considerably.

Poland as a country is on decent footing and this stands to improve their footing even more so, this is reason for me to try to learn a little more for inclusion in the portfolio down the road and if I were to add it, how I might go about it. To be clear this is simply a look around to see what's what.

One way in would be broadly with one of the two (that I know of) ETFs; Market Vectors Poland (NYSEARCA:PLND) and the iShares Poland (NYSEARCA:EPOL). Both funds are very similar in terms of sector weightings (each more than 40% in financials) and individual holdings -- there is single stock risk with a couple of banks that each have large weights in both funds but this is less of an issue with PLND. Going broad is valid as the shale working out would make Poland, as a country, a more attractive investment destination.

Given that this story is about a new supply of natural gas it also makes sense to consider a Polish energy company. One of the larger ones in the two ETFs is Polski Koncern Naftowy Orlen (OTC:PSKZF). I found conflicting data on how much it trades but either way it is very thin, but with patient limit orders I think $10,000-$20,000 worth of shares could get executed for anyone so interested. A quick, and I do mean quick, glance at the website had several references to shale so presumably the company is involved one way or another.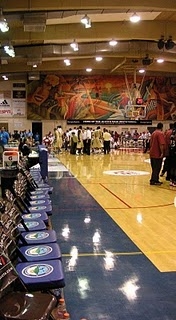 Assuming for a moment that Orlen is involved, then buying the stock is buying into something that stands to benefit in a meaningful way if this plays out or get hurt if it does not play out. This contrasts to someone like Conoco Philips (NYSE:COP) which has about a $92 billion market cap and is very involved in Poland. If I am reading COP's most recent earnings report correctly, the shale in Poland would be part of "Emerging Businesses" which collectively lost $20 million. Obviously they are involved because they believe in the project but this is one of what must be many of these and while the company could benefit from the Poland shale it will never be a proxy for the Poland shale.

The point here was just an example of process. The story is interesting, there are a couple of ways to access and I spent a few minutes poking around as a starting point. If it wasn't clear I found Orlen by looking under the hood of the two ETFs. At this point I have no idea if Poland will make its way into the portfolio and at this point all I know about Orlen is that it exists and looks to me like a real company; I tend to be a little stricter than "I'll buy it because it exists."