Compared to its hectic calendar Q2, the last few weeks have been fairly mundane for Prospect Capital (NASDAQ:PSEC). The stock has been slowly recovering, creeping towards $11 per share for the first time since February. However, the stock has fallen nearly 5% in the past few days as the market has sold off high yield stocks, magnified by the impact of the ex-dividend on July 29.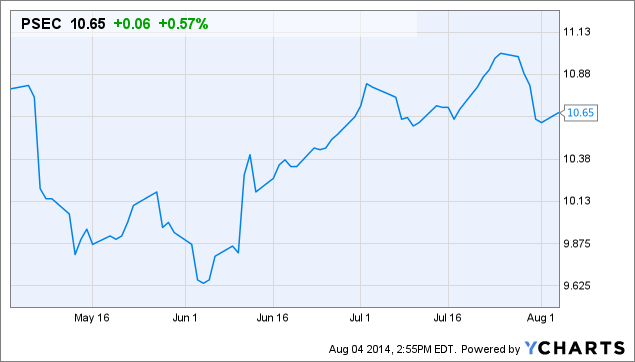 PSEC data by YCharts
Prospect sells its airport retail portfolio company Airmall at a large profit
On August 4, Prospect announced that it was selling its interests in AMU Holdings Inc. and Airmall Inc, or "Airmall" for short, to Fraport AG Frankfurt Airport Services Worldwide. During the past twelve months, Airmall has generated total revenues of $49.1 million and EBITDA of $12.1 million.
Exact financial terms were not disclosed. However, Prospect noted that it made a healthy return on its investment. The company cited a gross 16.7% internal rate of return, or "IRR," and a 1.61x "cash-on-cash" return. More on that later in the article.
A closer look at Airmall
From the SEC filings:

AIRMALL is a leading developer and manager of airport retail operations. AIRMALL has developed and presently manages all or substantially all of the retail operations and food and beverage concessions at Baltimore/Washington International Thurgood Marshall Airport ("BWI"), Boston Logan International Airport ("BOS"), Cleveland Hopkins International Airport ("CLE") and Pittsburgh International Airport ("PIT"). AIRMALL does so pursuant to long-term, infrastructure-like contracts with the respective municipal agencies that own and operate the airports.
While Prospect's press release makes this transaction sound like a slam dunk, Airmall has needed a ton of work and capital infusions to make it profitable.
On July 30, 2010, Prospect made its initial $30 million investment into Airmall USA senior secured debt, another $12.50 million via a secured second lien, as well as acquiring 100% of the Series A Preferred Stock and Common Stock of AMU Holdings for $9.92 million. Combined, Prospect invested around $52.42 million in Airmall in 2010. Later on in the second half of 2013, Airmall required another $7.60 million in secured financing. In total, Prospect invested around $60 million in Airmall.
However, Airmall's fair value, or FV, on Prospect's book is actually only $47.96 million, as shown below: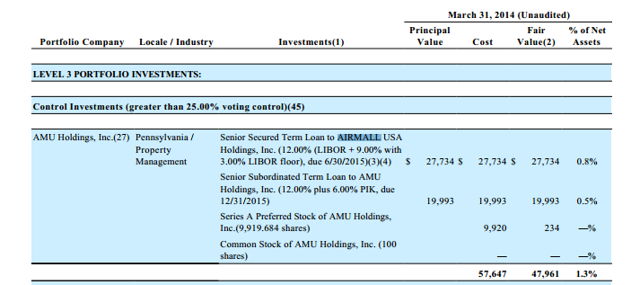 The reason for this is quite simple. During the nine months ended March 31, 2014, Prospect received dividends to the tune of $12 million from Airmall. As a result, the company lowered the FV of the investment by a similar amount, from a positive $3.48 million unrealized gain to a $9.69 million loss.
***As a side note, Prospect sold 2% of the outstanding term loan for $972,000 on December 4, 2013, which explains the difference in the amount above.
How much did Prospect make?
As mentioned above, Prospect stated that it made a 16.7% IRR and a 1.61x cash-on-cash return.
Using the cash return figure, it stands to reason that Prospect received 1.61 times its initial $60 million investment, or $96.6 million. When backing out the $12 million dividend, I estimate that Prospect may have sold Airmall for as much as $84.6 million.
Make no mistake that Prospect took quite the gamble with Airmall. As shown by the loan terms, 12% interest rate on the Senior Secured, and a 12% interest rate plus 6% PIK on the Senior Subordinated, these were very high-risk, very high-return investments.
Looking forward, one hopes that Prospect can continue to sell its portfolio companies at such large premiums.
Conclusion
Given its already high 12% yield, Prospect is a good pick for income. The stock is also trading slightly below its NAV of $10.68 per share, adding to the value proposition.
Prospect is on a constant hunt for yield generating assets. As I have stated in previous articles, originations are the lifeblood for any BDC, with incoming capital needing to be put to work in order to generate returns.
The pace of originations during the June quarter has seemed robust, though off the record set back in Q1. This is understandable given all the turmoil experienced by the company and the sector as a whole.
Disclaimer: The opinions in this article are for informational purposes only and should not be construed as a recommendation to buy or sell the stocks mentioned. Please do your own due diligence before making any investment decision.
Disclosure: The author is long PSEC. The author wrote this article themselves, and it expresses their own opinions. The author is not receiving compensation for it (other than from Seeking Alpha). The author has no business relationship with any company whose stock is mentioned in this article.