Solar Capital (NASDAQ:SLRC) announced yesterday a private placement of equity at a price of $22.94, intended to raise $44mn in new equity. Solar Capital is a newly minted, mid-sized Business Development Company (or "BDC"). There are a number of interesting elements to this news story which the BDC Reporter thought worth mentioning, both as they relate to Solar and to the industry in general. First of all, the proceeds are going to be used to repay a portion of the Company's expensive Unsecured Notes, which bear interest at 8.75%. In an article back on May 13, 2010 we identified the repayment of the Unsecured Notes as a potential cost savings for the Company. We had expected Solar might repay the Unsecured Notes, which have 4 years to run, with less expensive debt. However, the Company has principally chosen to replace medium term capital with permanent equity capital, and at a only slightly dilutive impact to shareholders.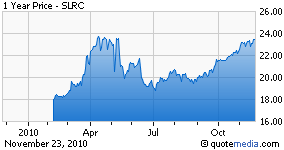 Solar was able to raise the new equity at a premium to NAV, which is an achievement as the Company has faced two waves of selling original shareholders in recent months. This speaks to the Company's decent initial financial performance since going public, as well as the relative ease which many BDCs are raising equity capital. From a cash earnings standpoint, Solar will be extinguishing $3.9mn in annual interest expense, but will be adding $4.3mn in additional dividend liability. The net incremental cash cost for existing shareholders is just over 1 cent a year. (That dilution will be offset by Solar's intention to use some of its lower priced Revolving debt to repay an unspecified portion of the Unsecured Notes as well). The trade-off is a strengthening of an already strong balance sheet. Following this transaction, total equity will increase by 6%, and the net debt to equity ratio will drop to 0.15:1.0 from 0.22:1.0 at September 2010 quarter end.
Solar is following in the footsteps of several other BDCs, as we've been noting in many recent articles, raising equity capital when the going is good, rather than with an obvious immediate use for the capital. This is keeping most BDCs debt to equity levels at highly conservative levels while still growing their balance sheets. The economics behind this phenomenon are not only investors quest for high yielding investments (the new shareholders will be earning a dividend yield of 10.4%) , but because lenders such as Solar Capital are still able to book high yielding investments in the 12-14% range, plus charge fees. Whereas rates in the junk bond market have gone down into single digits because of the flow of investor funds into that sector, the less liquid and smaller sized transactions which Solar focuses on continue to pay high yields. In the past quarter, despite much refinancing activity and new deals done, the Company's aggregate yield remained 14.1%, unchanged from the prior quarter.
With operating expenses (not including interest expense) running at 3.1% of total assets, Solar's net margin is 11.0%. Given that new shareholders can be brought in for a 10.4% yield as discussed above, it suggests the Company does not need to borrow to meet its dividend liability. Of course that's a very theoretical calculation and assumes all money raised from an equity offering goes into yield producing assets and that there are no bad debts. Still, the high net margins available to Solar underpin the current rush to raise equity.
Of course, both investors relatively modest return requirements and the high loan yields available in the market will not continue forever, or even very much longer. In fact, this ability to raise capital will cause more money to chase deals and cause margins to be shaved. That hasn't happened yet because many banks and hedge funds which operated in this segment have not yet recovered from the recession, and the Collateralized Loan Obligation ("CLO") market is still in the doldrums (but showing signs of recovery). At the same time buy-out activity is resuming from a very low level and keeping most lenders very busy. However, the party should last through the rest of 2010 as most deals that are going to be closed this year are already priced and in process.
Looking at the big picture for investors in BDCs like Solar Capital what we should see in months ahead are balance sheets predominantly composed of equity capital, higher absolute earnings but lower earnings per share than might otherwise be the case. Solar, like many others, may be more intent on maintaining its current dividend level rather than increasing it, while keeping leverage levels well below what the norm was for the industry in the period before the Great Recession. When the economics of high yielding investments and inexpensive equity start to change then BDCs like Solar will have to decide how much of the reservoirs of untapped debt that they are accumulating can be safely used to maintain earnings per share.


Disclosure: Long SLRC