This is the third of a four part series. On Monday we discussed how the market feels like it is at an inflection point as the Federal Reserve is near ending its latest easing program and the ramifications that might have on equities given the double digit declines at the end of "QE1" and "QE2." Tuesday we talked about the likely possibility that the European Central Bank will need to initiate its own easing program to keep the continent from lapsing into another recession. This likelihood has grown with recent weak economic readings from the Eurozone and new sanctions on Russia that could act as an unneeded headwind to already slow growth.
Today, we will talk about some of the large-cap blue chip growth plays that have outperformed the market over the last month as equities have grown more volatile recently and why this trend is likely to continue. Small caps have underperformed the S&P 500 by more than 10% over the past six months and this underperformance has accelerated over the last few weeks.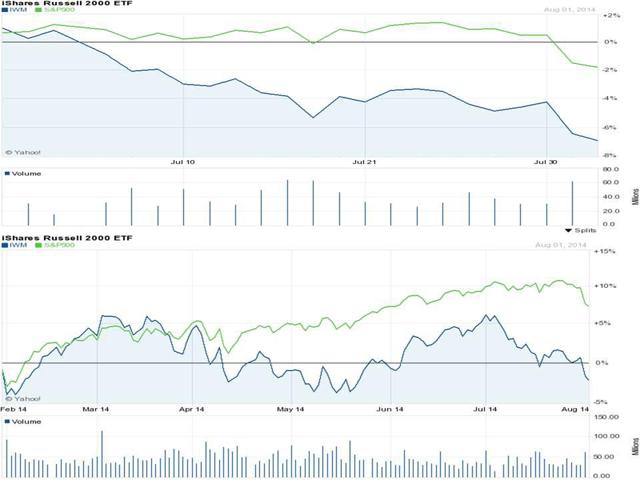 This divergence could continue as small caps tend to be "risk on" plays that don't do well when overall market sentiment turns down. In addition, the valuations in the Russell 2000 are more stretched than that on the S&P 500. Finally, the S&P 500 index should continue to benefit from a "flight to safety" as investors flock more to blue chips in times of turmoil.
Here are a couple of these large-cap growth plays I hold in my portfolio that I think will continue to be pockets of outperformance in an increasingly shaky market.
My regular readers know how I feel about the largest position in my portfolio, Gilead Sciences (NASDAQ:GILD). However, I also like big biotech brethren Celgene (NASDAQ:CELG) which I have a stake in as well and represents value at current levels.
Celgene's main product Revlimid is growing at 15% year-over-year and is posting quarterly sales of over $1B a quarter. Other drugs in the arsenal that are growing much faster off a much lower base include Pomalyst, a drug that treats multiple myeloma and Abraxane, a breast, lung and pancreatic cancer medicine.
While not growing at Gilead's breakneck speed (very few companies are) - Celgene is still posting very respectable growth rates. Earnings are tracking to a 20% to 25% year-over-year gain this year on the back of a better-than-15% increase in revenues. This growth is projected to accelerate slightly in 2015. The stock has a five-year projected PEG of under 1 (.90) and the stock is priced at under 18 times next year's consensus earnings. This is only a slight premium to the overall market despite much superior growth prospects.
It is hard to discuss large-cap blue chip growth plays without giving a shout out to Apple (NASDAQ:AAPL). The shares have held up well over the past month even as the overall market has started to break down. Even so, the shares are down some 5% from its recent 52-week highs of just over $99 a share, and I have no reluctance in adding a few shares every time the overall market has a big dip.
The company has a fortress balance sheet with some ~$150 billion in net cash and marketable securities (the majority of it overseas), pays an over two percent dividend yield and is selling at a discount to the overall market multiple.
The tech giant is benefiting from the recent travails of its main smartphone rival, Samsung. The company's much awaited iPhone 6 with larger screens will roll out in a few months, a wearable technology entrant seems in the offing and I expect both a dividend boost and over $20B in stock to be repurchased over the next six months.
I also used the recent pullback in the energy sector to reinitiate a position in mid-major Devon Energy (NYSDVN), an E&P play I took solid profits on during the second quarter. Even though oil and natural gas prices has fallen over the past month, the consensus earnings estimates for Devon for both FY2014 and FY2015 have increase somewhat over the past month.
Devon has managed to beat bottom line estimates each of the last four quarters and earnings should be up 35% to 40% year-over-year in 2014. Both revenues and earnings should grow an additional 10% in 2015 according to the current consensus. The stock sells at just over 12 times forward earnings and has a five-year projected PEG of under 1 (.73).
Tomorrow, in the final part of this series, we will dig through the recent carnage in the small-cap space to look for some hidden gems to start accumulating at much lower levels.
Disclosure: The author is long AAPL, CELG, DVN, GILD. The author wrote this article themselves, and it expresses their own opinions. The author is not receiving compensation for it (other than from Seeking Alpha). The author has no business relationship with any company whose stock is mentioned in this article.