Trupanion Inc. TRUP - BUY RECOMMENDATION - PT $10.25
Thesis: The 25-day SEC-enforced quiet period on underwriter research reports on TRUP will come to an end on August 11. On August 12th, TRUP's IPO underwriters will likely release positive analyses on the provider of pet medical plans - leading to a temporary increase in TRUP's shares in the (-5, +2) day period surrounding the event. Despite a disappointing IPO, TRUP's quiet period expiration could bring a buying opportunity as Barclays, Stifel, Canaccord and other reputable firms likely attempt to boost the firm's share price.
The 25-day SEC-enforced quiet period on underwriter research reports that began with Trupanion Inc. (NYSE:TRUP)'s July 17 IPO will come to an end on August 11, allowing the IPO underwriters to release analyses on the provider of pet medical plans.
The release of the underwriter analyses will likely lead to at least a temporary rise in the price of TRUP shares.
Difficult Early Market Performance
TRUP's IPO priced at $10.00 per share, well short of the expected range of $13-$15 per share, and posted a first-day return of 14.0%. The stock has since struggled and has slid nearly back to its IPO price, closing at $10.30 per share on July 29.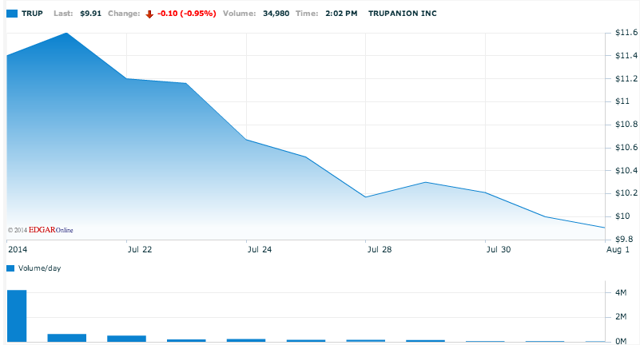 (Nasdaq.com)
Underwriters
TRUP's IPO underwriters, including Barclays Capital Inc.; Stifel Nicolaus & Company, Incorporated; RBC Capital Markets, LLC; Canaccord Genuity Inc.; and Cowen and Company, LLC will try to break the stock out of its current rut with positive research reports beginning at the conclusion of the quiet period.
Underwriters, Quiet Period Expirations, and Buying Opportunities: Academic Studies
The Journal of Finance (VOL. LVIII, NO. 1; 2003) describes how share prices typically rise before the expiration of the quiet period as investors purchase shares early in anticipation of positive underwriter reports.
Lead author Dan Bradley, PhD, CFA, affiliated with the University of South Florida, and his colleagues point out that analyst coverage is immediately initiated for 76% of firms at the conclusion of the quiet period, typically with ratings of "Buy" or "Strong Buy." Firms with coverage initiated enjoy abnormal positive returns of 4.1% for the two days before and the two days after coverage is initiated. Returns have also been found to rise further when more than one analyst initiates coverage - to 6.4%.
Dr. Bradley's conclusion is backed by the work of Carter, Piwowar and Strader (2001), who report that the mean analyst rating at the end of the quiet period is a "Buy," with higher returns correlated to higher ratings. Lach and Highfield (2009) note that analyst initiations have been less positively biased since the Global Settlement and NASD and NYSE rules. However, Highfield, Lach andWhite (2008) still found that the five-day cumulative adjusted returns are statistically significant at approximately 2%.
Bradley et al also note a significant correlation between the quantity and reputation of IPO underwriters and increasing share prices near the expiration of the quiet period.
Our own research, performed on a sample of 2014 IPOs, reveals above-market returns of 2.3% in the 8 day (-5, +2) period (day 0 being expiration). These data are statistically significant at the 90% level. When IPOs for REITs and banks are excluded, returns increase and remain within the 90% significance level. We also noted that more underwriters could reduce the volatility of returns in the quiet period. No significant linear relationship was found between market capitalization and returns or volatility of returns in the same window of time. We also observed no significant linear relationship between the percentage of the company floated at the time of IPO and returns or volatility of returns.
In all cases, investors' early purchases often lead to a perception of rising demand, causing an increase in share prices before the expiration of the quiet period and creating a short-term buying opportunity.
Trupanion's Business Overview
TRUP offers medical plans customized for dogs and cats through a proprietary data platform, generating revenue through monthly subscription fees. The firm has substantially expanded its population of covered pets in recent years, from 31,207 as of January 1, 2010, to 181,634 as of March 31, 2014. TRUP claims to be able to spend more on claims than its competitors as a result of its vertically integrated structure.
TRUP's competitors generally spend between $0.45 and $0.64 of each dollar of premium on claims, while TRUP spent $0.70 per subscription dollar on claims in 2013. The firm boasts high subscription retention rates, and at least 88% of the firm's subscription revenue has been generated through existing customers in each quarter since 2010.
TRUP attracts prospective customers through online advertising and third-party referrals. The firm's largest source of referrals is unpaid referrals from veterinarians - the firm utilizes a referral network of independent contractors to expand veterinarian awareness of its plans and their benefits.
TRUP attracts and converts a significant percentage of its sales through its website, Trupanion.com. Over 85% of TRUP's new customers for the three months ended March 31, 2014, visited the site before or during the enrollment process.
See our previous article on TRUP here.
Competitors in the Pet Insurance Industry
TRUP competes for customers with traditional pet insurance companies, some of which have access to financial and marketing resources beyond those of TRUP.
TRUP's largest competitor is Veterinary Pet Insurance Company, a division of Nationwide Insurance. Other competitors include Embrace Pet Insurance and ASPCA Pet Health Insurance.
Management (prior founder of Canadian Cigar Company)
Darryl Rawlings founded TRUP and has served as the company's president and CEO since January 2000. He also founded the Canadian Cigar Company.
Mr. Rawlings holds a Diploma of Marketing Management from the British Columbia Institute of Technology.
Conclusion: After Disappointing IPO, New Buying Opportunity Opens
TRUP's disappointing IPO and subsequent struggles on the market may be the result of several factors: the firm has posted high losses, regardless of its expanding customer base, and its president and CEO collected a total compensation of $3.9 million despite those losses and his lack of significant experience.
The firm has quickly expanded its revenues since 2010, and may be able to expand further in its under-penetrated market, but given the stock's lackluster start, we can't recommend it as a long-term portfolio addition.
However, the upcoming quiet period expiration may provide a short-term buying opportunity as TRUP's solid underwriters will likely do what they can to bolster share prices. Aggressive investors should take note and consider buying in at this time.
Disclosure: The author is long TRUP. The author wrote this article themselves, and it expresses their own opinions. The author is not receiving compensation for it (other than from Seeking Alpha). The author has no business relationship with any company whose stock is mentioned in this article.