Stocks sold off hard yesterday as debt concerns continue to haunt the market.
Investors initially ran to the safety of bonds until the 5 year Treasury auction was announced yesterday:
The bond market rally eased in the afternoon session as lower yields tempered demand on a $35 billion sale in five-year notes. Dealers pushed up bond yields from session lows to set up for $29 billion seven-year notes sale due Wednesday afternoon.

The Treasury Department sold the five-year notes at a yield of 1.411%, compared to 1.396% right before the auction. The higher yield signals weaker bidding prices. The auction was 2.65 times oversubscribed, compared with the average of 2.92 for the previous four sales.
My Take:

The bond market didn't like this 5 year auction at all and the 10 year sold off as a result (click to enlarge):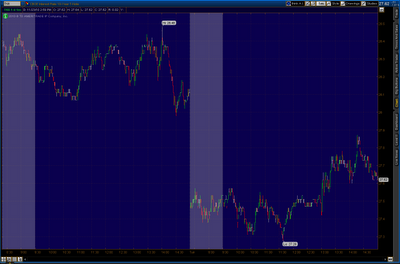 The selling in Treasuries could have been much worse if stocks hadn't performed so badly yesterday. At this point, investors really don't know where to run and hide.
Bonds don't look attractive right now because there are fears that the debt contagion could eventually hit our bond market. After all, the reality is we are in no better fiscal shape than Greece or Ireland.
However, risk is relative so the money still flocks to the US when it looks like the crap is about to hit the fan because it appears that we will be the last country that goes down for the count.
The dollar soared yesterday as the European financial system continues to hang on by a thread (click to enlarge):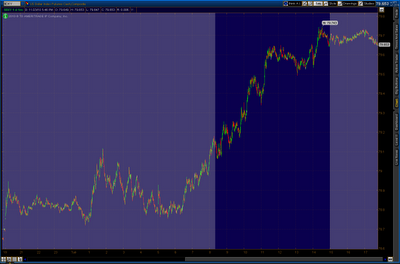 The US is basically the least worst choice of all investing options at this point. The European disaster has created a nice positive for the Fed: It has taken a lot of the QE pressure off as the dollar strengthens.
How scary is it that our dollar is rising sharply only a few weeks after the Fed announced that they are money printing?
I guess a little money printing doesn't look so bad when you live on a continent with 4 countries that appear to be on the brink of default.
Investors also flocked to gold yesterday as stocks and bonds continue to wobble.

The Bottom Line
I don't know where this all leads to. This all feels surreal to me at times. It's like a bad dream that you never wake up from.

The Fed minutes came out yesterday predicting that the unemployment rate will fall to 8% with 4% GDP growth by 2012. Yeah OK says who?
Aren't these the same clowns that told us "subprime is contained" and used 10% as the maximum possible unemployment rate when they conducted the banking stress tests?
Excuse me for being a cynic but I call bull on these numbers. The market did too as stocks sold off a bit on the release of the news.
When it comes to investing in this market all I can say is stay diversified. There are no good options at this point. Cash could crash as fast as gold could depending on what monetary policy path we take to get out of this mess.
The Fed's zero interest rates policy have put almost every asset class at risk because bubbles have been blown everywhere...Stocks, bonds, gold anyone?
In my opinion, Inflation still appears to me to be the end result if rates stay this low, but we could see a bout of nasty deflation before we get there.
I continue to sit in cash, gold, and some short hedges. I continue to drool over the idea of shorting Treasuries, but the European mess could create a short term move higher in bonds so I will sit on my hands before making this trade.
The price action this week has been amazing given how close we are to a major holiday. Futures were down a tad again last night so today could be interesting.