Back in April, we looked at how some of the big holdings for Berkshire Hathaway (NYSE:BRK.A) (NYSE:BRK.B) were performing in 2014, and compared them to the S&P 500 (NYSEARCA:SPY). As of April 7th, this year was a tough one for Warren Buffett's top holdings at Berkshire; his 15 largest S&P 500 investments were trailing the S&P 500 by about 0.8% year to date. Since then, though, things have gotten worse.
Below is a table detailing Warren Buffett's 15 largest investments since the start of the year and over the past 12 months. While Buffett measures his book value versus the S&P 500 instead of the price of his underlying shares, we can take a look at the market's assessment.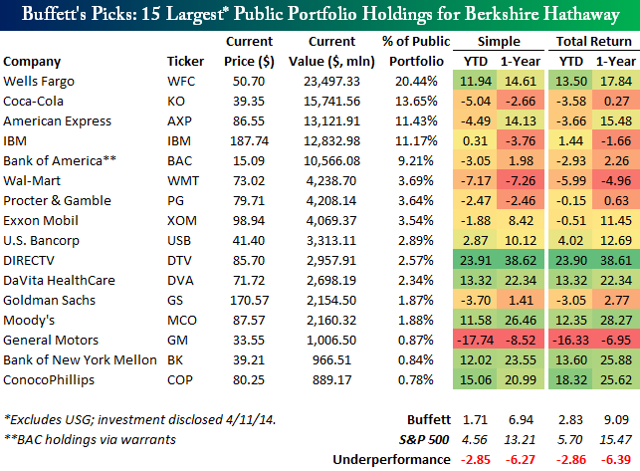 Click to enlarge
On both a simple (dividends excluded) and total return (including reinvestment of dividends) basis, the top 15 equity holdings of the Berkshire Hathaway portfolio (as of 3/31/14) plus Bank of America (NYSE:BAC), which Berkshire owns warrants on, have noticeably underperformed the S&P 500. For the purposes of our analysis, we assumed that Berkshire is long 700 million shares of BAC, which is basically equivalent to returns on deep in the money calls that the warrants replicate.
While some of Buffett's picks have been marvelous (including his largest investment, Wells Fargo (NYSE:WFC)), and a large position in DirecTV (DTV), others have dragged down his returns including Coca-Cola (NYSE:KO), which has faced uncertainty over demand headwinds as fewer Americans consume carbonated beverages. General Motors (NYSE:GM) has also gotten smoked this year as recall after recall has poured in; this despite a boom in US auto sales.
One thing is certain: over the long run, Buffett's track record is second to none. Like any investor, though, his returns can really swing and even underperform the market over shorter time periods. It's also worth noting that there are dozens of other businesses bolted on to Berkshire Hathaway besides its equity portfolio. Those businesses are the reason that BRK shares have returned 8.35% year-to-date, or almost double the return of the S&P 500, despite the underperformance of his portfolio.