Kinder Morgan Energy Partners' (NYSE:KMP) trading pattern is something that investors don't really need to understand. Sometimes the stock is up on little news, sometimes the stock is down on no news, and sometimes the stock consolidates more strongly even though the company has actually presented very encouraging performance results.
Kinder Morgan Energy Partners currently experiences another (unwarranted) consolidation and, I believe, the pullback in unit price is another solid opportunity for bargain hunters with a long-term investment horizon to pull the trigger and add a few attractively priced units to their investment portfolios.
The most recent consolidation really does not make any sense at all in my opinion. The long-term fundamentals in the domestic pipeline and energy production business haven't changed the slightest and Kinder Morgan Energy Partners' second quarter results were more than solid with an 11% y-o-y increase in distributable cash flow and a hike in its quarterly cash distributions to $1.39 per unit.
Chart situation
After a fairly significant correction in February and March, which saw the unit price of Kinder Morgan Energy Partners touch down to the $70 mark, units have had a solid run over the last four months, even if we factored in the most recent consolidation.
However, Kinder Morgan Energy Partners' year-to-date return stands at only 1%, highlighting the importance of buying trading weakness. Investors who bought units of KMP at the beginning of April are looking at a 9% capital gain, which comes in addition to KMP's distribution yield.
I have always been attracted to buying units and stocks when they are on sale, especially when quality companies are concerned that stand out with superb management, proven execution skills and that face favorable long-term supply/demand dynamics. As part of this thinking, I also wrote an article about Kinder Morgan Energy Partners in early March, about the time KMP units were bottoming, and recommending investors "to buy when others are fearful".
The recent consolidation of KMP units, therefore, should prove to be no different and could provide another opportunity to buy a prime income structure for both yield and capital appreciation potential.
While I don't think that investors are now fearful or panicking, I believe the recent consolidation is totally unwarranted given the top-notch second quarter results of Kinder Morgan Energy Partners.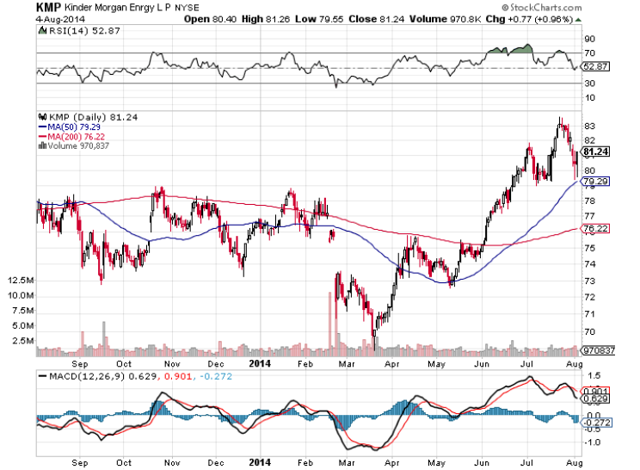 Click to enlarge
Volatility offers advantages to long-term oriented investors
Kinder Morgan Energy Partners is structured as a master limited partnership and one of the few long-term cash flow machines I hold in my income portfolio to create long-term wealth. I have previously written about the investment benefits of Kinder Morgan Energy Partners, especially relating to long-term investors who don't have a lot of desire to trade in and out of position creating high levels of portfolio turnover and transaction costs.
Instead, I have previously advocated for a disciplined approach to building wealth by purchasing high-quality income vehicles such as Realty Income (NYSE:O) or Kinder Morgan Energy Partners by taking ruthless advantage of erratic market behavior.
Besides a solid distribution record (KMP just increased its distribution the 52nd time since 1997), Kinder Morgan clearly convinces investors with respectable cash flow growth, which is ultimately underpinning its distributions: KMP's adjusted, distributable cash flow grew 11% year-over-year to $561 million in the second quarter of 2014. On a per unit basis, Kinder Morgan Energy Partners' distributable cash flow increased from $1.22 in last year's quarter to $1.23 per unit in the most current quarter.
Yield limiting downside risk
As of the time of writing, units of KMP yield 6.84%. If management follows through with its intention to increase distributions to $5.58 per unit in 2014, investors are actually investing at a slightly higher yield of 6.89%.
The good thing about consolidations in high-yielding units is, that the more the unit price declines, the higher the distribution yield rises. This is also the reason why I really don't mind units of KMP or shares of Realty Income to decline periodically; I will continue to take ruthless advantage of Mr. Market's temporary confusion and gladly pick up those units/shares at a higher yield.
Furthermore, higher distribution yields as a result of a sell-off actually limit downside risk. As long as distribution prospects are stable and investors perceive them as credible, higher yields will attract more buyers at some point who want to take advantage of an unreasonably high distribution yield and who will support the unit/share price.
Conclusion
I really cannot help but like Kinder Morgan Energy Partners at around $81 per unit, especially after the master limited partnership delivered solid second quarter results with strong increases in cash flow and EBITDA. A consolidation is a great way of benefiting from Mr. Market's irrational intrinsic value assessment and allows long-term minded, savvy investors to pick up a quality business at a fantastic 7% yield. KMP remains a Strong Buy.
Disclosure: The author is long KMP, O. The author wrote this article themselves, and it expresses their own opinions. The author is not receiving compensation for it (other than from Seeking Alpha). The author has no business relationship with any company whose stock is mentioned in this article.