BlackBerry (NASDAQ:BBRY) announced BBM's debut on Windows Phone last week. This launch marks the end of the company's change of strategy, allowing BBM to become fully accessible platform. This is as good a moment as any to discuss BBM's current performance and its future as a going concern.
In this article I find that even though BBM for iOS and Android was an early success, it has cooled off significantly this past few months. BBM still lags its competitors by a significant margin and I don't expect it to catch up any time soon.
BBM's value is highly dependent on the success of BBM Protected for regulated industries and the rest of eBBM suite. If BlackBerry can keep its core enterprise customers, it could be a resounding and sustainable success for years to come.
At a target of $100 million in revenue for calendar 2014, investors should take BBM as an additional upside to the company. While it will contribute only a handful of revenue to BlackBerry, it remains an interesting source of growth for years to come.
BBM's Competitive Landscape
In the latest earnings release, John Chen disclosed that BBM had 85 million MAU, which means it was flat since February. Even if the number of registered users provide a different story, growing from 130 to 160 million, the MAU figure is really the number that counts. These are hardly any numbers to be excited about.
Using figures from a number of sources, I count 1,683 million MAU on the largest messaging apps out there. BBM's 85 million gives it a market share of a little over 5%.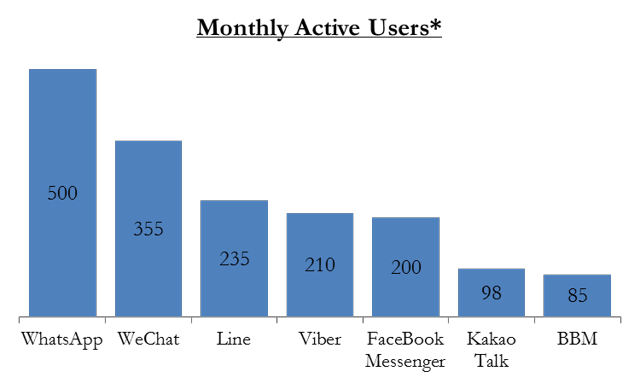 Source: Statista, Business Insider, Tech in Asia. *Data as of June, 2014.
What is even more worrying, using data I describe ahead, is that BBM's download pace seems to have cooled off since going cross platform on iOS and Android.
BBM's Trend on iOS and Android
App Annie provides some interesting metrics to gauge any app's trend on iOS and Android devices. While the premium account provides some interesting data, at a price, a free registered user can check app rankings regarding downloads and gross revenue.
Cross referencing data provided by Google, regarding the penetration rate of smartphones, and Wikipedia, the top ten markets by number of smartphone users as of 2013 are as follows:
| | |
| --- | --- |
| Country | Number of Smartphone Users (million) |
| China | 641 |
| US | 180 |
| India | 160 |
| Indonesia | 61 |
| Brazil | 53 |
| Russia | 52 |
| Mexico | 44 |
| UK | 40 |
| Philippines | 39 |
| South Korea | 37 |
Source: Google "Our Mobile Planet," Wikipedia
Using App Annie's rankings for Google Play, investors can see for themselves BBM's trend this last few months among Communication apps on the top 10 smartphone countries.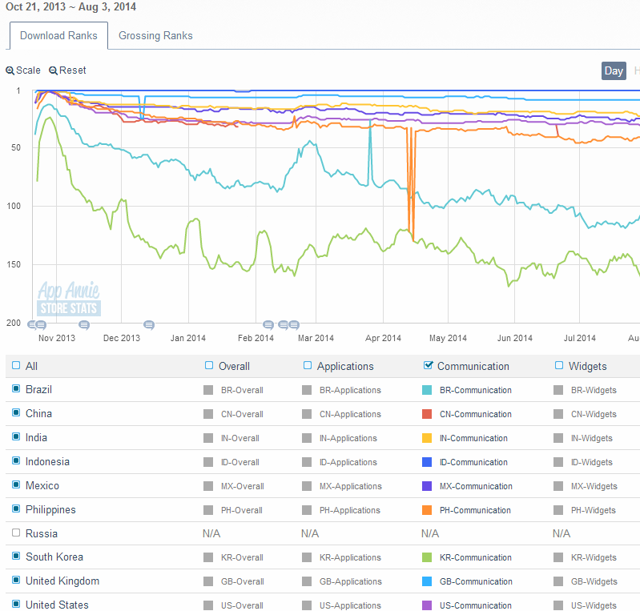 Source: App Annie
The graph above shows two clear facts.
First, BBM was an astounding success the first few weeks it was available on Google Play store. At its peak, it was the number one app by number of downloads on US, India, Indonesia, UK and Philippines. Even in China and Mexico BBM came up second.
Second, since its peak, BBM dropped rapidly on the rankings with the notable exception of Indonesia, where it has retained the number one spot for quite some time.
The story is similar on iOS. I invite interested readers to check the data by themselves on App Annie.
If we look at BBM's market share and download pace, it should be clear that it won't catch Line anytime soon, let alone WhatsApp. Nevertheless, it should remain a strong regional player in selected countries, such as Indonesia.
BBM for Desktop, Are You Serious?
In a recent article, Shock Exchange (a SA contributor) seemed to be excited about the possibility of BBM launching on Windows desktop computers, calling BBM for Windows Phone a "trial balloon for the desktop."
Since I'm long BlackBerry, you probably expect me to point out a silver lining for BBM. There is one, just not BBM for the desktop.
Comscore, on a paper titled "US Digital Future in Focus," measures total unique visitors trend for selected categories, one of which is instant messengers.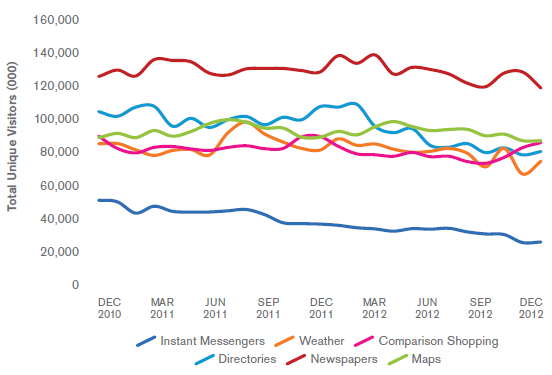 Source: comScore
In the US, the usage of instant messengers for desktop computers fell 52% between 2012 and 2013. Given the growing number of smartphones, instant messengers on desktop computers will probably continue to fall.
BlackBerry's management should be following this trend very carefully and conclude that working on a BBM version for the desktop is a waste of their time.
BBM as the Instant Messenger of Choice for the Enterprise
True to his word, John Chen has been leveraging on arguably the most important competitive advantage of BlackBerry: security.
In its official blog, BlackBerry describes BBM protected as follows:
"Developed specifically for the security conscious, BBM protected provides a way for enterprise employees to speak safely and securely both inside and outside of the workplace. Employees can message within a company under an unprecedented level of end-to-end security. Employees can also easily message their BBM contacts outside of the organization with the privacy, control and security that is inherent in BBM. All within one instance of BBM - users don't have to download and manage two different messaging apps to meet all their messaging needs."
BBM protected sounds like an exciting new initiative of this company. Currently, there is no other comparable solution in the market. Even if there is eventually some competition, BlackBerry's strength and reputation among enterprise customers on highly regulated industries should provide an important barrier to entry.
At $29.99 per device per year, its not too pricey to deter enterprise customers from choosing to secure their employees' mobile messaging. Currently it's only available on BlackBerry devices. However, its release for Android and iOS is set for this fall. I expect adoption to pick up by the end of this year.
On the downside, BBM protected needs to be used inside a BlackBerry Enterprise Server. While it could be an additional selling point to convince customers to adopt BES, BlackBerry could be leaving money in the table by refusing to allow its adoption by third party MDM companies.
Conclusion
BBM's debut on Windows Phone should help its MAU base grow enough to meet John Chen's target of 100 million by the end of 2014.
However, BBM lags its competition by a wide margin. Even if it meets its target by year's end, it will pose no threat to the leading messenger apps in the market. Among the general public, it should remain strong only in selected countries. This position will allow BBM to sell stickers and ads to contribute to BlackBerry's top line.
However, the real potential of BBM lies within its adoption by enterprise customers. These clients could be willing to spend a few extra bucks for value added features.
Disclosure: The author is long BBRY. The author wrote this article themselves, and it expresses their own opinions. The author is not receiving compensation for it (other than from Seeking Alpha). The author has no business relationship with any company whose stock is mentioned in this article.