Leading distributor of dental, companion-pet veterinarian and rehabilitation medical supplies Patterson Companies Inc. (NASDAQ:PDCO) reported second-quarter fiscal 2011 (ended October 30) earnings per share of 45 cents, matching the Zacks Consensus Estimate while exceeding the year-ago earnings of 41 cents. Net income rose 8% year over year to $53.4 million riding on higher sales.
Revenues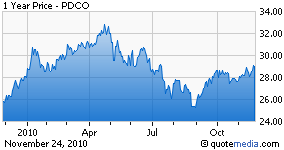 Revenues leapt 5% year over year to $857.4 million, beating the Zacks Consensus Estimate of $844 million. Growth was supported by higher sales from the core Dental Supply business, acquisitions and favorable currency exchange swings.
By products catergory, revenues from consumable and printed products grew 1.6% year over year to $547.3 million while equipment and software sales climbed 16% to $243.6 million. Other revenues were flat year over year at $66.5 million.
Segment-wise Results
By business segments, Dental Supply revenues rose 5% year over year to $563.2 million driven by higher dental equipment and software sales (up 14%). Dental equipment sales were boosted by higher revenues from the company's CEREC dental restoration systems and digital imaging products (digital sensors, cone beam and panoramic imaging systems).
Revenues from Webster Veterinary Supply increased modestly to roughly $161.6 million as the segment's consumable revenues were unfavorably impacted by the change in distribution arrangements of certain pharmaceuticals.
Rehabilitation Supply ("Patterson Medical") revenues jumped 13% year over year to $132.6 million. Sales benefited from the acquisition of DCC Healthcare in June 2010 which expanded Patterson Medical'spresence in the U.K. and continental Europe.
Margins
Gross margin declined narrowly year over year to 32.6%. Operating margin increased modestly to 10.5% from 10.4% a year ago. Operating expenses (as a percentage of sales) decreased to 22% from 22.3% in the year-ago quarter.
Balance Sheet
Patterson exited the quarter with cash and short-term investments of roughly $328.7 million, up 10% sequentially. Log-term debt remained flat sequentially at $525 million.
Outlook

Patterson has reiterated its fiscal 2011 EPS guidance between $1.89 and $1.99. The current Zacks Consensus Estimate is $1.94, reflecting an estimated annualized growth of 8.87%.
Minnesota-based Patterson provides a wide range of consumable supplies, equipment and software and value-added services to its customers. The company competes head-to-head with Henry Schein Inc (NASDAQ:HSIC) in the dental market. We currently have a long-term Neutral recommendation on Patterson.