Raven Industries Inc. (NASDAQ:RAVN) reported its earnings per share of 65 cents in the third quarter, outperforming the Zacks Consensus Estimate of 43 cents and 40 cents in the prior year quarter.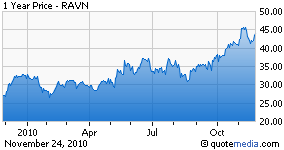 Revenue increased 43% year over year to $85.8 million in the reported quarter, driven by its Engineered Films and Aerostar segments. Like EPS, revenue outperformed the Zacks Consensus. The Zacks Consensus Estimate for revenue was $67 million.
Cost of Sales and Margins
Cost of sales amounted to $60.9 million compared with $43.2 million during the year-ago quarter. Raven's gross profit was up significantly (by 47%) to reach $24.9 million, expanding gross margins by 87 basis points year over year to 29%.
Selling, general and administrative expenses increased 37.3% year over year to $5.9 million. Operating income amounted to $17.9 million, an increase of 61% from the year-ago quarter. Consequently, operating margins increased by 230 basis points from the year earlier quarter to 20.8%.
Segment Performance
Applied Technology: The segment's revenue increased 14% year over year to $23.9 million, attributed to an increased demand for the company's OEM's (original Equipment Manufacturer) control systems, high commodity prices and improving farm income. Segment's operating income was $7.3 million, an increase of 7% from the prior year quarter. However, margins for the segment decreased 200 basis points to 30.7% compared with the third quarter last year.
Engineered Films: The segment posted a 59% hike in revenue to $29.8 million compared with $18.7 million in third quarter last year. High volumes resulting in optimum plant utilization coupled with favorable cost/pricing spread drove the segment's revenue. Operating income more than doubled to $6.9 million, raising the margin by a whopping 700 basis points year over year to 23.2%.
Aerostar: The segment's revenue grew impressively by 169% to $15.9 million from the third quarter last year, driven by the increased level of deliveries across all its key products. Operating income was up 187% to $3.6 million from the year-earlier quarter, expanding the margins by 140 basis points to 22.6% versus 21.2% in the year-ago quarter.
Electronic Systems: Sales for this segment increased 13% year over year to $17.8 million. Operating income rose 47% to $2.3 million from the year-ago period, increasing margins by 290 basis points to 12.9%. The year-over-year increase in profit resulted from the resolution of supply chain issues during the quarter, thereby increasing sales and margins.
Financial Position
Cash from operating activities for the nine month period ended on October 31, 2010 was $26.3 million, decreasing from $40.5 million in the prior-year period. Cash balance as of October 31, 2010 was $30 million, declined from $46.3 million as of October 31, 2009, due to the special dividend of $1.25 per share paid during the quarter.
Raven possesses a debt-free balance sheet; its current ratio was 4.11 as of October 31, 2010, 4.35 as of July 31, 2010 and 3.91 as of April 30, 2010.
Outlook
Raven industry's presence in niche markets with its energy exploration, precision agriculture, and military surveillance, continues to augment its revenues. However, the company now needs to focus on growing all its businesses. The Slingshot product was well received and encouraged Raven to foray into information management.
For the Aerostar segment, Raven expects additional orders in the fourth quarter. The company expects the momentum to spill over into the next fiscal with some leeway for quarter-to-quarter volatility, as the company takes advantage of tethered aerostat development and deployment opportunities. Ramping up of the T-11 Army Airborne parachute contract to its targeted delivery levels will affect its near-term profitability.
Raven reaffirms its capital expenditure guidance in the range of $12 to $15 million for fiscal 2010 and expects the expenditure around the higher end of the guidance.
Competitors' Performance
Graco Inc. (NYSE:GGG) and Spartech Corp. (NYSE:SEH) are close competitors of Raven. In comparison with Raven's EPS of 65 cents in third quarter, Graco delivered an EPS of 50 cents while Spartech reported a loss per share of 5 cents. This indicates that Raven is performing well above its competitors, followed closely by Graco.
Raven currently has a Zacks #3 Rank (short-term Hold recommendation).