Red Lion (RLH) has fourty-three hotels, 8,384 rooms, and roughly an even split between those corporately owned and franchised. As a brand it represents hotels that are modestly priced but well-equipped for families and business travelers.
The economy of 2008 and 2009 has been hard on all sectors of the market, with the travel sector taking an especially pointed blow. With more limited resources for corporate events, Red Lion is positioned to increase market share of businesses that are looking to save where in the past they may have splurged for a more opulent location. After the government's bailout of AIG, the management's decision to have a lavish holiday party at a Four Seasons resort aroused the public's ire and resulted in a backlash that has reverberated through all sectors of the business world. It's now in vogue to have annual shareholder's meetings or corporate retreats at modestly priced hotels such as Red Lion to send a message that management's frugality lends them be a more a AAA and less a Condé Nast Traveler.
These prevailing social mores has manifested into dollars and cents for Red Lion as put forth by their CEO Mr. Eliassen in their Q1 2010 conference call:
We are capturing more business from these targeted segments as evidence by the year-over-year increases in group room nights of 10% and corporate room nights of 22%.
The commoditization of travel has yielded a stratospheric market cap for Priceline (PCLN) but has made airline and hotel travel a bidding war. Just as Southwest (LUV) will only book through their own site, RL has opted to largely avoid kowtowing to travel sites. Rather, as Mr. Eliassen goes on to explain,
Our percentage of internet source revenue grew year-over-year with redlion.com's contribution outpacing the online travel agency sites. We believe this is a result of the increase investments we are making in online marketing, which are driving more internet sourced business to our own Red Lion website.
This is underscored by RL's CFO, Mr. Dombrowik,
As [Mr. Eliassen] mentioned, our ongoing investment in direct sales, marketing and related technology impacted our margin. We are confident returns from these investments will be realized in 2010 and beyond.
Pouring resources now into RL's brand name will allow it to weather up, down, or stagnant markets later.
Of late the balance sheet looks strong as compared to the industry, with a good sized "cash balance [of] $9.3 million, including $4.3 million in cash and cash equivalence and $5 million restricted cash," as of April 1st.
While most of RL's portfolio is within Washington and Oregon, two weeks ago they announced two California hotels making the switch to the RL franchise. While people look towards the subjective "star" system, all things people equal, people are going to opt for a brand name hotel they trust.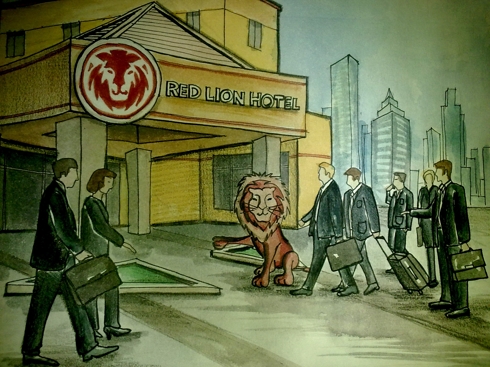 Cartoon © Underanalyzed Equities 2010
Disclosure: No position