Shares of Kraft Foods Group (KRFT) are currently trading at $54.74 when its stock dipped after the company released soft quarterly earnings results. Kraft Foods' stock has struggled to make significant progress and it has a one-year low of $50.54 and a one-year high of $61.10. The stock's 50-day moving average is $59.19 and its 200-day moving average is $56.7. Kraft Foods underperformed in comparison to the performance of the S&P 500 index in the last twelve months but the company still outperformed Whole Foods Market (NASDAQ:WFM) and JM Smucker (JMC) over the same period.

Source: Ycharts
Disappointing Second Quarter Results
In the first quarter for fiscal year 2014, Kraft Foods reported a 9% year over year increase in its adjusted earnings to $0.83 per share beating analysts' estimates of $0.78 by roughly 6.4%. However, it missed the revenue expectations of $4.502 billion by roughly 3.1% and fell 4% year over year to $4.362 billion.
In the second quarter of 2014, profits fell by more than 40% as a slight improvement in revenues could not offset the substantial gain the second quarter of 2013. Kraft Foods reported second quarter profits of $482 million, or $0.80 earnings per share, down from $829 million, or $1.38 earnings per share a year earlier. Kraft Foods generated $4.75 billion in revenues reflecting an increase of 0.7%. The analysts were expecting $0.82 per share earnings on revenues of $4.84 billion.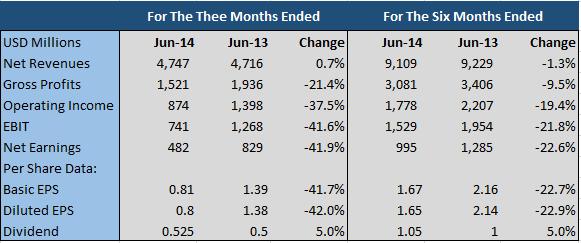 Source: Earnings Release
Why Profits Declined
The demand for packaged foods in the U.S. is growing at a very slow pace. Kraft Foods is not the only company facing profitability issues. Recently, Campbell Soup Co. (NYSE:CPB) warned that sales for the coming fiscal year would likely fall below fell blew its long-term targets. The second quarter earnings growth was negatively impacted by increased commodity costs that more than offset the impact of price increases. However, organic net revenues increased by around 1.5% year over year, primarily due to the shift in the timing of Easter-related shipments; last year Easter occurred in the first quarter.
To support its profit margins Kraft Foods has enacted pricing actions on a large portion of its product portfolio this year. However, despite increased pricing the company still faced a decline in its profit margins due to higher increases in commodity prices during the quarter. However the hope of positive movement in the commodity prices in the coming quarters may reaccelerate the earnings growth.
On the positive side, Kraft Foods's increasing focus on improving its productivity and reducing its overhead costs has helped it to compensate the impact of the steep commodity price hike on its cash operating margins so far this year. While the gross margins slipped by around 300 basis points during the first six months of 2014 its adjusted EBITDA margins have remained almost flat over the same period.
Valuation and Estimates
Although Kraft Foods could not impress investors in its latest earnings results but the company is still worth investing in. Kraft Foods' current valuation and recent price dip creates a great opportunity to buy the stock because ultimately the stock will go up. The stock is trading at a trailing price to earnings multiple of 13.54 times making it cheaper than its competitors and the industry average. The industry trailing price to earnings multiple is 23.41 times whereas Whole Food Market is trading at a trailing price to earnings multiple of 24.75 times and ConAgra Foods (NYSE:CAG) is trading at a trailing price to earnings multiple of 15.84 times.
A number of analysts changed their target prices due to this temporary price dip. Analysts at Credit Suisse (NYSE:CS) reiterated an outperform rating on shares of Kraft Foods in the recent note and they now have a target price of $63, down from the previous figure of $65. The analysts at JPMorgan Chase & Co. (NYSE:JPM) reiterated a neutral rating with a $57 price target down from the previous figure of $58. This stock has a consensus target price of $59.38 which will give rise to an upside potential of more than 4% in addition to a 3.84% in dividend yield.
In the second half of 2014, the company's top and bottom-line growth may remain similar to the first half. However, the decline in its gross margin is expected to moderate as the year progresses primarily due to the impact of pricing actions that were mostly announced and implemented during the second quarter. The improvements in the remaining two quarters, the revenues, and earnings stream may help the stock to increase.
Conclusion
Investors are concerned about the company's growth prospects and that's why the stock dipped due to poor quarterly results. Kraft Foods is facing challenges such as soft volume, market share loss, rising input costs, and higher effective tax rates and all of these factors are hurting the earnings. However, Kraft Foods' strong brand portfolio, aggressive price reduction and efficiency-improvement initiatives should retain investors' faith in the stock. Moreover, the company has significantly increased its advertising investment, new product activity and the quality of its marketing which could result in better results in future quarters.
Disclosure: The author has no positions in any stocks mentioned, and no plans to initiate any positions within the next 72 hours.
Business relationship disclosure: The article has been written by a Gemstone Equity Research research analyst. Gemstone Equity Research is not receiving compensation for it (other than from Seeking Alpha). Gemstone Equity Research has no business relationship with any company whose stock is mentioned in this article.