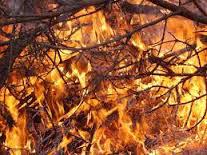 Picture: Kindling burning. Source: timberkitsets.co.nz
Groupon, Inc. (NASDAQ:GRPN), the online marketplace that connects consumers and merchants by offering goods and services at a discount, disclosed its Q2 2014 earnings Tuesday. Analysts were expecting revenue of $762 million and earnings per share ("eps") of $0.01. Based on the company's past performance, I knew it would take a Herculean effort to get there. Revenue came in at $752 million and non-GAAP eps at $0.01. On a GAAP basis, the company suffered a loss per share of $0.03. The stock burned like kindling after-hours, falling $1.12 (16%) just like competitor RetailMeNot, Inc. (NASDAQ:SALE):
The market thrashed RetailMeNot; in pre-market the stock was down $5.30 (21%) to $20 per share. At its pre-market price the company's market capitalization would be about $1.1 billion or 9x run-rate revenue (Q1 2014 + Q2 2014 revenue annualized). At $20 per share, the company trades at about 53x run-rate earnings per share.
Below are the company's results annually and sequentially: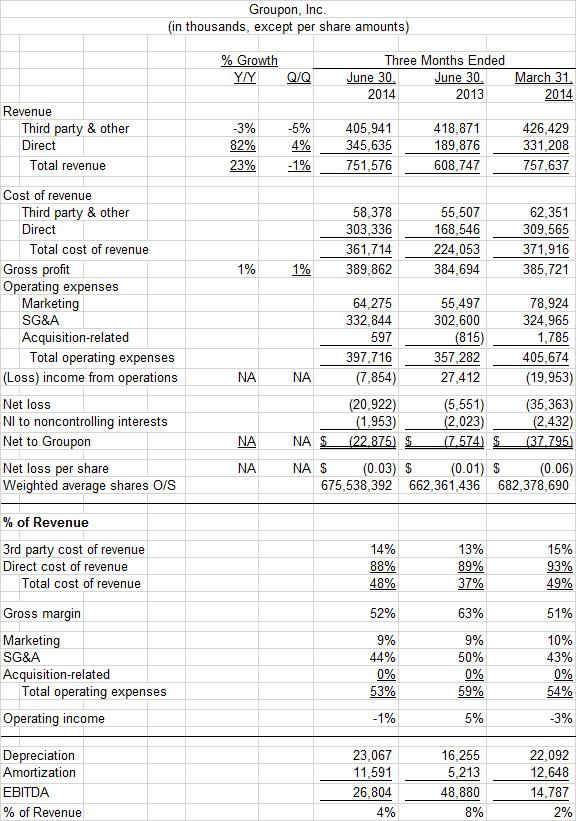 Revenue
Revenue grew 23% annually but declined 1% sequentially. As mentioned earlier, revenue of $752 million fell short of analysts' expectations of $762 million.
Direct revenue increased 82% annually and 4% sequentially. This was offset somewhat by declines in revenue via third parties of 3% annually and 5% sequentially.
Earnings
The company's gross margin declined from 63% in Q2 2013 to 52% in Q2 2014. Cost of revenue for 3rd party channels (14%) and the direct channel (88%) were virtually unchanged year-over-year.
However, as more of the sales are sourced via the direct channel where the company makes a lower margin, i.e. has a higher cost of revenue, it has a drastic impact on gross margin. Total gross margin was 52%, 63% and 51% for Q2 2014, Q2 2013 and Q1 2014, respectively.
Operating costs declined from 59% of revenue to 53% of revenue in Q2 2014. As gross margin has declined year-over-year, the company has reacted by wringing out some operating costs; Groupon still needs to cut more in order to achieve profitability.
Net loss widened from $8 million in Q2 2013 (a penny per share) to $23 million in Q2 2014, or a loss of 3 cents per share. On a non-GAAP basis the company earned $0.01 per share, meeting expectations.
Guidance
Management gave Q3 2014 guidance of revenue from $720 - $770 million and non-GAAP eps of $0.02. Analysts were expecting revenue of $761 million and eps of $0.03. This was also disappointing news to the market.
Valuation
Based on an after-hours price of $5.95 per share, Groupon's market capitalization is approximately $4.1 billion. This equates to 1.3x run-rate revenue of $3.0 billion (Q1 2014 + Q2 2014 revenue annualized), and 49x run-rate EBITDA of $83 million.
Conclusion
With flat revenue and declining operating margins due to a change in revenue mix toward lower margin direct sales, Groupon has been effectively running in quicksand. At 1.3x run-rate revenue and nearly 50x run-rate EBITDA, Groupon is a strong sell.
Disclosure: The author is short GRPN. The author wrote this article themselves, and it expresses their own opinions. The author is not receiving compensation for it (other than from Seeking Alpha). The author has no business relationship with any company whose stock is mentioned in this article.