Back in late May, I provided an initial dividend raise prediction for cigarette giant Altria (NYSE:MO). Based on Altria's yearly guidance and payout target, I estimated a $2.05 to $2.08 range for the annual dividend when the 2014 raise came. I promised investors that I would return with an update later in the year if I felt a change to my range was needed, and so I am here for that now. Today, I'll detail why I am raising my range for Altria's new dividend.
Adjusted EPS forecast raise:
The first reason why I am updating my range is because the company raised its adjusted diluted EPS forecast for 2014. Altria maintains a dividend payout ratio target equal to about 80% of this adjusted EPS number, so a raise in the forecast makes me believe a larger dividend raise is coming. When Altria reported second quarter earnings, the company provided the following headline statement:
Altria also revises its 2014 full-year adjusted diluted EPS guidance, which excludes special items, from a range of $2.52 to $2.59 to a range of $2.54 to $2.59, representing a growth rate of 7% to 9% from an adjusted diluted EPS base of $2.38 in 2013.
Under the old guidance, 80% of that EPS range would be $2.016 to $2.072 for the dividend. Now, the lower end of that range is $2.032. Additionally, since Altria's dividend raise usually comes during Q3 of the calendar year, you have to think about earnings into next year as well. Since analyst estimates call for higher earnings in 2015, you have to believe that the raised dividend will be a little higher than the midpoint of the 2014 range, since some of the earnings over the next 12 months will be from 2015.
Additional share repurchases:
In the second quarter earnings release, we also received this update from the company on its share repurchase program, which certainly has an impact on the dividend:
During the second quarter of 2014, Altria repurchased approximately 3.3 million shares of its common stock at an average price of $40.72 for a total cost of approximately $132 million. Altria has approximately $53 million remaining in the current $1 billion share repurchase program and expects to complete the program by the end of the third quarter of 2014. Additionally, Altria's Board recently authorized a new $1 billion share repurchase program, which Altria expects to complete by the end of 2015.
I mentioned in my latest Altria article that an announcement on the buyback was due, and there it was. Another billion will be spent to repurchase shares, which should help reduce the share count even further. Altria had just over 1.98 billion shares outstanding at the end of Q2, down a little more than 1% from the end of the prior year period. You can view all of Altria's quarterly filings here to get a more complete picture of the company's financial situation. One thing is clear. The new buyback will help with future dividend raises as the share count comes down even further.
An update on the balance sheet:
For a company to pay dividends, and buyback stock in Altria's case, it needs to have a solid balance sheet and some financial flexibility. In the table below, I've compared the end of Q2 2014 balance sheet against where it stood a year earlier. Dollar values are in millions.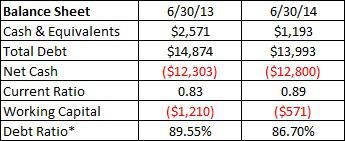 *Liabilities to Assets ratio.
So the balance sheet was a bit mixed over the past year. The cash balance decreased, but some debt was repaid. The net cash deficit increased by about half a billion dollars. However, the current ratio improved, which is also seen in the improvement in working capital. Additionally, the debt ratio came down a bit. The cigarette names are not known for having the greatest balance sheets, but Altria's is in decent shape when compared to some of the other names I follow. I would not worry about Altria's balance sheet right now, and thus dividends and buybacks will continue at a solid pace.
What's the new range?
In my original article, I provided a potential raise table that detailed the following items:
New quarterly dividend.
Raise per quarter, in terms of cents and percentage.
New annual dividend total.
Yield based on prior day's close.
Given the information I have presented above, I have decided to raise my dividend raise prediction range a little. In the table below, you can see my latest update.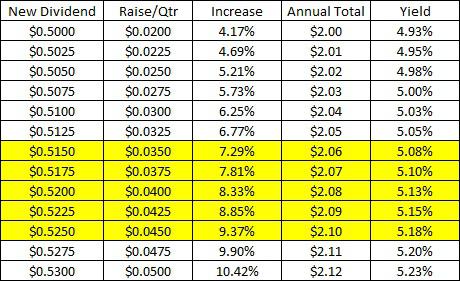 My original range was $2.05 to $2.08, which I thought was a good initial prediction. Now that the company has raised the lower end of its EPS range, I'm boosting my range to $2.06 to $2.10. The company expects roughly 7% to 9% growth in adjusted EPS this year, so my new range represents a dividend raise of 7.29% to 9.37%. I would even go as far as saying that the dividend could go as high as $2.12 if the company believes that 2015 will be an even better year. But since we still have a ways to go in 2014, I think my new range above is a proper estimation.
Where Altria's dividend stands currently:
Those that follow my writing know that I cover four names in this space. In addition to Altria, I focus most on Philip Morris (NYSE:PM), but also cover Lorillard (NYSE:LO) and Reynolds American (NYSE:RAI). In the chart below, you can see where Altria's current dividend yield stands against these other three names.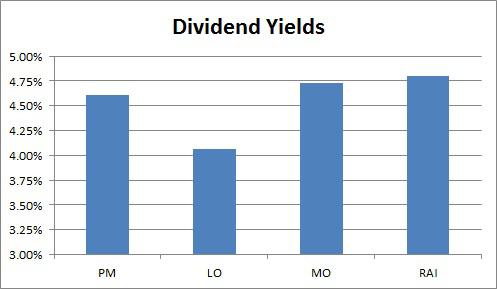 Right now, Altria's dividend is in second place behind that of Reynolds American. Don't forget, Reynolds is in the process of buying Lorillard. Just behind Altria is the yield of Philip Morris. Both Altria and Philip Morris are expected to raise their dividends in the next month or two, and given the recent pullback in shares of Philip Morris, they may both battle for the top dividend spot. I do think that Altria will be in first place after its dividend raise, and Altria has had the highest yield for a fair share of the time I've spent covering these names.
Final thoughts:
Altria raised its adjusted EPS guidance range at its Q2 report and announced a new $1 billion buyback program. Due to those two factors, I have raised my dividend raise prediction for this name, a raise that should come rather soon. My new range is for an annual dividend of $2.06 to $2.10, which should give Altria the highest yield of the four major cigarette names that I cover, and should put the annual yield back over 5.00%.
Disclosure: The author has no positions in any stocks mentioned, and no plans to initiate any positions within the next 72 hours. The author wrote this article themselves, and it expresses their own opinions. The author is not receiving compensation for it (other than from Seeking Alpha). The author has no business relationship with any company whose stock is mentioned in this article.
Additional disclosure: Investors are always reminded that before making any investment, you should do your own proper due diligence on any name directly or indirectly mentioned in this article. Investors should also consider seeking advice from a broker or financial adviser before making any investment decisions. Any material in this article should be considered general information, and not relied on as a formal investment recommendation.