Despite reporting revenue and earnings that significantly topped expectations after the market closed on Aug. 5, shares of The Walt Disney Company (NYSE:DIS) barely budged in post-market trading. In spite of this beat on both the top and bottom lines, investors seemed to be barely phased, as though Mr. Market anticipated this development. For this reason, should investors consider a stake in the world's happiest company, or would a stake in rival Comcast (NASDAQ:CMCSA) make more sense?
Revenue and earnings smashed expectations
For the quarter, Disney reported revenue of $12.47 billion. In addition to coming in above the $12.16 billion analysts anticipated, the company's top line blew past the $11.58 billion management reported the same quarter a year earlier. According to its press release, Disney's higher revenue was due to growth stemming from all of the company's operating segments, but the two largest contributors to its top-line expansion were its Parks and Resorts, and its Studio Entertainment segments.
| | | | |
| --- | --- | --- | --- |
| | Last Year's | Forecasted | Actual |
| Revenue | $11.58 billion | $12.16 billion | $12.47 billion |
| EPS | $1.01 | $1.17 | $1.28 |
In its Parks and Resorts segment, Disney saw revenue climb 8% from $3.68 billion to $3.98 billion. Despite seeing sales slump in Disneyland Paris, the company experienced a nice uptick in revenue in its domestic operations. Studio Entertainment was even better, with sales soaring 14% from $1.59 billion to $1.81 billion. Although management attributed some of this success to its other films, the biggest driver on the top line appears to be Frozen, which pushed revenue higher in both its home entertainment and international theatrical distribution categories.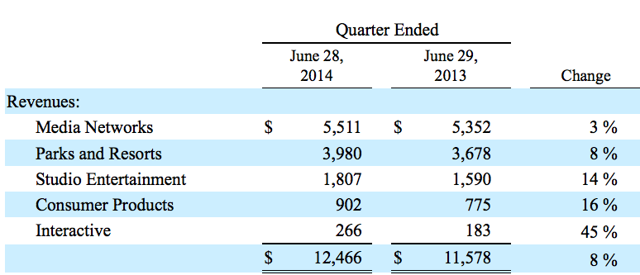 Click to enlarge
From an earnings standpoint, Disney's results were even more impressive. For the quarter, the company reported earnings per share of $1.28, $0.11 higher than analysts anticipated and a jaw-dropping 27% greater than the $1.01 management reported the same quarter a year earlier. This significant uptick was due, in part, to the company's higher revenue, but it can also be chalked up to its cost of goods sold, which declined from 74.1% of sales to 71.9%.
How does Disney look compared to Comcast?
Although Disney is a very diversified business, probably the best company to pit it against is Comcast. Over the past three years, Disney has done pretty well for itself, but not necessarily great. Between 2011 and 2013, the entertainment giant saw its revenue climb 10% from $40.9 billion to $45 billion.
Most of this growth stemmed from Disney's Parks and Resorts segment, which saw sales shoot up 19% from $11.8 billion to $14.1 billion, but the company also benefited from its Media Networks segment, which makes up its Cable Networks and Broadcasting operations. During this three-year period, revenue in this segment shot up 9% from $18.7 billion to $20.4 billion.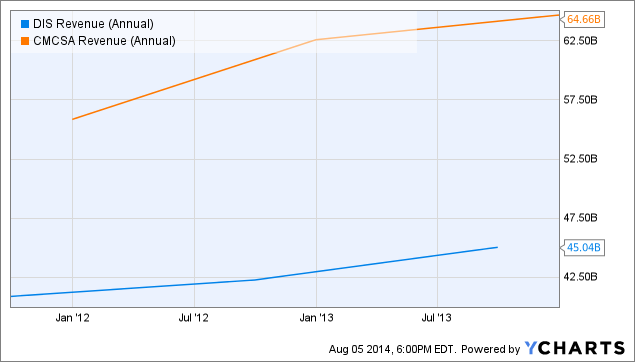 DIS Revenue (Annual) data by YCharts
At first glance, this may seem impressive, but the company's overall growth pales in comparison to what Comcast has demonstrated in recent years. Between 2011 and 2013, the world's largest cable operator saw revenue shoot up 16% from $55.8 billion to $64.7 billion. Unlike Disney, however, its top-line growth came from a completely different source of revenue.
During this time frame, Comcast's Theme Parks segment saw sales climb just 12% from $2 billion to $2.2 billion. Its Cable Networks and Broadcast Television segments (which, together, equate Disney's Media Networks segment) did even worse, with revenue rising a modest 10% from $14.9 billion to $16.3 billion. The single largest contributor was actually the company's Cable Communications segment, which reported a 12% rise in sales from $37.2 billion to $41.8 billion, essentially making up 52% of the company's top-line growth.
| | | | | |
| --- | --- | --- | --- | --- |
| (dollars in billions) | 2013 | 2012 | 2011 | Change |
| Disney Media Networks | $20.4 | $19.4 | $18.7 | 9% |
| Comcast Cable Net. + Broadcast TV | $16.3 | $16.9 | $14.9 | 10% |
| Disney Studio Entertainment | $6.0 | $5.8 | $6.4 | -6% |
| Comcast Filmed Entertainment | $5.5 | $5.2 | $4.6 | 19% |
| Disney Parks and Resorts | $14.1 | $12.9 | $11.8 | 19% |
| Comcast Themed Entertainment | $2.2 | $2.1 | $2.0 | 12% |
Even in the area of theatrical releases, Disney has been outpaced by Comcast. Between 2011 and 2013, Comcast's revenue from its Filmed Entertainment segment grew 19% from $4.6 billion to nearly $5.5 billion. Disney, on the other hand, saw a reversal of fortune as demonstrated by its Studio Entertainment segment's drop in revenue from $6.4 billion to $6 billion. This drop in sales is, however, experiencing an at-least temporary rise, with revenue climbing year-over-year.
Takeaway
Right now, Disney is seeing some tremendous success. In addition to benefiting from Frozen, its biggest hit in recent memory, the company's Parks and Resorts segment has been doing great, as have its other segments. In spite of this, however, rival Comcast seems to be doing better to some extent. No, the business is not keeping track with Disney when it comes to theme parks or cable networks, but its Cable Communications segment is doing a nice job of picking up the slack.
What this means is that, while Disney and Comcast will likely both be attractive long-term prospects, investors seeking to buy one or the other have to choose what it is they're looking for. By buying into Disney, investors are grabbing a piece of a business whose entertainment-related segments are growing at the fastest pace but for those who want something less subjected to consumer tastes and, instead, is more of a commodity in nature, Comcast might make for the better play.
Disclosure: The author has no positions in any stocks mentioned, and no plans to initiate any positions within the next 72 hours. The author wrote this article themselves, and it expresses their own opinions. The author is not receiving compensation for it (other than from Seeking Alpha). The author has no business relationship with any company whose stock is mentioned in this article.