Walt Disney Company (NYSE:DIS) has been aggressive in media M&A and its bids are paying off. The company reported fiscal 3Q14 earnings after hours on Tuesday. The $150 billion market cap company's earnings came in at $1.28 per share, topping the $1.01 per share the company earned in the same quarter last year and beating analyst estimates of $1.17 per share. Revenue for the quarter also beat quarterly estimates, coming in at $12.47 billion over analyst expectations of $12.16 billion.
Investment Thesis
The results were encouraging. Disney is showing better than expected revenues in studio entertainment and, by extension, consumer products and merchandising. However, despite such strong earnings performance, the stock is still priced relatively low to its earnings, making it a solid long-term position.
Breaking Down Disney's Revenue
Disney is a massive company with interests in a variety of markets. To understand where the company's stock is headed, we have to see where its revenues are coming from.
Disney's revenue is made up of five categories: Media Networks, Parks and Resorts, Studio Entertainment, Consumer Products, and Interactive. Each of these areas saw improvement during the company's 3Q14, but some were stronger than others.
Core Operations
Analysts were pretty spot on when it comes to Media Networks and Parks and Resorts. Consensus estimates put revenue for the sections at $5.57 billion and $3.96 billion respectively. Actual figures were approximately similar at $5.51 billion and $3.98 billion.
Disney's Media Networks division is vast. It includes Disney's namesake networks as well as ESPN, ABC Family, A&E Television Networks, UTV Networks, and Soapnet. It also includes ABC, Netflix (NASDAQ:NFLX) rival Hulu, and Fusion. Disney's Parks and Resorts division is self-explanatory. It includes Walt Disney World Resort in Florida, the Disneyland Resort in California, Aulani, a Disney Resort & Spa in Hawaii, the Disney Vacation Club, the Disney Cruise Line and Adventures by Disney, as well as the company's licensed operation of the Tokyo Disney Resort in Japan and its ownership interests of 51% in Disneyland Paris, 48% in Hong Kong Disneyland Resort and 43% in Shanghai Disney Resort.
Disney's Studio Entertainment, Consumer Products and Interactive division revenues were more of a surprise.
Disney Interactive
Disney's smallest division is Interactive. "The Interactive segment creates and delivers branded entertainment and lifestyle content across interactive media platforms," explains Disney in its annual report. "The businesses in the Interactive segment generate revenue from the sale of multi-platform console games, subscriptions to and micro transactions for online and mobile games, content and handset revenue from our Disney branded mobile phone business in Japan, and online advertising and sponsorships." Fees from third-party game publishers is also included in this division. Revenues for Interactive were $266 million for FY 3Q14, significantly topping analyst estimates of $203 million.
Studio Entertainment
"The Studio Entertainment segment produces and acquires live-action and animated motion pictures, direct-to-video content, musical recordings and live stage plays," according to Disney's 2013 annual report. Under this division, "the Company distributes produced and acquired films (including its film and television library) in the theatrical, home entertainment and television markets primarily under the Walt Disney Pictures, Pixar, Marvel, Touchstone and Lucasfilm banners."
Studio Entertainment revenue for FY 3Q14 came in at $1.81 billion, beating analyst consensus of $1.66 billion, and operating revenue did even better. It came in at $411 million while analysts were expecting $255 million. The surprise suggests that Disney is doing better with its high profile studio entertainment than expected while keeping its operating costs low.
The Consumer Products division also did well last quarter. It comprises Disney's retail efforts outside DVDs and movie licensing and is made up of sales of branded merchandise and licensed characters. Consumer Products realized revenues of $902 million for the quarter, while analysts were predicting $848 million. Given that this merchandise is based largely on characters from Disney's Studio Entertainment division, it makes sense that if Studio Entertainment earns more than expected, Consumer Products will as well.
Valuation
Disney is trading at just under $86 per share on a 52-week range of $60.41 and $87.63. It pays a 1% dividend and carries a consensus price target of $90.30. The company is currently priced at just over 22 times its future earnings, putting it at approximately the average for its industry.
Looking at Disney's closest competitors, TimeWarner (NYSE:TWX) is trading at around 19 times its earnings and Twenty-First Century Fox (NASDAQ:FOXA) is at roughly 23 times its earnings. However, these figures may not be a true value of neither TimeWarner nor Fox. Fox had an $80 billion offer to buy TimeWarner on the table - the acquisition would have created one of the world's largest media conglomerates - but Fox withdrew the offer late Tuesday.
Looking at Disney relative to the S&P 500, Disney's stock performance has been especially strong.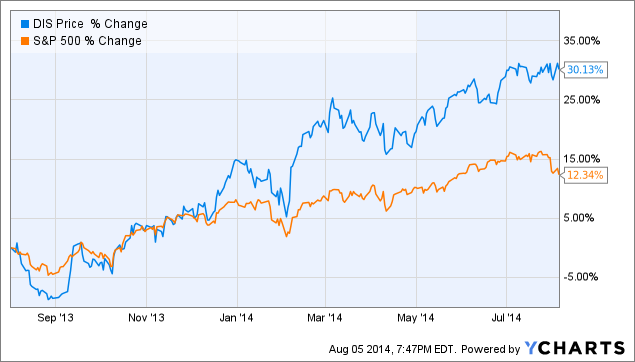 At the same time, Disney's price to earnings ratio has not increased at the same rate. In fact, the S&P 500's price to earnings ratio has increased at a greater percentage.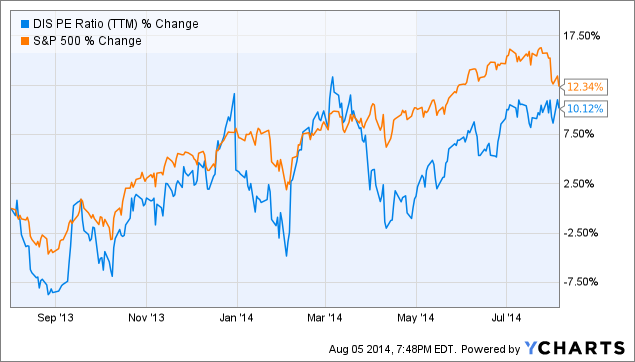 DIS PE Ratio (TTM) data by YCharts
Takeaway
Disney surprised on its FY 3Q14 earnings and still remains priced well for its growth. Its investments are paying off and it is keeping costs low, making the company a good long-term position.
Disclosure: The author has no positions in any stocks mentioned, and no plans to initiate any positions within the next 72 hours. The author wrote this article themselves, and it expresses their own opinions. The author is not receiving compensation for it (other than from Seeking Alpha). The author has no business relationship with any company whose stock is mentioned in this article.