With the holiday season fast approaching and Thanksgiving upon us, we will provide an update of the top performing stocks from within the S&P 500 to see which companies investors should be most thankful for in 2010 if you owned any of the companies on this list. Now that 2011 is quickly approaching it is time to separate the year's biggest winners and losers and identify which stocks have been driving the markets in 2010.
The returns listed are the total return (including dividends) the company has delivered as of last Friday's close and the index in comparison has delivered a return of 6.6% so far YTD. We can also see if there are any obvious trends in the companies with the best and worst performance of the year.
click to enlarge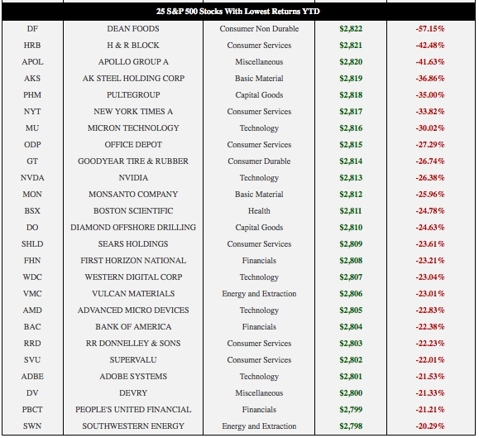 Also, by using AFG's EM framework and valuation techniques, we have provided further analysis on 8 of the best/worst performing companies, 4 that we find attractive going forward, and 4 that we find unattractive, based on valuation attractiveness, expected improvement in economic profitability and overall investment opportunity. NVDA, ORLY, AZO and HAS look to be trading at a discount to their intrinsic value, are expected to improve economic profitability in the next fiscal year and look poised to outperform the market going forward while the opposite is true for EL, DF, HOT, and AMD.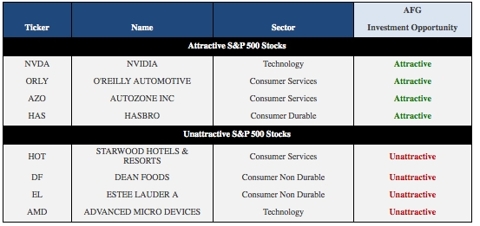 source: www.economicmargin.com
The backtest results below display the performance of companies that we have identified as buys, sells and holds since 1998. As you can see by using AFG's Economic Margin framework and valuation techniques there is a significant spread achieved between those companies that we identify as buys or sells.
AFG Buy/Hold/Sell Results - 9/25/1998 - 9/24/2010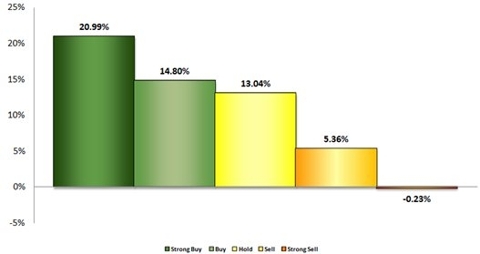 Click to enlarge
Disclosure: None