BlackBerry (NASDAQ:BBRY) is looking to enter the mHealth arena with its subsidiary QNX Software Systems launching a new OS just for medical devices. The QNX OS for Medical 1.1 has been designed to help manufacturers develop various safety-critical products at lower costs that must pass stringent regulatory approval. Such products include robotic surgical instruments, patient monitoring systems, infusion pumps, blood analysis systems etc.
The shares of BlackBerry have fallen almost 20% in the past few weeks from $11.50, which we believe is a decent investing opportunity for long-term players. The company's entry into mHealth is an encouraging development for investors since this would open a new revenue stream for the company.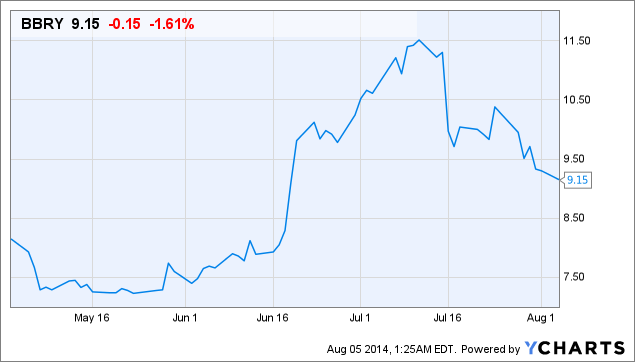 BBRY data by YCharts
BlackBerry's mHealth Initiative: Future Potential
Unlike other mobile device and smartphone manufacturers, BlackBerry is emphasizing on OS rather than hardware in order to capture the mobile health market. Grant Courville, director of product management at QNX Software Systems said:
When it comes to medical device software, the OS sets the tone: unless it provides the architecture to enable reliable operation and a clear audit trail to substantiate claims about its dependability, the entire process of device approval can be put in jeopardy. By providing an OS that has been independently verified to comply with the IEC 62304 standard, we are helping manufacturers reduce the cost and effort of developing devices that require regulatory approval from agencies such as the FDA, MDD, and MHRA.
Earlier this year, BlackBerry announced that it has invested in NantHealth, a cloud-based medical IT provider. NantHealth is transforming today's clinical delivery of medical care with actionable clinical intelligence. NantHealth's Clinical Operating System cOS is currently being used in 250 hospitals and connects more than 160,000 medical devices. While NantHealth plans to create a mobile version of its OS for developing real-time machine learning systems, BlackBerry intends to come out with a specific smartphone for the healthcare sector. The two companies are looking to jointly develop new technologies for empowering physicians, patients, payers and researchers to cross the hurdles of today's healthcare system.
BlackBerry's mHealth Ambition is Positive for Investors
Research firm ON World has forecasted that wearable devices will make up an industry worth $50 billion by the year 2018. The backbone of the industry will be its network for sharing information securely and quickly. BlackBerry is aiming at tapping the opportunity in mHealth by leveraging its expertise in mobile network management. The company's ultimate goal is to deliver actionable information to physicians, patients, payers and researchers at the time of need, as mentioned above.
Although BlackBerry has a long way to go to catch up with competitors like Apple (NASDAQ:AAPL), Google (NASDAQ:GOOGL) (NASDAQ:GOOG) and Microsoft (NASDAQ:MSFT) in mHealth platform and product development, we believe that BlackBerry's emphasis on OS development for allowing customers to efficiently use the network of connected devices is positive for investors.
Valuation
BlackBerry is trading at a significant discount compared to its peers, such as Apple, Google and Microsoft, in terms of forward Price to Sales ratio.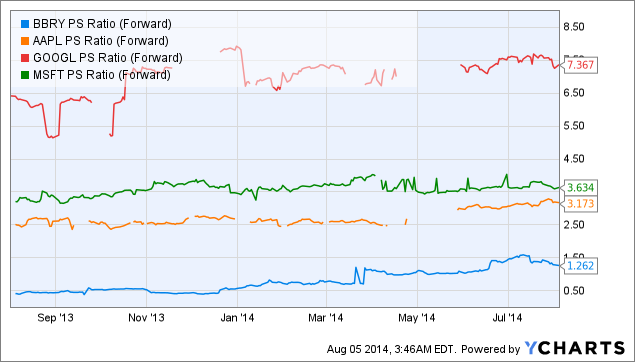 BBRY PS Ratio (Forward) data by YCharts
We believe that BlackBerry has significant upside potential in the next three years due to its mHealth initiative. Once the company's bottom line starts to recover, the stock will scale up significantly. Meanwhile, long-term investors should accumulate the stock on significant corrections like the one currently going on.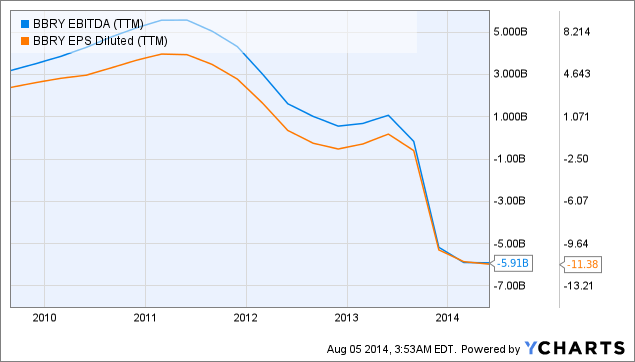 BBRY EBITDA (TTM) data by YCharts
Final Words
BlackBerry's QNX OS runs on both single-core and multi-core devices using ARMv7 (NASDAQ:ARMH) and Intel x86 (NASDAQ:INTC) processors. Furthermore, the platform is API compatible, which allows software reusing in order to reduce the cost of developing devices. We are optimistic about BlackBerry's future in mHealth.
Business relationship disclosure: The article has been written by a BB Research stock analyst. BB Research is not receiving compensation for it (other than from Seeking Alpha). BB Research has no business relationship with any company whose stock is mentioned in this article.
Disclosure: The author has no positions in any stocks mentioned, and no plans to initiate any positions within the next 72 hours. The author wrote this article themselves, and it expresses their own opinions. The author is not receiving compensation for it (other than from Seeking Alpha). The author has no business relationship with any company whose stock is mentioned in this article.