When it comes to a company's earnings, I always find it necessary to determine what needs to occur in order for that company to meet and/or exceed analysts' expectations. With that said, I wanted to take a closer look and share my thoughts on what needs to happen in order for Royal Gold (NASDAQ:RGLD) to deliver a fairly solid quarter when the company announces its results on August 7.
Company Overview
Headquartered in Denver, Colorado, Royal Gold, Inc., together with its subsidiaries, engages in the acquisition and management of precious metals royalties, precious metals streams, and similar interests. It focuses on acquiring royalty interests or financing projects that are in production or in development stage in exchange for royalty interests.
According to the company's website, its gold-focused, world-class portfolio includes 37 producing and 23 development-stage royalties or similar interests.
Recent Trend Behavior
On Tuesday, shares of RGLD, which currently possess a market cap of $4.98 billion, a forward P/E ratio of 46.84, and a dividend yield of 1.09% ($0.84), settled at a price of $76.86/share.
Based on a closing price of $76.86/share, shares of RGLD are trading 0.16% above their 20-day simple moving average, 7.22% above their 50-day simple moving average, and 26.62% above their 200-day simple moving average.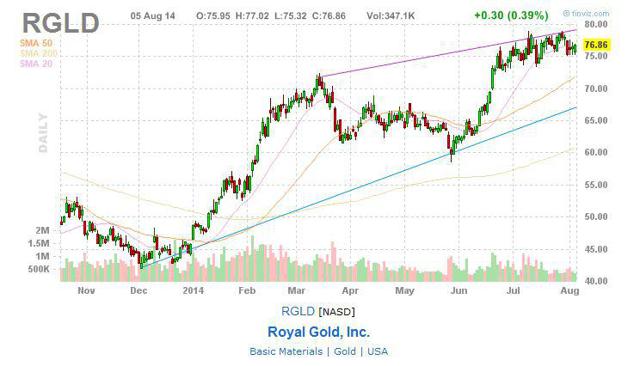 Although these numbers indicate both a short-term and long-term uptrend for the stock (which normally translates into a moderate buying mode for long-term investors), I strongly believe the company's trend behavior will continue to improve as soon as it announces its FQ4 results on August 7.
Upcoming Earnings Outlook
When it comes to the company's upcoming FQ4 earnings, there are a number of things potential investors should consider. For instance, analysts currently calling for RGLD to earn $0.29/share in terms of EPS (which is $0.02/share lower than what the company had reported during FQ3 2014, and $0.13/share higher than what the company had reported during the year-ago period) and $77.30 million in terms of revenue when its latest earnings are released on August 7.
From a production standpoint I strongly believe its Pensaquito (during FQ3 Gold and silver production increased 74% and 82%, respectively, while production of lead and zinc increased by 87% and 79%, respectively), Cortez (during FQ3 Production increased 157% which was what surface mining activity at the Pipeline had recommenced), and its Mt.Milligan (which showed in terms of its latest stream delivers that were reported properties must lead the charge.
From a revenue standpoint the combination of any improvement in its average metal prices as well as an increase in production volumes will almost certainly help boost the company's revenues.
Conclusion
For those of you who may be looking to establish a position in Royal Gold, I'd continue to keep an eye out for any additional developments that may take place at either its Mt. Milligan (which has a mine life of 22 years and a payable stream of 52.25% multiplied by a 97% payable factor) or its Phoenix Stream (which has a mine life of 13 years and a payable stream of 6.3% for the first 135,000 ounces and 3.15% for everything thereafter) projects as better-than-estimated production could lead to stronger earnings growth over the next 12-24 months.
Disclosure: The author is long RGLD. The author wrote this article themselves, and it expresses their own opinions. The author is not receiving compensation for it (other than from Seeking Alpha). The author has no business relationship with any company whose stock is mentioned in this article.