American Realty Capital Properties (ARCP) made a solid value pitch at the beginning of last week as it reported strong AFFO results. With a low valuation on a cash flow basis, a focus on property integration and a massive forward dividend yield of more than 7%, American Realty Capital remains a top commercial REIT choice for income investors.
Recent turmoil
American Realty Capital made a name for itself over the last two years with a head-spinning acquisition pace that ultimately started to unsettle some investors who were growing increasingly concerned that the company was loosing track of all the changes occurring at the company.
Moreover, anybody with a background in mergers and acquisitions would agree, that fast-paced acquisitions expose a company to substantial risks ranging from improper financial due diligence processes to strategic misfits as well as integration issues.
Oftentimes, the real work only begins after a transaction has closed. New properties and operations need to be properly understood and evaluated and processes need to be streamlined. In addition, different companies often have different corporate cultures which poses yet another challenge for companies seeking to integrate acquisition targets.
Despite break-neck acquisition speed in 2013 and early 2014, American Realty Capital now appears to have listened and internalized investors' criticism and intends to concentrate on management and integration in the near future.
Second quarter results
As a consequence of American Realty Capital's expansion spree, year-over-year results are not really comparable. For instance, ARCP's revenues, thanks to a variety of acquisitions, skyrocketed 595% to $382 million. Similarly, its adjusted funds from operations (AFFO) also received a substantial boost of 429% to $205 million year-over-year.
Since the company raised equity to fund acquisitions, American Realty Capital's AFFO per share increased a more moderate 26% to $0.24.
More important than actual results, however, is ARCP's AFFO guidance, which should more accurately reflect the REITs underlying earnings and cash flow prospects -- and highlights its comically low valuation.
For 2014, American Realty Capital's AFFO forecast was communicated at $1.13-1.19 per share giving the REIT a roughly 11.3x P/AFFO ratio.
This cash flow-based valuation multiple compares very favorably against other REITs with significant retail and restaurant property exposure.
Realty Income (NYSE:O), due to its outstanding remuneration record and strong value proposition to dividend investors, currently trades at a much higher P/AFFO multiple of 17.5x whereas National Retail Properties (NYSE:NNN) is even more expensive than Realty Income.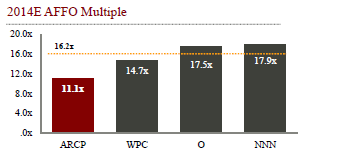 (Source: American Realty Capital Second Quarter Earnings Presentation)
National Retail Properties has somewhat of a lower profile in the REIT industry, but this is quite undeserved. The REIT certainly is an attractive income choice even though American Realty Capital and Realty Income are usually at the center of investor interest.
Realty Income also reported similarly solid business results last week and I continue to recommend all three REITs for investors willing to commit to building long-term wealth.
Red Lobster Transaction
As expected, American Realty Capital's acquisition of roughly 500 Red Lobster restaurants earlier this year has catapulted the fast food chain to the top spot of ARCP's top 10 tenant list.
The Red Lobster transaction, which was valued at $1.5 billion, closed at the end of July 2014 and is an attractive deal for American Realty Capital: The property portfolio was purchased at a 7.9% cash and 9.9% GAAP capitalization rate.
Red Lobster now accounts for 11.3% of total rent whereas number two Walgreens accounts for only 3.4%.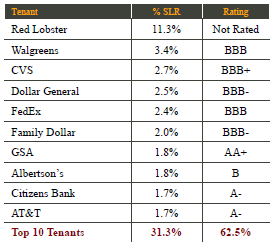 (Source: American Realty Capital Second Quarter Earnings Presentation)
Dividend yields
All three players are valid income alternatives for investors who desire recurring REIT income. American Realty Capital, however, is and has been the most attractive income choice in the peer group with a trailing twelve months dividend yield of more than 6.0% compared to yields of 4.6% for National Retail Properties and 4.2% for dividend king Realty Income. ARCP's forward dividend yield is even higher at around 7.6%.
The yield for ARCP is likely the highest because investors see American Realty Capital as more risky than its peers due to its past acquisition spree.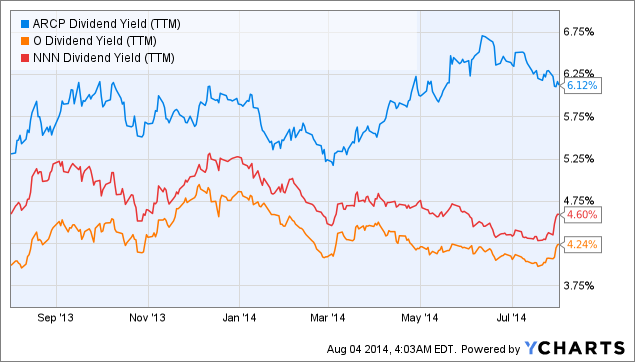 Bottom Line
American Realty Capital continues to make a convincing value proposition for income investors after the REIT presented second quarter results.
With a comparatively low AFFO multiple and a peer group-leading dividend yield, ARCP is one of the most competitively priced and yield-strong companies in the entire sector.
Disclosure: The author is long ARCP, O. The author wrote this article themselves, and it expresses their own opinions. The author is not receiving compensation for it (other than from Seeking Alpha). The author has no business relationship with any company whose stock is mentioned in this article.