Since opening for trading on July 25th, investors haven't been able to buy enough shares of El Pollo Loco (NASDAQ:LOCO). Much of this interest can be attributed to the success of Chipotle Mexican Grill (NYSE:CMG), which has convinced Wall Street that fast casual restaurants are the wave of the future. In order for LOCO to live up to the hype, it will have to deliver strong sales growth over the next several years. Recently, LOCO has relied on comparable store sales increases to drive revenue growth but it will also have to grow the number of company-owned and franchised locations in order to keep up with the market's high expectations for growth.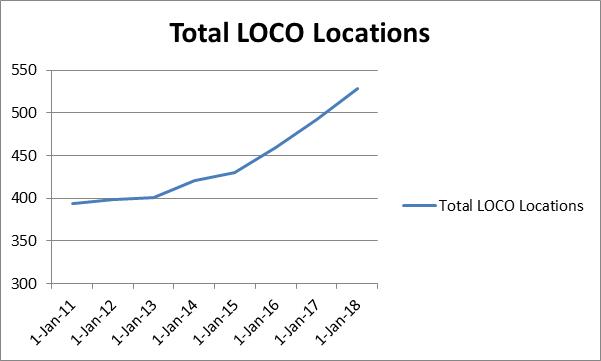 Source: SEC EDGAR
The company only opened two new company-operated restaurants and five new franchise restaurants in fiscal 2013. They plan to open an estimated eight to ten new company-operated restaurants and four to six new franchised restaurants in fiscal 2014 in California, Nevada, and Texas. I am not convinced that they will be able to successfully open and operate even this small number of restaurants, as indicated by their past record. At the end of fiscal 2009, El Pollo had 21 system-wide restaurants open east of the Rockies, a new market for the company, but by 2012 all of these restaurants had closed. The company closed six restaurants in 2011 and three more in 2013. They opened zero, four, and two new restaurants in each of the past three years, respectively. El Pollo is also locked into long-term and non-cancelable leases, meaning that even if they close a restaurant they may remain committed to pay obligations such as rent under the lease terms.
| | | | |
| --- | --- | --- | --- |
| Year | 2013 | 2012 | 2011 |
| Total Restaurant Activity | | | |
| Beginning of Period | 398 | 394 | 412 |
| Openings | 7 | 7 | ----- |
| Closures | -4 | -3 | -18 |
| Restaurants at end of period | 401 | 398 | 394 |
Source: SEC
In addition to poor location growth, LOCO has incurred net losses for the past 7 fiscal years. They have incurred net losses of $32.5 million, $7.9 million, and $16.9 million respectively for the years 2011, 2012, and 2013, and plan to generate more revenue from expansion. Currently most of their restaurants are concentrated in the greater Los Angeles area and approximately 80% of their revenue in 2013 came from this region. This is dangerous as any economic or environmental crisis affecting the region would be extremely detrimental to the company's earnings, so for that reason alone expansion into new markets is certainly important.
Over the long term, LOCO has stated that it plans to grow the number of restaurants by 8% to 10% annually. In 2012 it grew its number of restaurants by negative 1.2 percent and in 2013 it grew its number of restaurants by 1.2 percent. Its past record of failed expansion east of its usual market is especially concerning for projected growth. Without successful expansion, LOCO has concentrated risk in California, with higher labor costs and special regional circumstances such as the possibility of earthquakes. Another issue which could make expansion even more difficult for LOCO is the popularity of its competitor Chipotle Mexican Grill. Both fast casual restaurants serve cheap, claimed "healthy" Mexican fare. Chipotle went virtually GMO free this year, which I believe places added pressure on LOCO to verify the quality of their own food. Chipotle is also more established with a very loyal customer base which will be hard for LOCO to expand into. I would avoid this stock in the long term until LOCO proves itself to be successful in expanding into new markets.
Disclosure: The author has no positions in any stocks mentioned, and no plans to initiate any positions within the next 72 hours. The author wrote this article themselves, and it expresses their own opinions. The author is not receiving compensation for it (other than from Seeking Alpha). The author has no business relationship with any company whose stock is mentioned in this article.