When we dropped BKE on November 9 (with a 30% gain on a two-month holding period), I wrote to clients that we are looking to replace BKE with an apparel name that looks as attractive as BKE did when it was originally recommended. We may have come up with a name here that is even more attractive.
We ran 1200 names through our 155-variable computer model late last week. True Religion Apparel (NASDAQ:TRLG) ranked in the top 1% (at # 12 out of 1200). Not a single area of concern on their profile -- but that is probably because we never put a variable in our model for cotton prices. More on record high cotton prices later -- that is factored in our subjective overlay.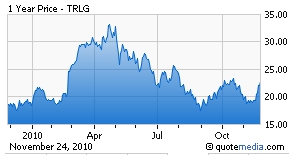 TRLG shares are currently trading at < 10X cash flow and < 12X free cash flow; earnings purity is 97%; three-year and five-year revenue and EPS growth figures are all in the 13%-29% range; P/S is 1.5X and EV/EBITDA is 5X. The market cap is just $530 mln, so the company can easily double from here over the next five years as it has since 2005. The company is trading at 10X earnings and 40% off its 52-week high. In our opinion the market has over-reacted to record high cotton prices and a disappointing Q3 earnings announcement. We see > 50% upside in this name that would bring us to $33 or 15X (a below consensus) $2.20 in EPS potential looking out to 2012-2013. This is a conservative multiple – the shares have historically traded at 14X-18X excluding times of market over-reactions (outliers). In our opinion TRLG should trade at a premium-to-market multiple and it is currently below 0.8X.
One of the biggest mistakes portfolio managers make in this business with retail names is selling stocks on a bad quarter, commodities price spike, inventory level issue or some other short-term concern. In a case such as TRLG what portfolio managers should be doing is buying the name when it is out-of-favor as it is now and holding the name until the store count jumps by 50%-100% … the share price will move by more-or-less the same pace as the store count as market cap is closely correlated with store count over the long run. There are not many apparel names out there with this potential because they are near their respective saturation points with store counts topping 1000. TRLG is still below 100.
The Company opened eight stores in the third quarter of 2010, bringing the total store count to 89 stores as of September 30, 2010, compared to 66 at the end of the third quarter 2009. The store count was comprised of 65 full-price stores and 24 outlets. The Company expects to open an additional six stores in the fourth quarter, including full-priced stores opened in October at the Yorkdale Shopping Centre in Toronto, Canada and the Forum Shops at Caesars in Las Vegas.
The weighted average retail square footage for the third quarter was 158,000 square feet compared to 114,000 square feet for the third quarter of 2009. At the end of the quarter, the total retail square footage was 169,000 square feet.
TRLG is a premium brand -- TRLG jeans' average sale price was $241 versus $262 a year ago. The decrease in ASP reflects the style shift to cleaner washes which were less expensive to produce.
In Q3, the consumer direct segment posted sales growth of 42% including a same-store sales increase of 9%. In the International-segment sales were up 9% despite the decision by TRLG management to terminate certain non-exclusive distributors in preparation for taking some key markets direct. The wholesale business in certain markets was soft. Newly-opened stores in Tokyo, London, and Cologne were well-received and TRLG is looking forward to the continued expansion of their retail model in International markets.
Management believes that it is in the best interest of TRLG shareholders to continue investing in the business, especially their international expansion. So, there are currently no intentions to pursue a share buyback at this time. The Company ended the quarter with $127.7 million in cash and cash equivalents compared to $105.5 million as of December 31, 2009. The Company continues to carry no debt and expects to fund growth from internally generated cash reserves and current operations.
For the time being, management is not concerned regarding the stability of input costs (cotton) heading into the first half of next year. That being said, they do expect some pressure, especially in denim prices, as we move into the back half of next year. Management will be taking steps to see what they can do in order to try and minimize record cotton prices' impact -- that is more of 2H 2011 issue at this point.
Cotton prices have tripled to $1.20 per pound since the February 2009 low. That being said, the price is at or below prior price spike levels from 1995 & 1998 on an inflation-adjusted basis, and 40%-50% above where it was in 2004, 2008 and most recently in Q1 2010. The recent spike in cotton prices was due to a weather storm in Texas and cooler temperatures in China. Additionally, cotton demand has been outstripping supply (in part) due to demand from emerging markets. U.S. farmers have moved away from cotton and into more profitable crops, and India has also restricted exports of the fiber in order to maintain prices domestically.
Good news from this company could trigger a short squeeze with > 5,000,000 shares short – that is >10X the average daily volume.
For the July to September period, True Religion reported net income of $11.8 million, or 48 cents per share, down from a profit of $14.1 million, or 58 cents per share, in the same quarter a year ago. Sales rose 12.5 percent to $92.8 million. For the latest quarter, analysts surveyed by Thomson Reuters had forecast a profit of 58 cents per share on sales of nearly $94.1 million.
True Religion Brand Jeans - Retail stores opened from 7/1/10 thru 10/31/10
US Stores
Store # Location City State Opening Date Square Footage Store Type
1 Bridgewater Commons Bridgewater New Jersey 07/16/10 1,273 Branded Retail
2 Orlando Prime Outlets Orlando Florida 07/22/10 2,560 Outlet
3 Santa Monica Place Santa Monica California 08/06/10 1,939 Branded Retail
4 Santa Barbara - 935 State Street Santa Barbara California 08/12/10 1,559 Branded Retail
5 Seattle Premium Outlets Tulalip Washington 09/08/10 3,057 Outlet
6 Leesburg Corner Premium Outlets Leesburg Virginia 09/16/10 2,955 Outlet
7 Vacaville Premium Outlets Vacaville California 09/22/10 2,393 Outlet
8 Towson Town Center Towson Maryland 09/23/10 1,479 Branded Retail
9 Gilroy Premium Outlets Gilroy California 10/07/10 3,008 Outlet
10 Forum Shops Las Vegas Nevada 10/28/10 1,064 Branded Retail
International Stores
1 Cologne, Germany 08/01/10 1,400 Branded Retail
2 Toronto, Canada 10/07/10 1,421 Branded Retail
It takes < 2 lbs. of cotton to produce a pair of jeans, so this expense of < $2.50 is not that significant as a percentage of the jeans cost when we are dealing with a premium brand and looking only at the marginal increase of less than $0.50 per pound. Cotton futures in China have risen >70% this year alone, prompting apparel manufacturers in the region to raise prices significantly. One Chinese maker of t-shirts for Polo Ralph Lauren Corp. (NYSE:RL) and track suits for Le Coq Sportif said it has already raised prices by nearly 70% from last year, and may continue to increase prices by another 30% over the beginning of next year.
While the outlook for cotton remains uncertain, prices fell last week by 12%, after reaching a record high on November 10. Prices have eased recently on a larger crop forecast from India, with the Cotton Association of India expecting output to be 35.7 mln bales in the year beginning October 1, higher than the September forecast of 34.45 mln and India's Cotton Advisory Board forecast of 32.55 mln.
Additionally, concern exists over monetary tightening in China. Speculators fear this tightening may suppress Chinese demand. In 2009, cotton production in China lagged demand by 3.6 mln metric tons. China's government has also said it would curb speculation on the commodity, placing temporary curbs on prices. Nevertheless, prices for cotton are likely to remain high as low temperatures and rain stunted development of crops in China. According to one Chinese research firm, China's output could drop by 5.5% this year.
As a result of these increasing costs, retailers have already begun raising prices on their products. Hanes (NYSE:HBI) is expected to raise prices by 3%-4% on its deliveries next spring. Clothing manufacturer Carter's Inc. (NYSE:CRI), which includes the OshKosh brand, said that costs for its spring 2011 product rose 11% and further rises are expected for fall merchandise. Wes Card, CEO of Jones Apparel (NYSE:JNY), says customers will see price increases only on fashion items because consumers of these items are less influenced by prices. A range of increases between 5%-10% is expected, with fashion items seeing increases closer to 10% and commodity items seeing closer to 5%.
TRLG EPS –
2005: $0.90; 2006: $1.12; 2007: $1.29; 2008: $1.83; 2009: $1.92;
2010: $1.85; 2011: $2.10; 2012: $2.30
We see > 50% upside in this name that would bring us to $33 or 15X (a below consensus) $2.20 in EPS potential looking out to 2012-2013. This is a conservative multiple – the shares have historically traded at 14X-18X excluding times of market over-reactions (outliers). In our opinion, TRLG should trade at a premium-to-market multiple and it is currently below 0.8X.
Disclosure: No positions