Last June, BlackBerry (NASDAQ: BBRY) CEO John Chen first revealed the Passport phone at the company annual general meeting at Waterloo. Originally codenamed Windermere, the Passport is scheduled for official showing at a launch event in London this September. Already, the optimistic Chen has argued that the Passport will reclaim original BlackBerry customers lost to the iOS ecosystem. Going forward, however, the initial optimism out of John Chen may appear to border upon delusion. The BlackBerry Passport is no Apple iPhone killer.
BlackBerry Vs. Apple Negative Correlation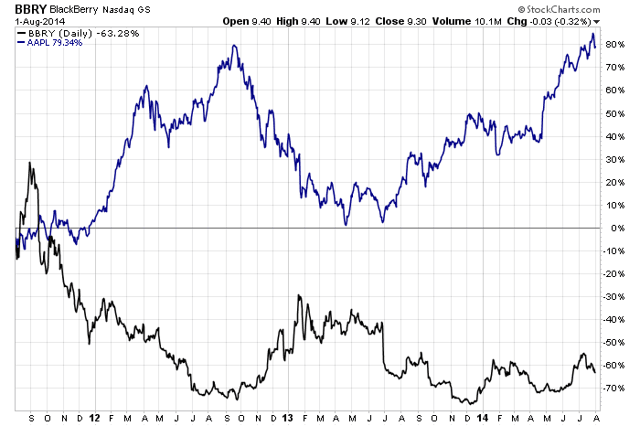 Click to enlarge
On June 18, 2008, BlackBerry stock established an all-time high at $147.50, which also calculated to a then near $85 billion, in terms of market capitalization. At this apex, BlackBerry controlled approximately half of the smartphone market. By the close of the August 1, 2014 trading session, however, BlackBerry shares had collapsed to $9.30. Be advised that this $9.30 price was actually a sharp rebound off the $5.44 52-week low, established on December 10, 2013.
In any event, poor decisions out of the BlackBerry executive suite have destroyed $80 billion in shareholder value, within five short years. A then haughty BlackBerry founder Mike Lazaridis once went so far as to dismiss the iPad as "amateur hour." Ironically, it was the successful build out of the iOS ecosystem that arrived largely at the expense of BlackBerry bottom line profits. Interestingly, a quick appraisal of the three-year BlackBerry versus Apple (NASDAQ:AAPL) stock chart may demonstrate near perfect negative correlation between the two technology companies.
Be further advised that Apple shares changed hands at a split-adjusted $24.41 on that very same June 18, 2008 date. On August 1, 2014, Apple closed out the session at $96.13 per share, and carried $575.6 billion in market capitalization, as the world's largest publicly traded corporation. Apple shareholders now maintain ownership claims above a revolutionary network for computing, telecommunications, and entertainment. The Apple iPhone, of course, has emerged as the primary gateway into this walled-off iOS ecosystem. A July 2, 2014 report out of research firm comScore published estimates that iOS recently controlled 41.9% of the U.S. smartphone subscriber market. For the sake of comparison, BlackBerry closed out the recent March to May quarter with a meager 2.3% of this domestic market, after losing 60 basis points in share through these spring months.
The Phablet Market
Online magazines Tech Radar, Phone Arena, and Pocket Lint all identified the Samsung Galaxy Note 3 as the best phablet now on the market. The term "phablet," of course, is a play upon words suggesting that traditional smartphone and tablet features may be fused together within one device. The Samsung Galaxy Note 3 may be most notable for its 5.7-inch screen, as measured diagonally. For the sake of comparison, the market leading iPhone 5S and iPad Mini feature respective 4 and 7.9-inch displays. In his May 29 Bloomberg piece, Apple bear Crayton Harrison specifically identified Samsung and the consumption shift towards phablets as a "threat" to the iPad. On a year-over-year basis, iPad unit sales did decline by 9%, or from 14.6 million to 13.3 million, between Q3 2013 and Q3 2014.
For its part, Apple is slated to launch the iPhone 6 prior to the 2014 Holiday Season. The technology commentariat has largely agreed that the iPhone 6 launch will branch off into two separate 4.7-inch and 5.5-inch handset wings. Mac Rumors has already speculated that 5.5-inch iPhone 6 sapphire crystal displays will present graphics in 1704 X 960-pixel resolution at 365 ppi. Apparently, the A8 chip will reach 2.0 GHz clock speed, as the result of 20-nanometer process technology. Beyond these technical specifications, Apple may also leverage its staggering brand power to undergird a successful iPhone 6 launch. Forbes ranked Apple as the world's most valuable brand heading into 2014 - at $104.3 billion.
Alternatively, Larry Dignan already dismissed the BlackBerry Passport as an "odd creature," within his recent technical review for ZD Net. The BlackBerry Passport will prove to be a rather brazen and ultimately failed bet upon the development of a niche market. John Chen is now showcasing a box-like Passport machine, instead of the traditional vertical look. The Passport phablet also features an independent QWERTY keyboard that has emerged as somewhat of a trademark to the BlackBerry brand. Larry Dignan also went on to intimate that the Passport may be the preferred machine for BlackBerry diehards and enterprise customers who spend hours analyzing spreadsheet reports and drafting emails. Again, a quick review of successive comScore market share reports may confirm that BlackBerry addicts have gone all but extinct.
The Bottom Line
On June 19, 2014 BlackBerry reported financial results for its fiscal 2015 first quarter ended May 31. For this latest quarter, BlackBerry did take down $23 million in profits off $966 million in revenue. On paper, this performance was a dramatic improvement above the fourth quarter of fiscal 2014, when BlackBerry racked up $423 million in losses upon $976 million in total net sales. The improved bottom line profits did include a $669 million swing in debentures fair value adjustment between Q4 2014 and Q1 2015. Cost of sales actually increased from $423 million to $515 million through this time frame, despite the aggressive cost cutting rhetoric out of John Chen.
The looming Passport launch may add $500 million in sales, marketing, and administrative costs, over the course of the next year, without any dramatic improvement in total net sales. For 2015, BlackBerry may sell one million Passport phones at an average price of $750, for $750 million in marginal revenue, at best. These results would frame the Passport as a literal non-event.
Be advised further that Fairfax Financial and a consortium of institutional investors now hold $1.25 billion in BlackBerry convertible debentures. Terms of the debenture agreement grant rights for the investors to exchange bond principle for stock at $10 per share. Full conversion of the debentures would then add 125 million shares of stock to the balance sheet. BlackBerry shareholders therefore remain exposed to massive 23.7% ownership dilution (526.7 million weighted average common shares outstanding on Q1 2015 balance sheet). As such, conservative investors should avoid buying into BlackBerry stock. It is high time to surrender at Waterloo - with no real iPhone killer upon the immediate horizon.
Disclosure: The author is long AAPL. The author wrote this article themselves, and it expresses their own opinions. The author is not receiving compensation for it (other than from Seeking Alpha). The author has no business relationship with any company whose stock is mentioned in this article.
Editor's Note: This article discusses one or more securities that do not trade on a major U.S. exchange. Please be aware of the risks associated with these stocks.