Eastman Chemical Company (NYSE:EMN) is a global specialty chemical company that produces chemicals fibers and plastics. Shares in the company have dropped by over 10% after it slightly missed analyst estimates for its 2nd quarter of 2014.
Revenue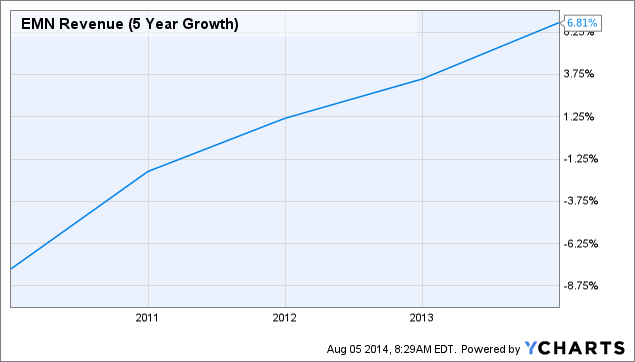 EMN Revenue (5 Year Growth) data by YCharts
Eastman Chemical has a 5 year revenue growth rate of 6.81%. Last year's revenue was $9.35 billion, giving the company a price to sales ratio of 1.3 at the current market cap of $11.81 billion. This is slightly higher than its 5 year average p/s ratio of 1.1. Average analyst estimates for revenue in the current fiscal year stand at $9.57 billion, which would be an increase of 2.35%. The forward price to sales ratio for the company is 1.2
Earnings
In its most recent fiscal year, EMN had earnings per share of $6.44 (excluding non-core or non-recurring items), which gives it a price to earnings ratio of 12.30 at the current price per share of $79.20. For the current fiscal year, analysts are expecting EPS of $6.89, which would be an increase of 6.99%. In its most recent quarterly report, the company said it expected to have between $6.70 and $7.00 in earnings per share in the current fiscal year. Eastman Chemical's net income growth rate stands at 27.48%.
Dividends and share repurchases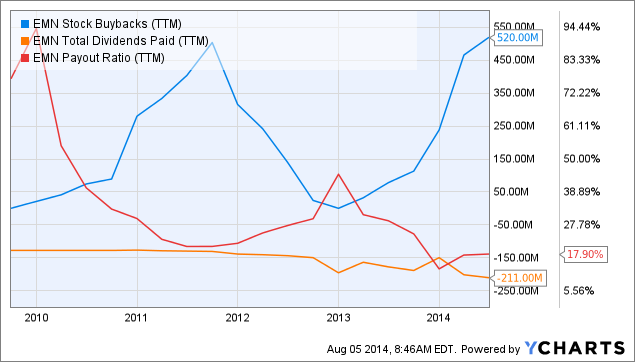 EMN Stock Buybacks (NYSE:TTM) data by YCharts
EMN currently pays a $0.35 quarterly dividend which at the current price per share yields 1.77%. The dividend is growing at quite a reasonable pace, with a 5 year growth rate of 7.27%. The payout ratio is quite low at only 17.90% over the past 4 quarters, giving the company plenty of room for dividend increases.
Eastman Chemical has spent $520 million on share repurchases in the 4 most recent quarters, which is 4.40% of the current market cap.
Balance sheet
EMN has $2.99 billion in current assets, $1.35 billion of which is in the form of inventories. The current liabilities stand at $1.27 billion, giving the company a very reasonable current ratio of 2.35 with a quick ratio of 1.29. The company has $175 million in cash, which is $1.17 for each of the 149 million shares. The long term debt has increased from only $1.60 billion at the end of fiscal year 2008 to $4.77 billion today, due to the company expanding at a rapid pace.
Conclusion
EMN is growing its revenue and earnings per share at a decent rate, and although the 1.77% isn't extremely high, the very low payout ratio means there's a lot of room for dividend growth. The company spends a lot of funds on stock buybacks, and as long as it's trading at a price to earnings ratio that well below its 5 year average, I see this as being very positive for the shareholders. I feel the recent drop in share price might be a great opportunity to pick up some shares.
Disclosure: The author has no positions in any stocks mentioned, but may initiate a long position in EMN over the next 72 hours. The author wrote this article themselves, and it expresses their own opinions. The author is not receiving compensation for it (other than from Seeking Alpha). The author has no business relationship with any company whose stock is mentioned in this article.