ETF Spotlight on Global X Silver Miners (NYSEArca: SIL), part of a weekly series.
Assets: $258.8 million
Objective: SIL tries to reflect the results that generally corresponds to the price and yield performance, before fees and expenses, of the Solactive Global Silver Miners Index.
Holdings: The fund holds 25 companies. Top holdings include: Silver Wheaton Corp. (NYSE:SLW) (14.77%), Fresnillo Plc (OTCPK:FNLPF) (14.5%), Pan American Silver Corp. (NASDAQ:PAAS) (11.24%), Industrials Penoles Sab De Cv (10.55%) and Hochschild Mining Plc (OTCPK:HCHDF) (5.19%).
What You Should Know
SIL has an expense ratio of 0.65%.
Country allocations include: Canada (55.88%), Mexico (25.18%), U.S. (8.83%), Peru (5.19%) and Russia (4.84%).
The Solactive Global Silver Miners Index tries to reflect the performance of the silver mining industry and holds international silver producers that are actively engaged in silver mining, refining or exploration.
Since the fund does not hold a lot of companies and is heavily weighted in its top holdings, the performance of some companies will have a greater impact on the overall fund's performance.
The Latest News
The latest price drop occurred with bullish sentiment taking a nosedive, but no damage has been done to silver's technicals. The fact is, despite the correction, silver is still above its long-term trend line.
The demand for physical silver remains very strong on three fronts: investment, industrial and safe-haven.
Silver is used in everything from circuit boards to coinage to dentistry to cloud seeding to medicine. For that reason, when gold prices are rising, silver prices are rising faster.
A lack of confidence in global currencies is helping to push investors into metals, which are viewed as alternative forms of currency.
click to enlarge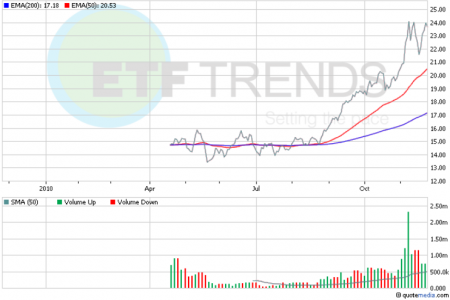 Disclosure: None